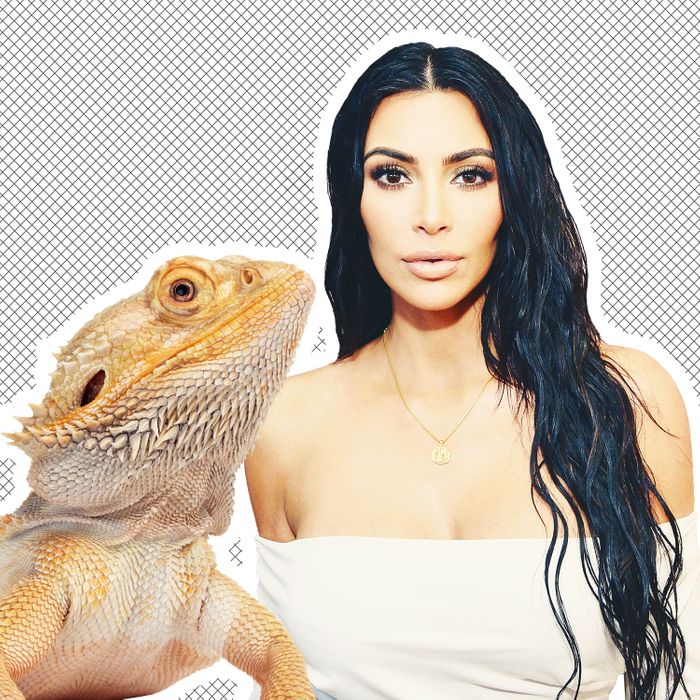 Photo-Illustration: The Cut; Photos: Getty Images
If there's one thing the Kardashian-Jenners love, besides tasteful cosmetic procedures and private island parties, it's fancy pets. Remember the 14 "gorgeous Friesian horses" Kim Kardashian announced she owned back in June? Or what about the $200,000 Dutch pony that Kylie Jenner bought her daughter, Stormi, in July? They are not simply horse girls, though. Kylie Jenner alone has four dogs whose names Travis Scott can't remember. And now, a new fancy pet joined the ranks of reality's royal family, and it is, dare I say, the most gorgeous and fancy of them all: Its name is Speed, it is a lizard that Kim Kardashian mysteriously acquired from a friend, and it already has a stunning, expansive wardrobe.
"Meet the newest member of our family … Speed," Kim tweeted on Wednesday, alongside pictures of her daughter, North, and the lizard cuddling in matching fuzzy pink sweaters. "I really wasn't planning on liking Speed the way I do but she grew on me! Speed was really my BFF Allison's and we babysat for a week and she never left and it's been months!"
She went on to say that Speed had gotten a "makeover" which consisted of acquiring a collection of custom lizard-size sweaters and robes from Kim's Skims Cozy line, and having a little red jewel stuck on its forehead à la Lil Uzi.
So, did Allison just forget about the lizard? Was the lizard hanging around and no one really noticed, and then one day Kim was like, "If it's going to live in my house, it's going to wear my clothes"? These questions haven't yet been answered, but one thing we know for sure is that Speed looks beautiful. And hopefully Kim won't try to force it into any lizard shapewear.