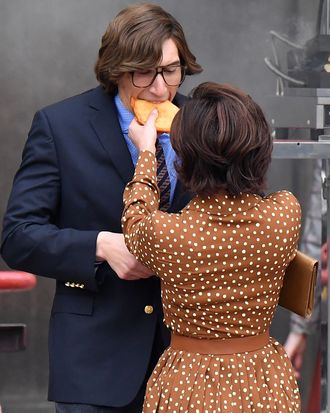 Bene
, Adam …
bene
.
Photo: Jacopo Raule/Getty Images
Though we are, as a society, undeserving of its generosity, Ridley Scott's crime biopic House of Gucci has blessed us again.
Earlier this week, the public was treated to the overwhelming images of Adam Driver, in his role as the late Maurizio Gucci, wearing a knit sweater roughly the size of one of the Italian Alps behind him, and Lady Gaga, in her role as Maurizio's murderous wife, Patrizia Reggiani, wearing a fur hat and approximately 800 gold chains around her neck. People, to put it mildly, lost their shit. Then, just as we were beginning to recover, we were bowled over again by a new set of images from the film's set in Milan — these ones somehow even more powerful than before.
The new pictures, released on Thursday, show Lady Gaga, decked out in a brown, polka-dot dress, gently reaching up to insert a pastry the size of a hubcap into Adam Driver's mouth, and then lovingly wiping away the crumbs from around his maw with a napkin.
There is something soothing about seeing noted five-foot-two woman Gaga fret over her noted Big Boy co-star. It's like those pictures of the little birds who ride on rhinos' backs and clean ticks off them — a nice moment of a little bud looking out for its big bud. You can just hear Ms. Germanotta cooing, "Che bravo ragazzo …" into Adam's ear while she hoists the massive pastry above her head for him, and then chuckling warmly as she stretches her arms up to wipe off his face. Is this a scene we'll get to enjoy on the big screen when House of Gucci comes out in November, or a private moment between two hungry co-stars? I think probably the former, but only time will tell. In the meantime … grazie, Signore Ridley Scott … grazie.