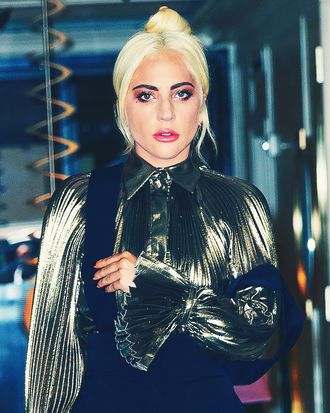 Lady Gaga.
Photo: Gotham/GC Images
Lady Gaga's dog walker is awake and Instagramming after an unknown assailant shot him in the chest last week: In the caption to a photo taken from his hospital bed, Ryan Fischer wrote that he is "still in recovery from a very close call with death" and that "a lot of healing still needs to happen." Nonetheless, he added, "the gratitude for all the love I feel from around this planet is immense and intense."
Fischer was walking Gaga's three dogs in Hollywood last Wednesday night when two people got out of a white sedan and approached him on Sierra Bonita Avenue. One person reportedly held Fischer while the other produced a semiautomatic handgun. Per surveillance video, the pair drove off with two of the pop star's French bulldogs — Koji and Gustav — as Fischer collapsed. Gaga's third dog, Asia, was said to have run away from the scene, but in one of two Instagrams, Fischer said she "trotted over and laid next to [him]" as "blood poured from his gunshot wound."
"I cradled Asia as best I could, thanked her for all the incredible adventures we'd been on together, apologized that I couldn't defend her brothers, and then resolved that I would still try to save them … and myself," he wrote, calling the dog his "guardian angel."
Fischer arrived at the hospital in critical condition, but stabilized by Thursday night. Meanwhile, a woman whom police believe to be "uninvolved and unassociated" with the robbery dropped off Koji and Gustav at the Olympic Community Police Station on Friday. No suspects in the case have been publicly identified.
Gaga, who was in Rome working on Ridley Scott's Gucci at the time of the attack, praised Fischer as a "hero" and is reportedly covering all of his medical bills. In his posts, he thanked her — along with his friends and his family — for her "unwavering" "support as a friend." For now, he looks "forward to the future and the moment when [he] get[s] bombarded with kisses and licks (and maybe even an excitement pee?) from Asia, Koji, and Gustav."