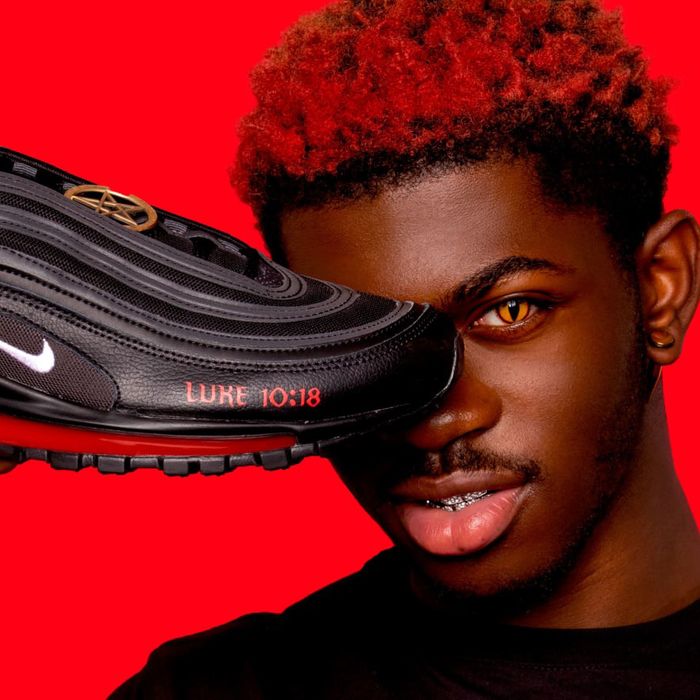 If you thought Lil Nas X's "biblically horny" new music video in which he gives Satan a lap dance was bold, wait until you hear about the sneakers he dropped on Monday to match.
Called "Satan Shoes," they're Nike Air Max '97 sneakers reworked to allegedly contain a drop of real human blood in their red-ink-filled bubble soles. They also have a metal pentagram attached to the laces, and a reference to a Bible verse inscribed on the side. ("And He said to them, "I saw Satan fall like lightning from heaven.")
Of course, Nike had nothing to do with this. "Nike did not design or release these shoes, and we do not endorse them," the brand said explicitly in a statement over the weekend. Instead, Lil Nas X teamed up with MSCHF, a Brooklyn-based collective previously known for stunts like "Jesus Shoes," which contained holy water. They also recently fashioned Birkenstocks out of Birkin bags.
Only 666 "Satan Shoes" were made in total, using the blood of six MSCHF employees, according to the Times. When asked asked who collected the blood, one of MSCHF's founders, Daniel Greenberg, told the paper: "Uhhhhhh yeah hahah not medical professionals we did it ourselves lol." The sacrifice paid off: At $1,018 a pop, the shoes are already sold out.
Not surprisingly, these cursed sneakers raised hell after they were announced this weekend. Republican governor Kristi Noem of South Dakota was one person who took to Twitter to express concern. "Our kids are being told that this kind of product is, not only okay, it's 'exclusive,'" she wrote on Sunday. "But do you know what's more exclusive? Their God-given eternal soul."
Lil Nas X, who knows better than anyone the power of social media, does not seem worried about his soul. As my colleagues at Vulture explained: "If some people insist Lil Nas X is going to hell for being queer, he might as well shoot a music video there and set himself free."
"Ur a whole governor and u on here tweeting about some damn shoes," he responded to Noem on Sunday. "Do ur job!"
He also appeared to have posted an apology video on YouTube this weekend. But instead of a plea for forgiveness, it just cuts straight to him grinding on Satan's lap.
On Monday, things got more serious when Nike filed a federal trademark infringement lawsuit against MSCHF, which cited "evidence of significant confusion and dilution occurring in the marketplace, including calls to boycott Nike."
Lil Nas X was not named as a defendant, but he still took to Twitter to respond … with a SpongeBob meme.
This post has been updated.