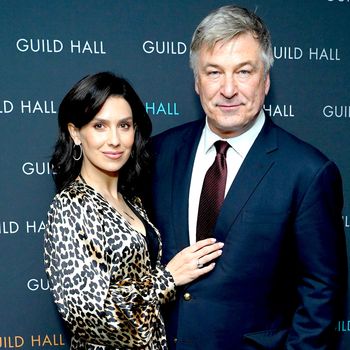 Hilaria and Alec Baldwin.
Photo: Sean Zanni/Patrick McMullan via Getty Images
Huh, well, it appears Hilaria — or should I say … Hillary? — and Alec Baldwin have welcomed a sixth child. That's based on a photo Hilaria posted to Instagram on Monday (yes, she's back on Instagram), in which she can be seen lounging with six kids: Carmen Gabriela (7), Rafael Thomas (5), Leonardo Ángel Charles (4), Romeo Alejandro David (2), Eduardo "Edu" Pao Lucas (5 months), and an infant whose name and age has not yet been disclosed. Although Hilaria's Instagram bio still describes her as the "mama to five Baldwinitos," a rep for the couple told "Page Six" they're "still not issuing a statement or confirming anything," but "what she posted stands." Which I think is a cagey way of saying that they now have another baby!
The addition feels somewhat surprising, considering that Hilaria just gave birth in September. In November, she suggested to People that Edu would likely be the last baby, saying, "during times of COVID, it very much feels like we're done" and also "I'm so tired." Then again, she left the question of another kid open when speaking to Us Weekly in April, explaining: "I've learned that I thought I was gonna have one kid and now, all of the sudden, I have a gigantic brood, so who knows?"
Always the enigma, Hilaria. I mean, certainly you recall the uproar when, in late December, her apparently nonexistent Spanish heritage fell apart before our eyes? When reports surfaced that she had either deliberately pretended, or allowed people to believe, she was from Spain despite being from Boston? And then the backlash drove Hilaria (given name: Hillary Hayward-Thomas, courtesy of two non-Spanish parents) offline for a month, which she says she spent "listening" and "reflecting" and ultimately coming to the conclusion that she was "raised … with two cultures, American and Spanish," although she admits she "should've been more clear" about her country of origin. All to say: who knows, indeed!