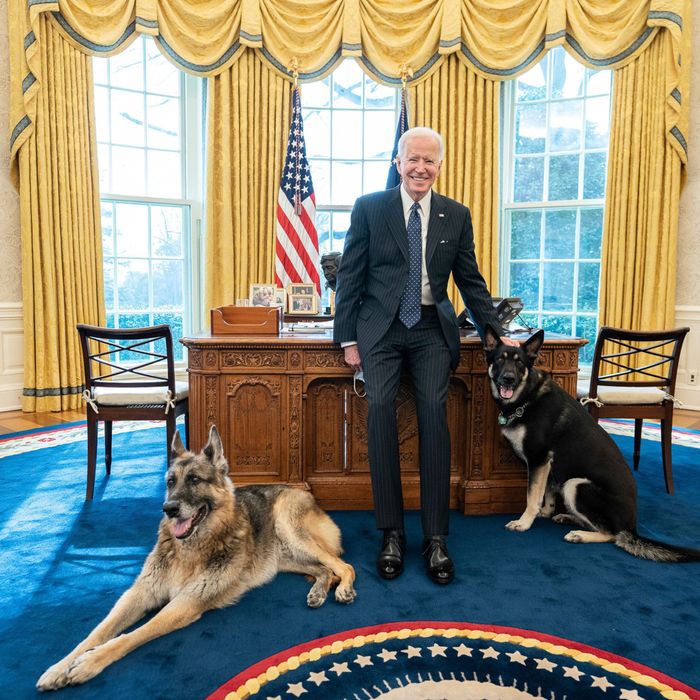 Photo: White House/News Pictures/Shutterstock
Upheaval at the White House this week: According to a source "familiar with the dogs' schedule," President Biden's two dogs, Champ and Major, have been sent back to the family's home in Delaware after an alleged "biting incident" involving Major Biden, 3, and a member of White House security. CNN reports that "the exact condition of the victim is unknown." It doesn't sound like Champ Biden, 13, was involved in the scuffle, but he has graciously joined his little brother back home in the Diamond State.
This relocation seems like the best move for Major, who has reportedly struggled to adjust to the hustle and bustle of White House life. Sources say that the young dog, whom the president and first lady adopted from a Delaware shelter back in 2018, "has been known to display agitated behavior on multiple occasions, including jumping, barking, and 'charging' at staff and security."
The adjustment has also apparently been stressful for the First Lady, Dr. Jill Biden, who said in an appearance on The Kelly Clarkson show last month, "I've been getting obsessed with getting our dogs settled because we have an old dog and we have a very young dog. They have to take the elevator, they're not used to that, and they have to go out on the South Lawn with lots of people watching them. So that's what I've been obsessed with: getting everybody settled and calm."
The rambunctious young Major was also responsible for Joe Biden's November foot injury, a hairline fracture he received when he "tripped on the rug [Major] slid on" while they were playing.
Sources say it's not entirely unusual for the dogs to go back to Delaware on occasion. They're often returned to the family home when the First Lady is out of town. It is unclear if or when they will come back to Washington after this particular period of exile. If this abandoned dog bed outside the White House is any indication, it probably won't be anytime soon.