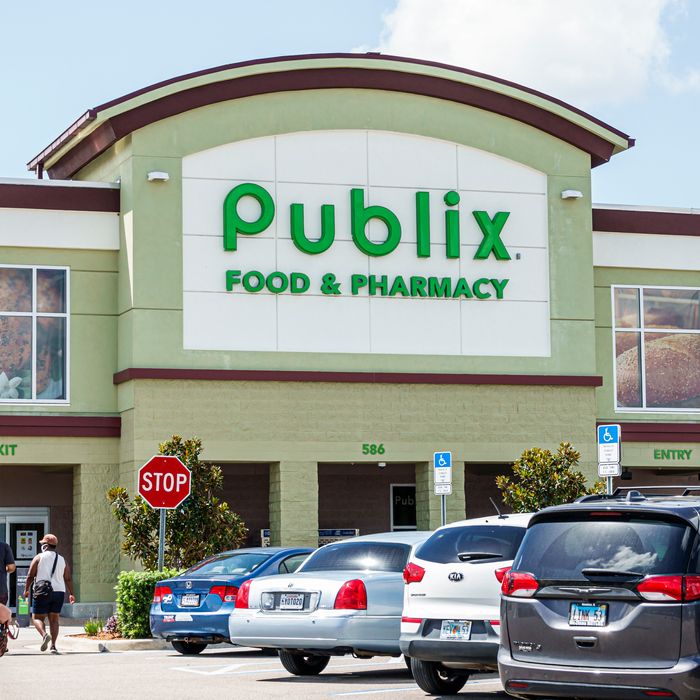 Publix supermarket.
Photo: Jeff Greenberg/Education Images/Universal Image
As the country begins to open back up, we're grappling with the reality that, in America, a return to normal includes senseless acts of violence on a large scale. In a span of seven days, there have been seven mass shootings, the most recent of which took place earlier this week at a grocery store in Boulder, Colorado, where a gunman murdered ten people. And just yesterday, police arrested a man carrying multiple guns at a supermarket in Atlanta — fortunately, before anyone was hurt.
Charles Russell, an Instacart worker, was fulfilling an order at the Publix at Atlantic Station on Wednesday afternoon when he noticed a man walk into the store's bathroom wielding an assault weapon. "I saw an AR-15," he told WSB-TV, "and I was like, you know, this kind of startled me just again with events that recently happened in the grocery store up in Colorado." Russell then proceeded to inform a store manager, and another employee was instructed to alert police, who arrested the man — Rico Marley, 22 — as he exited the bathroom.
When officers entered the vacated bathroom, they discovered an arsenal of weapons: at least five guns, including three pistols and two long guns, as well as body armor, ammunition, and a knife, according to the Atlanta Police Department. Russell says that Marley made no attempt to conceal the rifle. "The weapon was leaned up in the stall of the bathroom, and it was not in a case," he said. "I saw it clear as day."
While police have not yet disclosed what they believe drove the man to enter a supermarket carrying so many guns, Marley underwent a mental evaluation before he was booked in Fulton County Jail. According to the Washington Post, he is now facing six counts of possession of a firearm or knife, five counts of attempting to commit a felony, and one count of reckless conduct.
In the wake of the recent mass shootings — including last week's shooting in Atlanta, where a gunman entered three massage parlors and murdered eight people, including six women of Asian descent — impassioned pleas for gun-control reform have mounted. Earlier this week, President Biden called on the Senate to pass two gun-control bills that have already been approved by the House: a ban on assault weapons and large-capacity magazines, and stricter background checks. The measures largely have the support of Democrats, but with a 50-50 split in the Senate, the bills face a steep uphill battle.