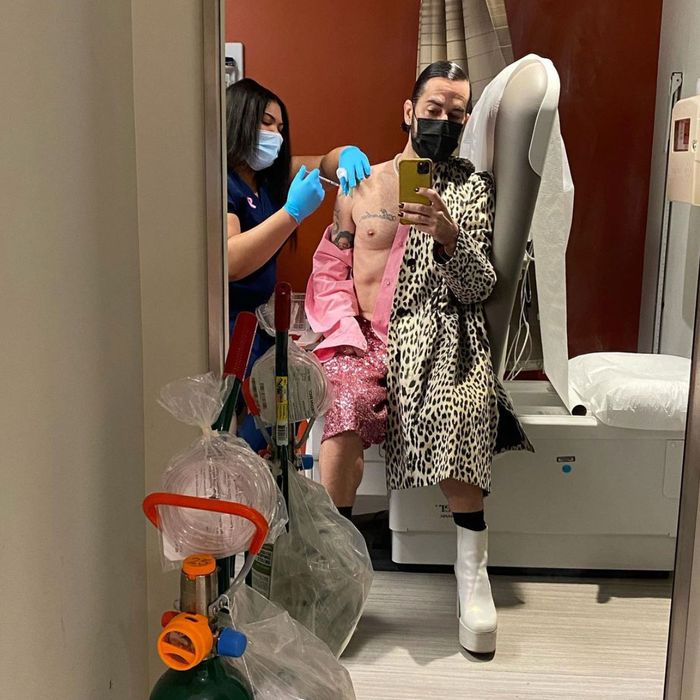 Photo: Marc Jacobs/Instagram
Special occasions are few and far between these days. A few months ago, I got dressed up to go to the dentist. But for those who qualify to receive a vaccine, getting an appointment is truly a momentous occasion, and people are getting all dolled up for their "vaxxies," or vaccine selfies.
On Tuesday, for example, Marc Jacobs shared a photo from his second-shot appointment. It sets the bar high: His hair was slicked to the side (deal with it, Gen Z!), and he wore a leopard-print Celine trench coat, a pink Balenciaga button-up shirt, and matching pink sequined Comme des Garcons shorts. There were white platform Rick Owens boots on his feet and his now-signature pearls around his neck. A sight for starving eyes!
Jacobs has been serving us looks on Instagram throughout the pandemic. You might recognize those shorts from one of his earlier posts. (They were also worn by Frank Ocean on the cover of 032c magazine in 2018 — and they've still got legs!) For his first shot, Jacobs wore pink pants, but the matching button-up was a smart move this time. (I half-expected him to wear one of those holey Prada turtlenecks, but what he went with is better.)
Cathy Horyn likened Jacobs to a modern-day Edie Beale in her interview with him last year. "I don't want to see people conforming," he told her of dressing up at the time. "I want to see people spreading their wings. And that's what I keep trying to say with these posts. I'm spreading my wings. I'm painting my eyes, I'm putting on my heels, and I'm saying, 'You know what? This is the world the way I see it, and I'm going to live in this world, and I'm going to go out with a mask on.'"
Thankfully, Jacobs is now out in the world fully vaccinated, which means we have a lot more outfits to look forward to.