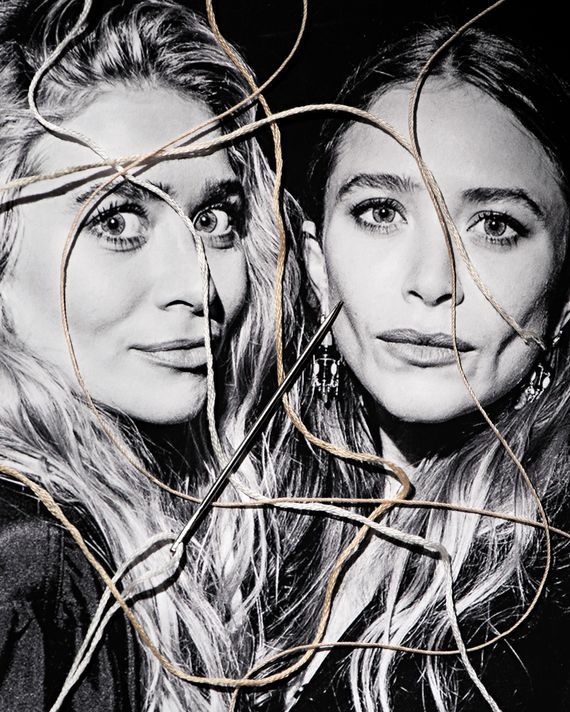 Art: Katelyn Kopenhaver; Source Image: NINA WESTERVELT/The New York Times/Redux
When is a sweater more than a sweater? When is a sweater even a sweater? The difference between a pullover and a few skeins of yarn isn't much more than two needles and a dry-cleaning tag but for that cymbal crash of desire. The Row makes sweaters, thousand-dollar sweaters, that grip the mallet.
There's something about The Row. It beggars explanation. It has long since transcended its beginnings as a celebrity-fashion-label lark founded by the entrepreneurial fraternal-twin former child stars Mary-Kate and Ashley Olsen. Now 34, they were, 20 years ago, the most hyperbranded tweens on the planet. Then they gave up acting to dress the women they hoped to grow up to become. The Row is fashion for those for whom money is no object but who don't need to look obviously rich, not in the way a Versace blouse looks rich — which is to say, aggressively, literally. It purses its lips at logos and that's-from-last-season trend obsolescence. Nor does The Row flaunt sex or youth or the body. It speaks in the hushed tones of perfect propriety, of connoisseurship. It is crafted just so, cut just so. It is not original and doesn't pretend to originality. It is chic in the excellent, unfaultably appropriate way that reminds you that true chic may be the apotheosis of boring.
In this, it's a lot like its once screamingly famous mass-marketed owners, who have retreated into a kind of genteel moguldum in their 30s. As such, it has found its people: not the women (mostly women, though it does sell menswear) who want to make it but those who have already made it. The Row knows what its customer thinks she needs. "They're thinking about the client because they've been the client," says Rachel Tashjian, a GQ writer whose email newsletter about her obsessions, Opulent Tips, frequently covers The Row.
Marina Larroudé, for years the fashion director at Barneys New York, where The Row was the No. 1–selling ready-to-wear brand — better than Prada, better than Gucci, better than Alaïa, better than Saint Laurent — told me a story about her time there. She had come from the world of fashion magazines; there, The Row was considered cool, but she didn't know a lot of women who wore it. Then one day "a client walked in," she told me, "and bought 30 Row sweaters — three-zero. Of the same crewneck. She bought everything we had in the company in her size so she would never run out of them. $30,000 in crewnecks." She realized then that "if you're a super-wealthy woman in New York? The way we go to Uniqlo — they go to The Row."
For most of the past 15 years, that has been a solid business model and, in its way, something of a revelation. The Row's pieces weren't flashy or revealing and were kind to a range of ages and body types, provided you could afford them. They were, unusually, almost entirely made in the United States, despite the expense. "At a time when the culture is in a frantic dash for the newest technology, the brashest idea, the most subversive gamesmanship, the fastest solutions," Robin Givhan once wrote in the Washington Post, "aiming to do a simple thing utterly, deliberately, beautifully right is something of a marvel." But its discreet charm may not be enough right now.
The problems started with Barneys going bust in the summer of 2019. At the time, The Row was Barneys' single-largest vendor creditor, to the tune of $3.7 million, a sum eclipsed only by some of its landlords. In the wake of that debacle, The Row's then president, David Schulte, left the company that fall. (He is now suing the company, its parent company, and the designers personally.) Mary-Kate and Ashley stepped in to right the ship, sharing CEO and creative-director duties, and Burberry veteran Fabrizio Fabbro, who had recently been hired as chief product officer, took an increasingly central role in the company's leadership. An exodus of talent followed: Jim Robinson, who had been with the company for almost a decade and had been promoted to design director in 2019, left in 2020; so did Anna Sophia Hövener, another durable studio hand, who had been named co–design director in 2019. Several others in design, development, and patternmaking departed, as did long-term executives. Two, infuriatingly enough, decamped for Gabriela Hearst, another wealthy, tasteful New York label that competes with The Row.
In 2020, the pandemic complicated matters. Mary-Kate ended up back on the gossip sites thanks to her Zoom divorce from 51-year-old banker Olivier Sarkozy (her $250 million fortune was protected from him by an "ironclad" prenup, per Us Weekly). In April, the company was approved for a government PPP loan of about $2.3 million, citing a staff of 51, but by that July, Women's Wear Daily reported that as much as half of the workforce had left or been fired. The piece also alleged that The Row employed very few people of color. In response, the company acknowledged "responsibly reduc[ing the] overhead" of its "diverse and inclusive workplace" but declined to comment further on the story's allegations. But as one former employee who refused to speak with me, citing the company's strict nondisclosure agreements, said as he hung up, "Where there's smoke, there's fire."
For The Row, discretion is the cardinal virtue. "The clothes, not unlike the sisters, betray very little eagerness to be noticed," a reviewer once wrote. The sisters designed The Row, in effect, as the bushel under which to hide their light. They declined to speak for this article and insist on absolute confidence from those they know and NDAs from those they work with.
If you do not already know that The Row is the second-act life's work of the Olsens, they would likely be just as happy if you didn't find out. The Row is not meant to showcase them, and that is how they prefer it, having spent their entire early lives being showcased relentlessly, starting when they were infants with the long-running television show Full House, on which they shared the single, adorable role of Michelle Tanner. (They did not participate in the recent zombie reboot, Fuller House.) With their then manager, Robert Thorne, their parents co-founded Dualstar Entertainment when the girls were 6. It spent years monetizing them through direct-to-VHS programming, a clothing collection at Walmart when they were 12 ("The upper tier of the tween market," Ashley told Vogue), dolls, makeup, a magazine, fragrances, board games, and much else. They reaped the success that ubiquity could bring — when they assumed ownership of the company at 18, it was reportedly grossing more than a billion dollars a year — but also endured the creepy leer of sustained public interest. As teenagers, they were hounded by "time till 18" countdown clocks, the unseemly on-air attentions of Howard Stern, and Connie Chung, who asked in a TV interview whether they were virgins.
By the time they got to NYU for college, in 2004, they were tabloid fixtures and fashion icons in tent-size sweaters and giant shades. Maybe they were hiding behind those big sunglasses in part because their fellow students kept tattling on them to the press: "Learning is not fun if you're not safe," Mary-Kate told this magazine. She dropped out, as did Ashley not long after.
In 2006, backed by Dualstar (Jill Collage, who had been their on-set guardian, was its president until 2018), they founded The Row, the name a deflecting, genuflecting nod to Savile Row. Their stated goal was to make the perfect T-shirt, which they sold for $195. To hear them tell it, they learned fashion from the inside out, having had garments ("even Chanel") tailored down to their petite size on sets. "They had really been designing since they were little girls," said Jane Siskin, who partnered with the pair to license Elizabeth & James, a more affordable collection they launched in parallel in 2007 (named after two of their siblings, it is now available exclusively at Kohl's). "They pointed out to me they'd been doing fittings their whole lives." They honed their taste by shopping and seeing; though they wore their influences on their sleeves — they even wrote a book about their fashion heroes, called Influence — over time, they began to design like them, too.
The Row spent its early years justifying itself. (The New York article in which Mary-Kate confessed to feeling afraid was titled "Attack of the Fashion Gremlins.") When The Row first hit the pages of Vogue in 2006, the girls looked like Angeleno hipsters, Ashley in a trilby, Mary-Kate in smudged white Wayfarers, posing with their childhood friend Danielle Sherman, who was the line's first designer. Not everyone wished them well. "Celebrities have made it harder for real designers," Vera Wang sniped to the Times in 2007 in an article occasioned by their very existence.
As the years went on, the Olsens developed the line from a casual one into a more fashion-oriented proposition. Sherman left in 2007, and in 2011, the sisters brought in Nadège Vanhee-Cybulski, an alumna of Margiela and Phoebe Philo's Celine, both labels they revered. "There really was a before and an after Nadège," one person who knew the inner workings told me. In 2012, they won their first CFDA award — America's fashion Oscars.
In 2014, Vanhee-Cybulski was named the creative director of Hermès, but by then The Row was on a roll. Although not trained designers, the twins were seasoned shoppers and could articulate, using piles of vintage clothes, how they wanted something to look or to be updated. Ideas at The Row, one worker was told, often started with this research process. Garments by Martin Margiela (especially from his years at Hermès), Philo, Jil Sander, the reclusive '80s minimalist Zoran — the brands that reviewers would name-check as their influences — were seen in the atelier, sometimes bought and sometimes brought in from the sisters' own closets. (In recent months, the twins have quietly begun selling pieces from their personally curated archive with prices, as the usual fashion euphemism has it, "on request.")
The look, as it settled, became one of understated elegance. "I don't think someone flashy is drawn to The Row," said Leslie Seidman, 62, of Los Angeles, a repeat Row client. "Unless it's under something." They focused on that "perfect" thing. Added to the perfect T-shirt, the perfect leggings, and the perfect leather jackets, the hits of their early years, were the perfect overcoat, the perfect tailored shirt, the perfect corduroys, the perfect flat. The palette rarely strayed from the neutrals. "They'd always joke, 'We did color this season!' " one retailer said; it would be a soft, off-white yellow. No detail escaped them. "What I liked was the strictness — they were so fussy and difficult about it," one of their former collaborators said. "With these very simple pieces, they got out some really beautifully made garments. They almost had an Amish quality."
The Row grew and grew: from five people in a cramped office in the Garment District to a West Village office and atelier; from doing $10 million in sales in 2009 to, by most estimates (the company won't say), ten times that a few years later. Barneys, which had stocked it alongside American designers, promoted it to better real estate near Yves Saint Laurent.
All the while, the Olsens' private lives remained clickbait, from Mary-Kate's 2015 wedding to Sarkozy, with its bowlfuls of cigarettes, to how Ashley has reportedly been dating artist Louis Eisner, a son of the L.A. fashion icon Lisa Eisner. Accounts like Instagram's @OlsenOracle still keep a steady vigil on their outfits, by which they can ID them, even obscured by their masks.
In response, they tried to keep their heads down and hide behind the work. Ashley was inclined more toward the business affairs, the "more intense" Mary-Kate to the particulars of design. ("Bad cop" is how one person described her role.) Ashley is practical and classic, her sister more romantic and trendy, but — despite hating being referred to as twins in the press — very much a pair of sisters. "They spoke without speaking," one person who knew them said. "I never saw them disagree with each other." They shared a single office. They even booked the least-fun slot possible for their fashion shows — 9 a.m., which they started, unfashionably, on time — and held the first few at the Carlyle. "I never saw them ever laid back," someone who worked with them told me. "Some designers, you see them let loose, maybe, after the show?" this person said. "I never saw that."
Within the industry, any initial hesitancy has faded, and The Row is now regularly nominated for the CFDA awards, which it has won five of, including Womenswear Designer of the Year in both 2012 and 2015. Its look — the slightly sacerdotal cast of its dragging pant hems and oversize ponchos — is now being imitated. "You have probably 50 other brands that think they are The Row, but they're not," one designer told me.
Their very good taste extends beyond the clothing. One season, the Olsens partnered with the Noguchi Museum to bring 13 of Isamu Noguchi's sculptures onto its runway. "We're still benefiting or suffering from it, depending on your point of view," said Dakin Hart, a senior curator at the museum who worked with them on the project. "The museum still has people coming through staging ad hoc fashion shoots with friends and a few costume changes — those are challenging sometimes." But art and fashion often have a mutual-appreciation society. "It relit the pilot light of interest in Noguchi in the fashion industry," Hart said.
The cathedral of The Row is a stately shop on East 71st Street. The location is unimpeachable; the Frick is down the block on the park (and so is the Herbert N. Straus House — chez Epstein). A giant Ron Gorchov canvas and two smaller Schnabels overlook the handbag salon on the store's ground floor — "Vito gets it for us," said one of the employees, as in Julian Schnabel's art-dealer son. At any given time, a Bugatti chair or a Jeanneret table might be passing through, totems of high taste recognizable to those with access to decorators and auction paddles. Photographers are politely scolded. "In the words of Mary-Kate and Ashley, 'More private,' " the interiors doyen Jacques Grange said around the time the New York shop opened. A creamy marble staircase unspools like a nautilus between the floors; the brand is currently being sued by a woeful shopper who fell down it.
The sisters are obsessive over the details. The store on Melrose in L.A. is centered on a swimming pool, a walk-in, shoppable David Hockney. The new one in London was designed by Annabelle Selldorf, better known for blue-chip art galleries like David Zwirner. Maybe the very affluent expect a museumlike retail experience these days, but one observer was shocked, at one of the stores, to see Picasso ceramics displayed with the footwear: "I thought, Wow, what if somebody grabs a shoe and the vase falls?" he told me. "Compare a Row store to MoMA in terms of the overall control and the mores that the space itself imposes on people, and you end up with a lot more untoward touching at MoMA," said Hart, the Noguchi curator, who arranged for the label to borrow three sculptures for the London shop. "The things are very safe there." (Besides, he added, "there are pieces of furniture in the store that are worth three times what the sculptures are worth.")
For The Row faithful, the shop fills them with reverential awe. "I was at first too intimidated to go," said Andy Reiff, 26, an actor and stylist's assistant. "I grew up with the Mary-Kate and Ashley brand, which is like, you know, verboten to talk about anymore" he said. "I do just think that they're the best-dressed women in the world." Stylewise, he is an Ashley with Mary-Kate rising. "Ashley feels more like how I dress," he said. "But Mary-Kate feels a little bit more aspirational."
He wouldn't say how much he spends at the store, on mens and womenswear both, but it's enough to earn him an invitation to the runway shows, which are saved for the brand's top clients, so let's guess it's in the five figures. "You know how Holly Golightly says she goes to Tiffany's when she feels sad, when she gets the mean reds?" he asked me. "I've noticed that when I'm in a bad mood, I can go to The Row. I get to talk, and I get to be surrounded by these beautiful things."
In January, I booked a visit to the 71st Street store. It was a cold day and slushy, and the shop was empty except for a few salespeople. There were little treasures scattered around. I could smell like La Fille de Berlin with a spritz of a Serge Lutens; I could go home with a sterling-silver lighter, a collaboration with the 19th-century French maker S.T. DuPont, with a psychedelic, neo–Dead Head graphic selected by the sisters. No ashtray that I noticed; a friend of a friend of the designers whispered to me that Mary-Kate won't use one when she smokes. "The ash fairy will get it," she apparently says, ashing wherever.
On the racks, the clothes didn't look like much. Squint, and you might have been in a particularly soothing Theory. (Francesco Fucci, who spent five years designing at The Row, followed it up with a stint there.) But feeling is believing. "Once you're a Row customer, you're very loyal," reports Tracy Margolies, the chief merchant of Saks. It isn't about mere image, the acolytes say. "It's about discovering who you are, rather than who you might want to be," Stephanie Goto, an architect who calls The Row her uniform, told me. For all the beauty of the suits, the coats, there is plenty to suggest the most expensive ease. The brand also does a brisk business in cashmere sweatpants. "There's a natural progression of the way we're living now into The Row," one customer told me.
A saleswoman, Ola Itani-Chan, in trousers and a Row purse with a quartzish stone on the front that beamed out before her like a sightless eye, pulled down sweater after sweater to induct me into the mysteries. They are, in fact, perfect. Shorter than you'd expect, to make you look longer, the yoke in back tapered toward the waist to de-schlump you like a corset. Thin but not flimsy. If I were a wealthy man, I would have made them my Uniqlo. This season, they came in a new color: oatmeal.
I left the sweater and thanked Itani-Chan. She was generous and kind but distracted. Her iPad, which fit snugly behind her purse's evil eye, had barely stopped buzzing during the entire hour we'd been together. She apologized and explained: customers emailing, texting, "fast, fast, fast."
The Row is often compared with Philo's agenda-setting tenure at Celine, and even its fans trace that influence on the label's designs. Many Philo women became Row women when the designer left Celine in 2017; the same client, retailers say, had already been buying both. But The Row "doesn't have that kind of energy and twist that Phoebe had at Celine," a top executive at one of the major luxury groups told me. "They don't seem to have changed. You know, it's always the same thing. There's no surprise, and fashion is about excitement."
Instead, the brand is almost peevishly aloof. When pressed to do an ad, they offer a white page. Fashion's relentless courtship of youth derives, at least in part, from the fact that most older customers would rather feel young than the alternative. Most of the major fashion brands sign on "ambassadors" barely (and in some cases, not) out of their teens; The Row, maybe because the Olsens themselves ticked the starlet box, has always gravitated toward the Lauren Huttons. Neither Ashley nor Mary-Kate bothers to keep up any presence on social media, though The Row does have an Instagram. (It recently spotlighted a 1942 sculpture by Alexander Calder.) The fashion executive confirmed that, sure, they had been on lists of contenders to take over this or that historic fashion house at one time, but those days are behind them. "They say 'no' too often," this person said. They have no appetite to become mascots like Karl Lagerfeld or Marc Jacobs. The Olsens, of course, have already been that and retired. If life is a bowl of cigarettes for Ashley and Mary-Kate, a glamorous fantasy of vintage Chanel to the Met Gala and the most exquisite designer settees, it is also, like that bowl of cigarettes, at a private party to which aspirants are not invited.
The private-party aspect of The Row has its drawbacks. At around $100 million in sales per year, it's dwarfed by globe-spanning brands that offer a range of footwear and bags, the traditional cash cows of luxury retail, which they haven't caught up on yet. The company's largest market remains the U.S., and it has less of a presence in Europe or Asia. "It's generally not the look that, you know, the mainland Chinese customers are kind of going for," said Ramya Giangola, a retail consultant who worked with The Row on an early push into the market at Lane Crawford and Joyce. "They want something a bit louder."
As the label weathers the shocks of the past year, it has made sometimes painful changes to shore itself up. Fabbro is moving much of the production work to Italy, where many of The Row's competitors make much of their collections. Producing clothes in the U.S., as they had been, can be punishingly expensive, but "made in the USA" had always been a central tenet of The Row's mission as an American luxury brand. It also had to do with the Olsens' desire to remain in control. As Ashley told the Times in 2008, "I needed to make sure I could see the product being made. Things like this are successful when you really care, when you are paying attention to every single detail."
Fabbro's decision was a blow to the company's longtime New York factories, such as Four Seasons Manufacturing in the Garment District, which had been producing shirting, dresses, and pants for The Row's collections for years. "We were doing, like, 90 percent of our work with The Row," said Tony Singh, the manufacturer's CEO. "They took their business to Italy." He wonders, "What happens to the workforce in New York?" For the time being, Four Seasons has shifted to making PPE.
"I think it was a disappointment to all the New York factories," said Arthur Cohen, the CEO of Studio 1 Leather. "I did lose a big chunk of my business. I worked with them since the beginning, which is about 12 years." Now most of the people he worked with at the brand are gone. Still, he emphasizes that they paid their bills and treated him far better than many of his clients did during the pandemic.
It probably made sense for The Row to cut costs. "It's just a very bad time for them right now," one recruiter working in the fashion industry told me. "That's not to say they can't swing up again. I think if they can hang on, and if they can get the right leadership in there, they could still be around — people love them."
But when we return from the pandemic — whenever that may be — will The Row's slate and oatmeal flavors, now imported from Italy, still make sense in a world hungry for joy? It is built to be timeless. Christina Griffey, a Row client from Nashville, told me that, in fact, she's been stocking up. "It doesn't matter if I don't get out till 2023," she said. "Nobody's gonna know."
Who wouldn't want to stop the clock on timeless chic? But sand still passes through the hourglass, even in the perfect sweater. "My mom, aunt, and I all share pieces from The Row," one younger client told me dreamily. It was intended as a compliment. But all the same, she added, "Maybe I will regret when I'm actually 60 that I was wearing it at 34. Actually, I'm sure I will. Why was I dressed like a 60-year-old?"
*This article appears in the March 1, 2021, issue of New York Magazine. Subscribe Now!