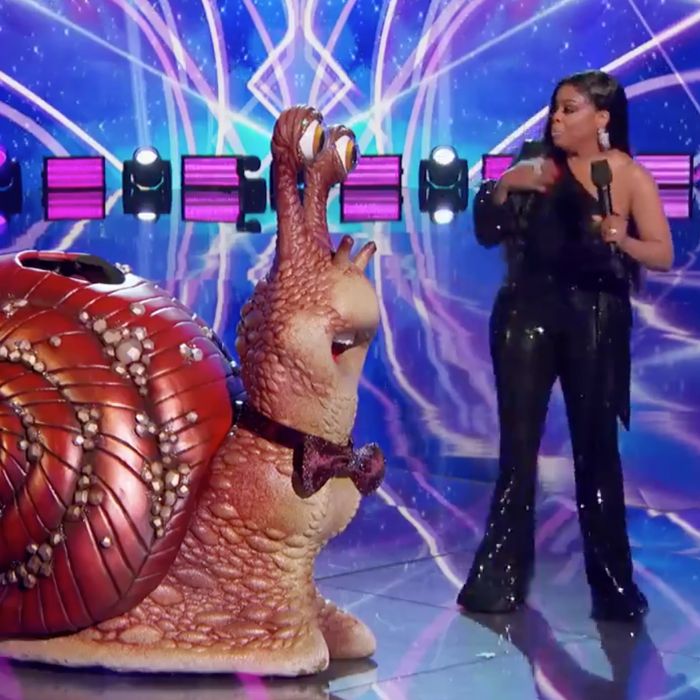 We've entered a realm.
Photo: FOX
While my knowledge of The Masked Singer is admittedly somewhat limited, the premise has long seemed pretty straightforward: A figure who has achieved some level of celebrity disguises themselves in a bulky, intricate costume and gives a music performance, and a panel has to guess who might be hiding within. It's also well-known that the intrepid brain trust behind the show has a proclivity for selecting a dizzying assortment of contestants: Sarah Palin went as a Lisa Frank–esque bear; on sister show The Masked Dancer, child-safety activist and kidnapping victim Elizabeth Smart dressed as a moth.
But I don't think any amount of additional information could've prepared me for last night's reveal of the "person" behind the snail costume, the first contestant to be eliminated from the show's fifth season.
The reveal was astonishing. After host Niecy Nash removed the snail's top hat, there was a long pause … then out popped two woolly green hands:
The "masked singer" is … Kermit the Frog. A little felt puppet inside of an elaborate oversized snail. The effect of watching this clip is not unlike taking a psychedelic: You're unable to discern if what's before you is actually real or some sort of imposing hallucination, and whether it's hilarious, like easily one of the funniest things you've ever seen, or maybe actually kind of terrifying? Hours after first viewing the reveal, I have yet to decide, though I can say that I certainly do not feel well.
Anyway, since being voted off, Kermit (??) has given an exclusive interview to People that has further destabilized me: The Muppet told the outlet that he disguised himself as a snail "because snails and frogs have a lot in common," namely, they're "both menu items at French restaurants"; that despite her love of the spotlight, Miss Piggy was "not jealous of my being on the show"; and that he originally wanted to perform "Shake It Off," by Taylor Swift, as it "reminds me of when I was a tadpole trying to drop my tail." I need to lie down.