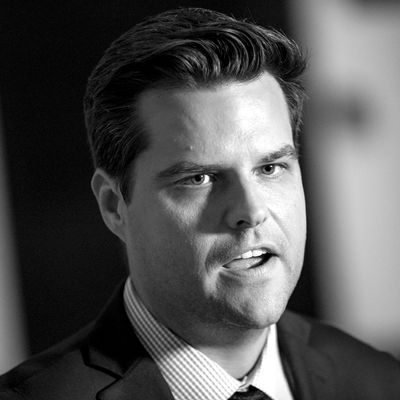 Matt Gaetz.
Photo: Samuel Corum/Getty Images
Federal investigators are said to be "scrutinizing" a potentially sexual relationship that U.S. representative from Florida Matt Gaetz may have had with a teenager, the New York Times reports. According to the paper, the Justice Department is looking into multiple "encounters" between Gaetz and a 17-year-old girl that allegedly took place about two years ago.
Citing "three people briefed on the matter," the Times notes that the 38-year-old representative has not been charged with any crimes. Right now, the DOJ is reportedly probing both the nature of his relationship to the teen, and whether or not he paid for her to travel out of state with him — which could mean a violation of federal sex-trafficking statutes. Gaetz confirmed to the Times that the DOJ had been in touch with his attorneys. "I only know that it has to do with women," he said. "I have a suspicion that someone is trying to recategorize my generosity to ex-girlfriends as something more untoward."
After the report published, however, Gaetz presented a different narrative on Twitter, writing that he and his family have for weeks "been victims of an organized criminal extortion involving a former DOJ official seeking $25 million while threatening to smear my name." Claiming that "no part of the allegations against me are true," Gaetz added that his father had been "wearing a wire at the FBI's direction," and that "the planted leak to the FBI tonight was intended to thwart that investigation." Speaking to Axios, he said that the "allegations against me are as searing as they are false," and accused the Justice Department of "trying to criminalize my sexual conduct, you know, when I was a single guy."
In any case, the possibility of "something more untoward" between Gaetz and a teenager apparently came up in the course of a separate investigation into Joel Greenberg, a former Seminole County tax collector. Last year, Greenberg was indicted on a suite of 14 federal charges — including stalking a political opponent, fabricating a fake ID, and sex-trafficking a minor — and resigned his office. Based on their selfies (from 2017 and 2019), he and Gaetz seemed friendly at the very least. They have evinced political support for one another, and are both resolute defenders of Donald Trump's agenda.
The Times does not clarify how the investigation into Greenberg triggered an investigation into Gaetz, but points out that the timestamp on the 2017 selfie falls within the timeframe when prosecutors believe Greenberg "recruited" and "solicited" a minor for sex. It also says that the DOJ opened its probe into Gaetz shortly before then-Attorney General William Barr resigned in December.
Read the full report here.