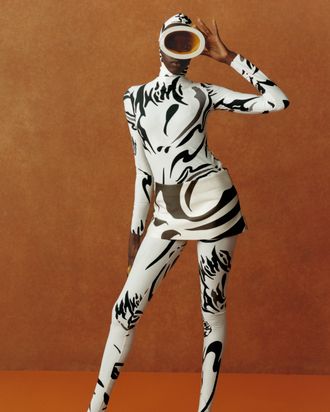 As I was scrolling Instagram the other day, I stumbled upon a scuba-diving look that I will never be able to get out of my head. In the image, the model was wearing massive scuba-diving goggles with a white-and-black full bodysuit accompanied by a miniskirt. It made me want to invest in a new hobby; it made me want to swim with the fishes and breaststroke around reefs. After swiping through the slideshow, which featured even more elegant scuba clubbing fashion, I needed to know the mastermind behind the collection.
Maximilian Davis is a London-based designer who aims to tell the story of Black excellence through design. For his second Fashion Week, he delivered a collection inspired by Trinidad, Sunday-best church attire, old family photographs, and couture from the 1960s and early '70s. Black models wore trends from that time period: miniskirts, balaclavas, scuba goggles, and futuristic prints and patterns.
"That time was so incredible for fashion and particularly in showcasing strong and powerful women," says Davis, whose brand is simply called Maximilian. "It's not fair to exclude Blackness from that story — so I wanted to rewrite the narrative."
Davis celebrates groovy mid-century style by making it his own. With Black people as the subjects, the collection creates visuals that go beyond Mad Men or Austin Powers.
"What comes to mind when you think of '60s and '70s fashion with the mindset of Carnival? Showgirls," says Davis. "I wanted to take what exists but make it my own. I'm reclaiming these iconic moments and references for the Black community."
The designer has had a big month: In addition to debuting his recent collection, he got to see his feathered headpiece featured on Naomi Campbell for i-D's "The Utopia in Dystopia" issue. Scroll down to view images from his autumn-winter 2021 collection.