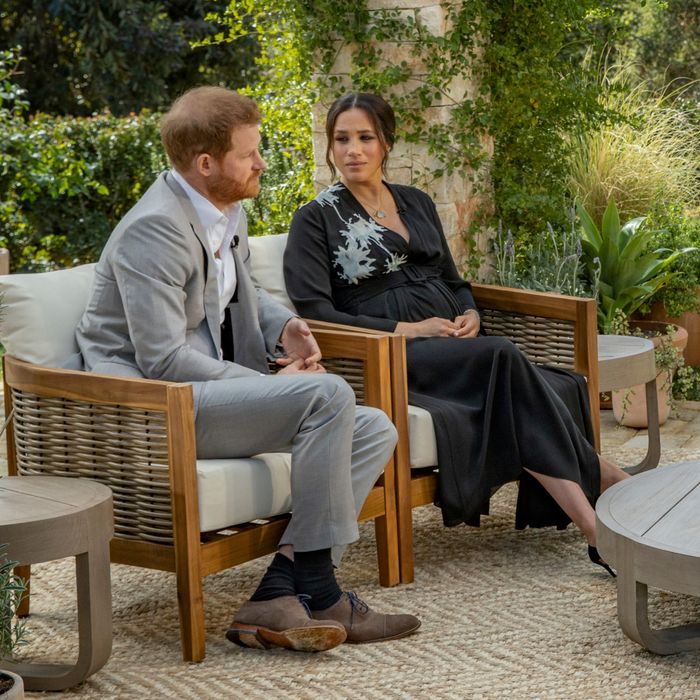 Photo: Harpo Productions/Joe Pugliese
Meghan Markle and Prince Harry's much-anticipated CBS interview with Oprah hasn't even aired yet, and already it's caused an uproar on both sides of the Atlantic. While the segment is expected to draw in millions of viewers across the world, some are clearly worried about what the couple will say in their first major interview since stepping down as senior royals back in 2020. In the weeks leading up to the interview, there's been an increase in negative stories about Meghan and Harry, an uptick so blatant that it's difficult to interpret it as anything other than a smear campaign aimed at undermining the pair before they get to tell their side of the story.
According to reports, the interview has caused consternation, not only among members of the royal family but among the British press, whose ruthless attacks Meghan and Harry have described as "almost unsurvivable," and which the couple cited as a major reason for leaving the U.K.
"U.K. tabloids seem to have their knives out for Meghan," reports CBS News. In addition to publishing stories about Meghan allegedly "bullying" her personal aides, commentators have criticized the couple for airing the interview while Prince Philip is in the hospital. British journalist and professional blowhard Piers Morgan described the couple's move as "crass beyond belief."
In a statement about the bullying rumors, a spokesperson for the Duke and Duchess of Sussex also called the British press' recent attacks on the couple a smear campaign and noted the suspicious timing, saying that: "It's no coincidence that distorted several-year-old accusations aimed at undermining the Duchess are being briefed to the British media shortly before she and the Duke are due to speak openly and honestly about their experience of recent years."
In teaser clips of the interview, Meghan and Harry are seen discussing the terrible toll that the toxic environment of the royal family and its surrounding press took on them. In one clip, when asked by Oprah how she feels about the Firm (as the royal family is colloquially known) hearing her side of things, Meghan says: "I don't know how they could expect that, after all of this time, we would still just be silent if there is an active role that the Firm is playing in perpetuating falsehoods about us."
The couple has responded with their own preinterview press as well. In a segment on James Corden's Late Late Show in February, Prince Harry described the coverage of his family as "toxic," saying: "We all know what the British press can be like, and it was destroying my mental health." He continued: "I did what any husband and what any father would do — I need to get my family out of here."
Meghan has been subjected to racist and sexist attacks by the press ever since the public first caught wind of her and Harry's relationship. And even now, an ocean and a continent away from the royals, she and Harry's desire to do things in their own way instead of falling in line with the Firm continues to rankle. As journalist Ayesha Hazarika told CBS News: "British culture is still incredibly socially conservative. And the British tabloids and British polite society — they prefer to see women in the royal family seen but not heard."