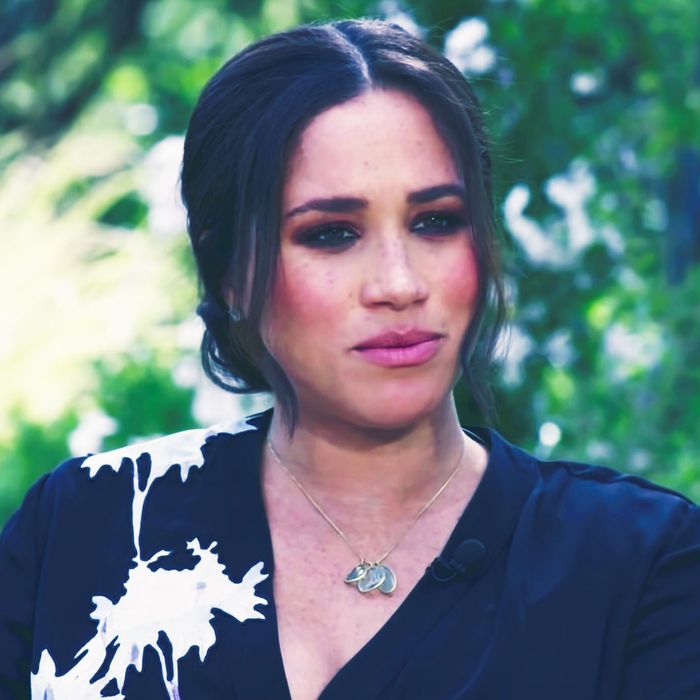 Meghan Markle.
Photo: CBS/YouTube
As we get closer to Meghan Markle and Prince Harry's much-anticipated conversation with Oprah Winfrey, the drama continues to build. Just days after CBS released its first teaser of the interview, in which Oprah notes that the couple says some "pretty shocking things," the network has unveiled a second trailer — and it's highly intriguing.
"How do you feel about the Palace hearing you speak your truth today?" Oprah asks at the start of the clip, as dramatic music builds in the background.
"I don't know how they could expect that after all of this time, we would still just be silent, if there is an active role that the Firm is playing in perpetuating falsehoods about us," Meghan responds. "And if that comes with risk of losing things, there's a lot that's been lost already." At this point, it's been well-established that Meghan suffered greatly during her tenure as a senior royal, largely as a result of the British media's ruthless, racist coverage of her. Though Meghan and Harry also blame the Palace: According to court documents from the couple's lawsuit against a major publisher over their intrusive coverage, Meghan felt "unprotected" by the royal family during her pregnancy with son Archie, during which she suffered "almost unsurvivable" online abuse.
This new teaser certainly comes at an opportune time. Earlier this week, palace aides accused Meghan of bullying her former staff, claiming that she personally "drove two personal assistants out of the household and was undermining the confidence of a third staff member," the Times of London reported. Remarking on the suspicious timing of the report — which leaked days before the Oprah interview — a spokesman for the Duke and Duchess of Sussex called the claims "a calculated smear campaign based on misleading and harmful misinformation."
"It's no coincidence that distorted several-year-old accusations aimed at undermining the Duchess are being briefed to the British media shortly before she and the Duke are due to speak openly and honestly about their experience of recent years," the spokesman continued. And yet, yesterday, Buckingham Palace announced that they were "very concerned" about the allegations reported in the Times, and that they would be opening an investigation. Never mind that some royal experts have suggested that some palace aides, with whom Meghan had fraught relationship, had a role in orchestrating some of the negative reports about her.
And we're still a few days out from the program's scheduled air date. How ever will it escalate next?