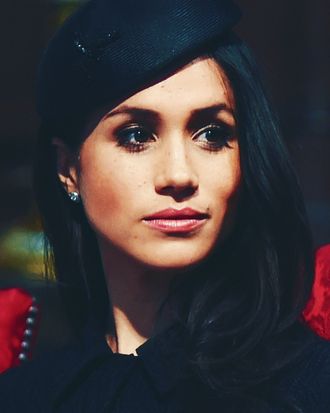 Meghan Markle.
Photo: WPA Pool/Getty Images
After spewing incredibly callous and dangerous comments about Meghan Markle's mental-health struggles, the cantankerous TV host known as Piers Morgan is out of a job. On Tuesday afternoon, ITV announced that Morgan "has decided now is the time to leave Good Morning Britain." The announcement came after 41,000-plus viewers and colleagues lodged complaints in response to his coverage of Meghan — one of whom, CNN has learned, was Meghan herself.
While the British media personality spent the better part of last weekend furiously tweeting about Meghan and Prince Harry's bombshell conversation with Oprah, which aired on Sunday evening, his most reprehensible comments came during the Monday programming of Good Morning Britain. During the show, he fixated on her, casting doubt on her revelation that the relentless harassment she endured as a senior royal made her suicidal. "I don't believe a word she says, Meghan Markle," Morgan said. "I wouldn't believe her if she read me a weather report."
According to CNN, in her complaint, Meghan raised concerns about "the impact Morgan's comments could have on others and how it could degrade the seriousness of mental health issues." And indeed, Meghan's argument is one that many mental-health organizations and advocates have echoed in recent days.
And how has Morgan spent his newfound free time? Well, he'll have you know that he's been reflecting on his inflammatory comments, or so he announced on Twitter alongside a photo of Winston Churchill. His update: As of Wednesday morning local time, he still doesn't believe Meghan. Anyway, he continued petulantly, "I'm off to spend more time with my opinions." Ah, yes, a very normal thing to say. Enjoy!