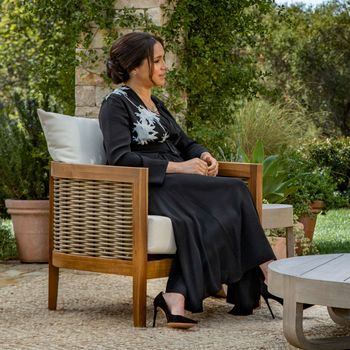 Photo: Joe Pugliese/Joe Pugliese/CBS
To no one's surprise, Prince Harry and Meghan Markle's tell-all interview with Oprah on Sunday night set the internet ablaze. One of the most damning details: Apparently, some unnamed person in the royals' inner circle expressed concern about Baby Archie's skin color. Markle revealed that "concerns and conversations about how dark his skin might be when he's born" were brought up to her husband ahead of her son's birth. To echo Oprah's shocked reaction: What???
Markle, who is a biracial Black woman, has been the target of much racist coverage by the British press. From this interview, it seems evident that members of her extended family — and this is putting it kindly — haven't been behaving that much differently from the press behind closed doors. When asked for the identity of the person (or persons, potentially) in the palace raising these concerns, she simply offered, "I think that would be very damaging to them." Harry, to whom the concerns were brought up, expressed that he was not comfortable talking about it, saying, "That conversation, I am never going to share. But at the time, it was awkward. I was a bit shocked."
In an interview with CBS on Monday morning, Oprah said that Harry wanted her to share that "it was not his grandmother [Queen Elizabeth], nor his grandfather [Prince Phillip] that were a part of those conversations." He did not say more about who made the comments.
It remains to be seen how the rest of the royal family responds to this, if they even intend to. Regardless, it seems quite clear that conveniently resurfaced rumors of Markle being a "bully" just won't cut it as a distraction from the many damning things the couple had to say in their tell-all interview.
This post has been updated with new information.