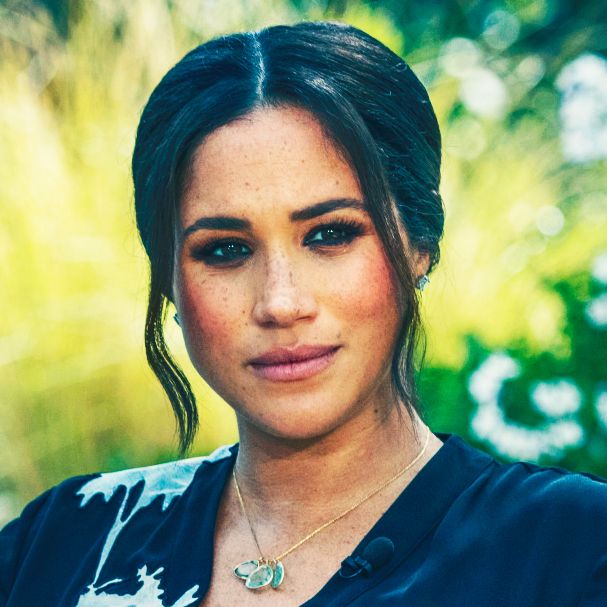 Meghan Markle.
Photo: Joe Pugliese/CBS
During Meghan Markle and Prince Harry's no-holds-barred interview with Oprah Winfrey, the Duchess of Sussex opened up about her mental-health struggles, speaking with astonishing grace and candor. When Oprah asked if she had ever experienced a breaking point, Meghan responded affirmatively, revealing that she at one point was suicidal — and that the palace did not answer her pleas for help.
"I just didn't see a solution," Meghan said, visibly emotional, pointing to the media's intrusive, racist coverage of her, which the palace — with its "no-comment policy" to untrue rumors and reports — met with silence. "I was really ashamed to say it at the time and ashamed to have to admit it, to Harry especially, because I know how much loss he's suffered. But I knew that if I didn't say it that I would do it — and I just didn't want to be alive anymore. And that was a very clear and real and frightening constant thought."
Meghan said she sought help within the palace but "nothing was ever done." She said she told people there that she "needed to go somewhere to get help," but they responded callously, telling her "it wouldn't be good for the institution." Meghan said she went to the royal equivalent of human resources, who agreed that the attacks were "disproportionately terrible." However, because she was "not a paid employee of the institution," Meghan said, she was told, "There's nothing we can do to protect you."
Meghan's claim that the royal family denied her request for help is incredibly damning — though it is consistent with the image of the palace she and Harry painted in their explosive conversation. At one point, Meghan said that an unnamed person in the royals' inner circle was fixated on the color of Archie's skin and that there were "concerns and conversations about how dark his skin might be when he's born." Meghan also told Oprah that the palace did not want to give Archie a title — and, more important, the security that comes with a title — and that her and Harry's own security was revoked after they stepped down.
Ultimately, it was Meghan's struggles, compounded by the "lack of support and lack of understanding" from both the press and the palace, that led Harry and Meghan to step back from their royal obligations last January. Although Harry said he was ashamed to admit to his family that Meghan was suffering, as he had "no idea" how to help her, he said he later "took matters into my own hands." He explained his thinking at the time: "It's really sad that it's got to this point. But I've got to do something for my own mental health, for my wife's, and for Archie's as well."
In the interview, Meghan thanked Harry for his resolve, saying, "You made a decision that saved, certainly saved, my life and saved all of us." Elsewhere in the interview, she shared her reasoning for being so forthright with her struggles. "I share this because there's so many people who are afraid to voice that they need help," she said. "And I know personally how hard it is … when your voice is silenced to be told no."
In the U.S., the National Suicide Prevention Lifeline is 1-800-273-8255.