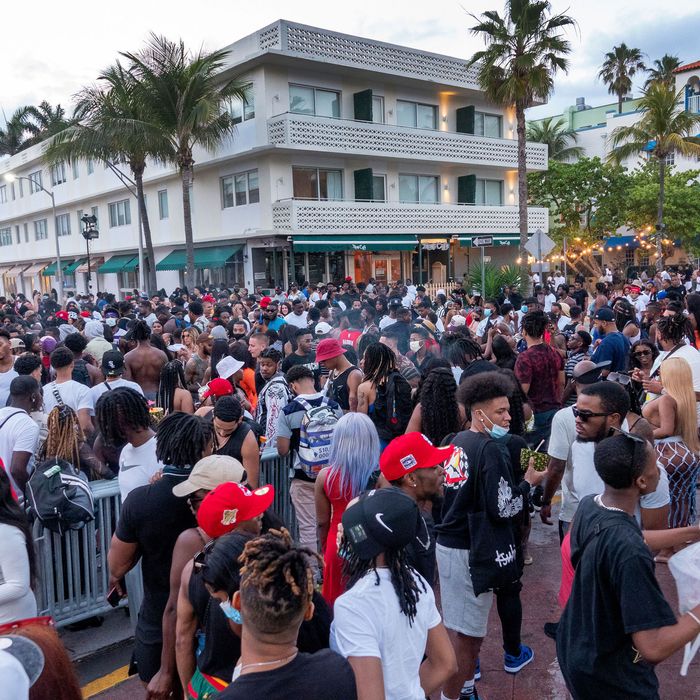 Photo: Cristobal Herrera-Ulashkevicg/EPA-EFE/Shutterstock
Though the CDC continues to caution against travel amid the COVID-19 pandemic, young people are flocking to Miami, Florida, on spring break from college. This past Saturday, Miami Beach Mayor Dan Gelber set an 8 p.m. curfew and declared a state of emergency. Hours later, after partiers failed to disperse before the curfew, Miami Beach police fired pepper balls into crowds. At least 50 people were arrested beginning Friday.
The Miami Beach City Commission has said the curfew will remain in effect until at least March 30, though they retain the option to extend it through April 13. The efforts to contain mostly maskless gatherings stand in contrast to Florida governor Ron DeSantis's characterization of the state as an "oasis of freedom" during the pandemic. (The state's businesses are largely open, and DeSantis never instituted a state-wide mask mandate.) City manager Raul Aguila has said this year's spring break crowd far exceeds the typical year, and likely includes non-college students looking to "engage in lawlessness." Local Black leaders have criticized the city's aggressive police response, noting that many of those targeted were young Black people.
Though COVID case numbers have improved in recent weeks, there is still cause for concern that large maskless gatherings like those taking place in Miami could lead to spikes in transmission. Gelber has said there are still 1,000 COVID-related infections and between 50 and 100 hospitalizations each day in Dade County. Most spring breakers are young people, who are less likely to be vaccinated due to the tiered rollout systems in place in most of the country. While young people are also less likely to get seriously sick from COVID-19, health officials worry they could become infected while on spring break and bring the virus home with them.