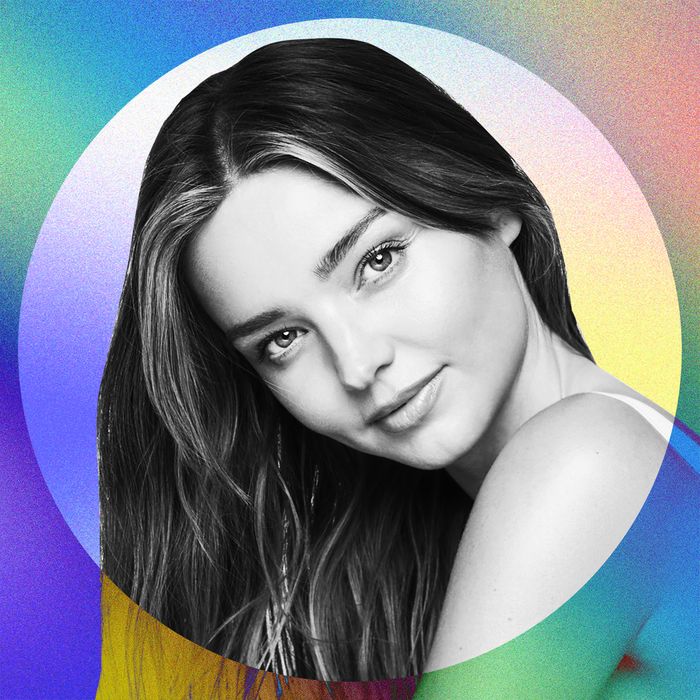 Miranda Kerr.
Photo: Courtesy of Kora Organics
Before all the never-ending rounds of celebrity-beauty-brand bingo, there was supermodel Miranda Kerr and her certified-organic skin-care line, Kora Organics. While everyone was mattifying their faces and adding a front pouf, Kerr was conceptualizing her now tween-aged beauty company featuring glow-inducing formulas filtered through her favorite crystals.
"I came up with the concept in 2006 and launched in Australia in 2009. I thought it was crazy that no one had actually made certified-organic products because that's all that I wanted to use for my own skin," says Kerr. "For so long, people thought that I was just the model for the brand or that it was just a licensing deal, but I built this company from the ground up — with my own money, my own ideas, out of my passion and desire to put out really powerful, healthy, certified products that I didn't see available to people."
The beauty space is crowded with famous faces, but Kerr's award-winning Kora is still going strong. Now sold in over 30 countries and with teams in L.A. and Australia, the brand recently launched the Milky Mushroom Gentle Cleansing Oil. A lovely blend of two rising stars in skin care (shrooms and milky things), the non-stripping, moisture-binding, essential-fatty-acid-packed cleanser feels as soothing and satisfying on the skin as it looks. "I like a dual-phase cleanser, where you shake it and can watch it transform and all that. Plus, I think the name is kind of cute," Kerr explains, making an excellent point instantly confirmed by her Australian accent. The Cut talked with Kerr about shower aromatherapy, hacking a sleep schedule, and following your intuition.
What's the wildest luxury beauty experience you've ever had?
Probably the leech facial. I was already going to this lady who does magnet therapy and a lot of different things, and one of those things was the leeches. She was like, "Oh, it's very good, you know, the lymphatic drainage from your face, and this and that." I was like, "Okay, cool, let's try it."
It was a little scary, to be honest. I kept the leeches after the facial because otherwise they kill them, and I didn't want them to be harmed. I kept two of them in this big glass jar, and I was planning on putting them in my pond here in Malibu the next day. I went to sleep, woke up the next morning, and the leeches had escaped from the jar. They were just crawling around my house, and I had to find them, pick them up, put them back in the jar, and take them to the pond. Still to this day, Flynn, my 10-year-old, talks about it. He's like, "Oh my God, remember that time you got that facial and the leeches escaped?"
Do you think of beauty as self-care? Why or why not?
Yeah, I really believe in little self-care beauty rituals. For me, that is my little cleanse, mist, serum, moisturize routine, and I scrub every other day with my turmeric mask in the shower. I do that little ritual every morning before the kids wake up and every night when they're asleep, and that's my little bit of time to get back to myself. I believe in that not only because of the benefits I see for my skin but because it's also nurturing my spirit.
From day one, all Kora products have been filtered through and touch upon rose-quartz crystals. That was a way for me to infuse the products with love and create that uplifting, nurturing experience when you use them. On the back of each product is a positive word like love, bliss, or joy to help pass on positive energy. There's also a little reminder on the back of the package to look on the bright side because every day, as human beings, we have a choice to see the world in a positive way, a negative way, or a neutral way. And I do believe that if you look at the world as glass half full, then you will have a better day.
To me, Kora is all about nourishing your mind, body, and skin, and I do think about how I can incorporate that experience into people's lives so they're not just getting results from the products but they're having the other senses involved as well. We don't use any fragrance, but we do use aromatherapy, for example. The turmeric mask has peppermint in there, which is really invigorating and refreshing sensorially, especially when mixed with the warmth of the shower. The oils in the mushroom cleansing oil — geranium, Moroccan rose, and basil — also create a sensory experience. I'm very much into that holistic experience when it comes to your skin care because when you have that little moment to yourself, you have that experience, you feel better; and when you feel better, you give so much more back to your kids, to your work, to your partner, to your friends, to life.
What do you wish more people understood about what you do?
I wish people understood that Kora is my brand, that I'm not just the face of it. It's taken a lot of effort and time and my own money. I own 95 percent of the company, and I don't take a salary because I reinvest all of the profits back into the business. We work with some of the best organic chemists in the business, and I have a really great team that I've handpicked to get these products out into the market.
As it stands now, we're the only global certified-organic skin-care brand that Sephora carries. I wish people understood the difference between certified-organic and "clean" skin care. Cambridge University put out studies in the British Journal of Nutrition showing that certified organically grown fruits and vegetables like the ones we use have up to 60 percent more antioxidants, so not only are they more effective, they're more powerful. The soil that our ingredients are grown in also has such strict regulations — it has to be nutrient rich, and they can't be grown on the same soil over and over like a lot of mass-produced ingredients are grown.
Unfortunately, "clean" beauty is highly unregulated, so many products out there are labeled as "natural" or "clean," and that just means "clean" as regulated by a certain company's own rules. For us, we're certified organic by Ecocert COSMOS, which is a world certification. That isn't us; we're not the ones regulating it. It requires a lot of time and work and money and annual auditing, but it really ensures that our brand has that integrity and transparency. My customers know exactly what they're putting on their skin.
What was the biggest "no" you heard in your career, and what did you learn from it?
There have been so many, especially during the modeling days, when we'd need to go to five, six, seven castings a day in the beginning, sometimes more. But I never took it personally because I started modeling when I was 13, and I decided it was my choice if I wanted to take it personally or not. It didn't mean that they didn't want me; it just meant that maybe they were looking for a blonde girl with brown eyes or whatever.
I do remember when I was launching Kora, there was a lot of doubt in the beginning around if it was even possible for me to really make a profitable business with the concept, which it is now. There were a lot of preconceived ideas about how a model could do that without the experience. I've had to learn so much along the way about hiring and firing and growing my business. Having the right people around you so important, but I've also relied a lot on my intuition, which, thank God, has been a great guiding force.
I do remember in the very beginning, when we were formulating the turmeric exfoliating mask — which is one of my proudest products, as you can tell because I keep talking about it — I had a very strong feeling about it. I knew I wanted to create a microdermabrasion experience combined with a purifying detox mask, with the peppermint and the turmeric. And people were like, "Whoa, that's way too much," and I was like, "Actually, I don't feel like it is; I think that people are ready for this. I know that it's going to be very successful." And it's literally right on par with our Noni Glow Face Oil now. When people give you pushback, know that you can follow your own intuition. It's important.
Where would you like to see the beauty industry go from here?
I would love for the beauty industry to continue to focus on organic ways of living. I think that there's so much room for growth there in all areas of personal care — for hair care, makeup. The technology has advanced so much with skin care in the last ten years or so, and it's been really fun to be a part of that. I'm really excited to see where it can end up, to see how we can really help people get the results they want in a healthy way.
What's one fan experience that stood out to you?
In Japan, I have a group of fans that are so passionate about expressing their love and appreciation for me. They come to the airport, they write me the sweetest notes and make banners, and they go out of their way to really make me feel welcome. And that is something I've never seen before, that excitement. One of the girls told me that I was like her lucky charm, that having a photo of me on her phone brought her good luck and health and happiness and that since she'd had me on her phone, all these wonderful things started happening in her life. I told her I was really glad that I brought some positivity into her life. She really believed that it was because she put me on a screen saver, but it was obvious that she just started making healthier choices for herself, you know? The picture just became a reminder of that change for her.
What, in your opinion, is the best affordable beauty product or products?
Coconut oil. It's a multipurpose oil, and you can use it for so many things. You can use it for oil pulling when you swish it around your mouth. I use it as a hair mask. It could be great when you're doing your nails and pushing your cuticles back. I also love essential oils, like tea-tree oil for any pimples or spots.
Fill in the blank: Unfortunately, _______ is worth it. 
Sleep. It's so important, and that's so unfortunate because if I could only sleep less, I would have so much more time to do things. When you have three boys and you have a business and your husband has his business, there's never enough time to do everything you want to do.
Sleep is so important for your mental, physical, and emotional health, for your skin, everything, but my kids don't realize that. Last night, the 10-year-old didn't wake up, but the baby woke up at 12:30 a.m. and didn't go back to sleep until 1:30 a.m. And then I was finally falling back asleep when my 2-year-old woke up. My husband wakes up every morning at 5:30 a.m., and the kids generally don't wake up until 6:30 a.m. So I do have that window when they're asleep in the morning to get a little bit of me time, to do my meditation, a little bit of yoga, or my skin-care routine. I have to go to bed an hour or so after they go to sleep, so I try to be in bed by 8:30 p.m.; that way, when I'm up with them multiple times in the night, I end up getting seven or eight hours when you add it all up. I wish we could just charge for an hour instead.
A lot of my friends, they're like, "Oh, have you seen this new Netflix show?" And I'm like, "I don't have time to watch Netflix, but I really wish I did." But if I stayed up and watched Netflix, then I'd probably only sleep like, three hours every night because of the times I get woken up. Anyway, so yeah, unfortunately, sleep is worth it [laughs]. There you go, a mother on a rant about sleep!
Is eye cream worth it? And which one is your favorite?
Yeah! I really do believe in treatments for that area. Our Noni Radiant Eye Oil has kahai oil in there, which is like a natural retinol to help with fine lines and crow's-feet. It has a rose-quartz roller, too, so it's so cooling and soothing on that eye area and promotes circulation. It also has coffee-seed extract to help with puffiness and tomato fruit extract in there, which is very brightening. It obviously has noni in there, which is a rich source of vitamins and minerals and antioxidants. All this is to say, yes, I do believe in eye treatments [laughs], especially if you're using them regularly. I actually love a combination of an oil and a cream because they do different things, like when you use your moisturizer, which sinks in, and then you put the oil on top of that.