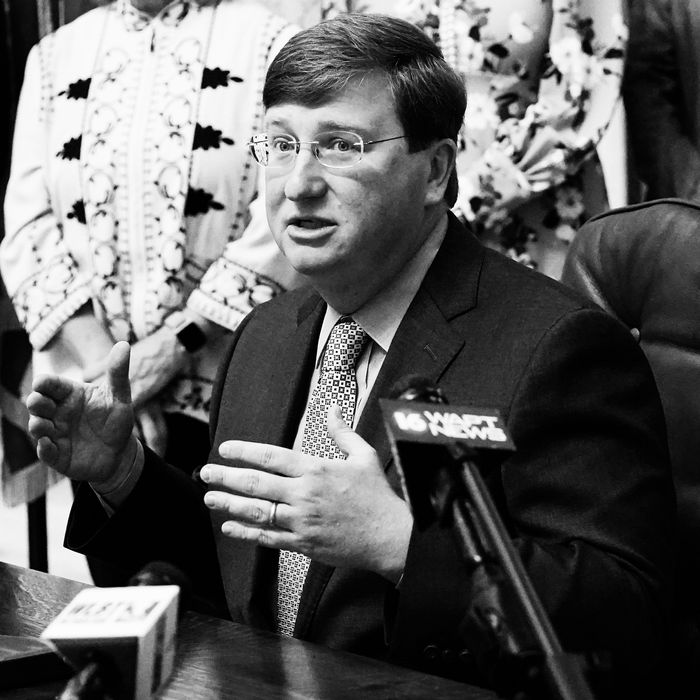 Photo: Rogelio V Solis/AP/Shutterstock
Mississippi governor Tate Reeves signed a bill on Thursday that would ban transgender athletes from competing on girls' or women's sports teams.
As ABC News notes, Mississippi is the first state to enact such a ban. A similar bill was introduced in Idaho last year, but was struck down by a federal court.
Mississippi's bill, SB2536, is one of many anti-LGBTQ bills that have been hurriedly drafted since Biden took office and signed an executive order prohibiting discrimination based on sexual orientation and gender identity in health care, housing, and education. There are currently 147 anti-LGBTQ bills under consideration in state legislatures across the country, according to the Human Rights Campaign, and 20 states have rushed to propose restrictions on transgender athletes.
"But for the fact that President Biden as one of his first initiatives sat down and signed an executive order — which, in my opinion, encourages transgenderism amongst our young people — but for that fact, we wouldn't be here today," Reeves said during a signing ceremony in the Mississippi state capitol on Thursday. The governor also claimed on Twitter on March 4 that the bill would "protect young girls from being forced to compete with biological males for athletic opportunities."
"The purpose of SB2536 is not to protect women athletes," Jarvis Dortch, executive director of the American Civil Liberties Union of Mississippi, told NBC News last week. "It's to tell transgender kids that they do not belong, that they're not welcome."
In addition to the blatant bigotry of the bill, critics have expressed their dismay that this, of all things, is what legislators are choosing to devote their time to right now.
"Mississippians are still reeling from the COVID-19 pandemic and its economic fallout," Rob Hill, the Human Rights Campaign Mississippi State director, said in a statement. "This law does nothing to help the tens of thousands still out of work or the nearly 300,000 who have contracted the virus in the state. What it does is further discriminate against transgender kids who are simply trying to navigate their adolescence."
The bill is set to become law on July 1, although it could face legal challenges before then.