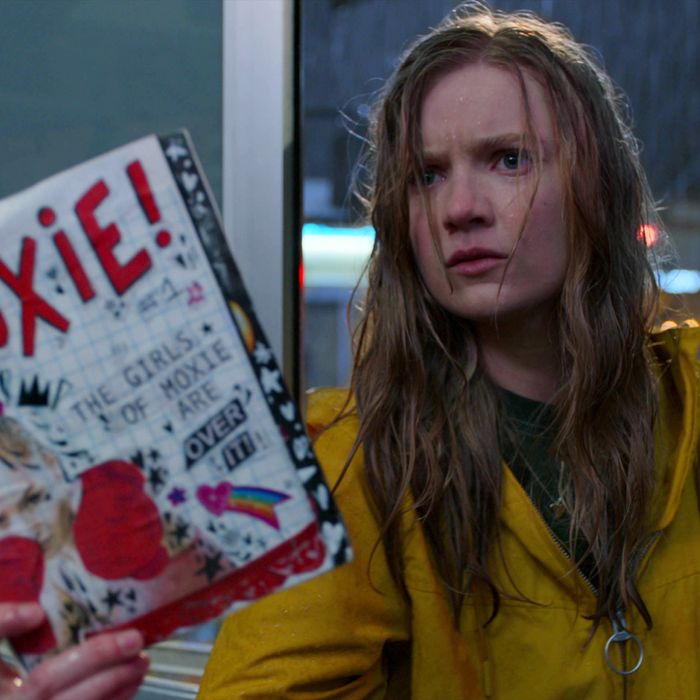 Photo: Courtesy of Netflix
Moxie, the new Amy Poehler–directed teen-feminist rom-com (on Netflix March 3), is light on the rom and heavy on the riot grrl. Based on Jennifer Mathieu's 2017 YA book of the same name, the story centers on Vivian (Hadley Robinson), a junior who begins to question the social order in her school when a new student starts speaking out and Vivian discovers '90s feminist paraphernalia that once belonged to her mom, Lisa (played by Poehler). Feeling angry and inspired, the young Gen Z-er ends up making her own zine and taking down the high-school Establishment in the process. Despite Vivian's eagerness to raise her voice, though, it's not all that clear what Moxie has to say.
As a movie title, zine title, and SAT word, moxie can prompt a full-body cringe. The film introduces the word when the hapless Principal Shelly (Marcia Gay Harden) cheers on the student body at at a pep rally: "This entire school's got moxie!" Viv's BFF Claudia (Lauren Tsai) rolls her eyes in the bleachers. "What is she, 100 years old?"
Yet when Vivian goes home that night to cut and paste her way through her rage over a degrading list of superlatives put together by the popular boys — including such plaudits as Most Bangable and Best Rack — Moxie! is the name that sticks in her magic marker. (She first tries out, then thankfully discards, Girl Power.) To the urgent, discordant tones of Bikini Kill, Vivian studs her zine with small asks for her peers to show their support, like drawing hearts and stars on their hands or wearing tank tops in defiance of the school's unevenly enforced dress code. (Netflix was sure to note that Poehler and her frequent collaborator Tina Fey heeded Moxie's "battle cry" while hosting the Golden Globes from opposite coasts on Sunday.)
To anyone who ever tried to make their own zine — and probably to the artist Nina Caruza, who designed the pages of Moxie! for the production — Vivian's one-night turnaround on this ambitious solo project will seem superhuman. She makes 50 copies and abandons them in the girls' bathroom; the publication catches on quickly among the print-starved activists of the school. It gets the coveted attention of that self-assured new girl, Lucy (Alycia Pascual-Peña), who has been subjected to mansplaining and unwanted touching by the alpha footballer Mitchell (Patrick Schwarzenegger); Lucy certifies the movement with its very own Instagram account and a corresponding hashtag, #moxiegirlsfightback, upping the ante for the group's feminist actions.
But the agenda of Moxie! the zine borrows heavily from that of its oppressors. In response to those icky superlatives, Vivian pens her own "Dirtbags of Rockport High" list, turning "Best Ass" into "Biggest Asshole." In 2021, 17 years after the Burn Book in Fey's Mean Girls took high-school name-calling to new lows, these sorts of lists feel retrograde and improbable, even when they're intended to be subversive. And Vivian's initial decision to remain anonymous about her involvement with Moxie puts some of the group's more vulnerable members at risk of administrative retaliation.
Sure enough, Vivian soon learns that true allyship is harder than shrugging on her mom's beat-up leather jacket. When she asks Lisa about her own experience protesting — we never get much information what, beyond "everything" and "smashing the patriarchy" — Lisa admits she and her friends made plenty of mistakes in their day. "We weren't intersectional enough," Lisa laments, and then moves on. It's a missed opportunity to investigate a sticky concept with an eager audience who might be unfamiliar with it or at least name-check racism, fossil fuels, reproductive rights, or any other 30-plus-year-old cause that might root the story in the real world.
In an interview with the New York Times, Poehler checked her privilege and then offered rhetorical gestures similar to her character's. "I'm into what Gen Z is selling," the director said. "There are a lot of cool conversations that feel inclusive. Whatever they're doing, they're doing it right."
The film is filled with similarly disengaged platitudes (break the glass ceiling! Lady power!), which, to be fair, might resonate with newly woke teens or make for great Instagram captions. But after a truly revolutionary year of protest, in which Gen Z played a significant part, Moxie the movie could have reckoned more with the trove of material that a post–Women's March world has to offer.
"I'm aware that outside these walls the world is experiencing a tornado, and in response young people, especially girls, are expressing themselves about every thing in every direction," Principal Shelly says, when discouraging Lucy from reporting the harassment that Mitchell has subjected her to. This is the closest we get to any acknowledgement of people's lived experiences with misconduct, discrimination, sexuality, bodily autonomy, power dynamics, wage theft, or any number of widespread "women's issues."
While protesting dress-code violations is a rebellious act for 16-year-olds, Moxie would have benefited from foregrounding the politics that Principal Shelly waves away — or maybe even from interrogating its vilification of the school's lone female authority. Perhaps this is faithful to the movie's audience; Mathieu, who has written four other YA books while continuing to work as an English teacher and sponsoring her school's feminist club, is undoubtedly clued into the generation's mores. It's worth noting that Moxie's target demo has plenty of edgier projects ready to stream, like Euphoria, The Hate U Give, Sex Education, The Half of It, Unpregnant, and the forthcoming Generation, that don't shy away from uncomfortable conversations.
Sure, the mere existence of an "intersectional feminist" teen movie that doesn't revolve around its heroine's love interest (terrific as Nico Hiraga's Seth is) is still a sign of progress. In assembling an inclusive and altruistic clique that actually resembles the class of 2021, Vivian and her friends learn that finding common ground and shoring up solidarity are important first steps to organizing any movement. Like Netflix's Never Have I Ever, Moxie's imperfections don't make it any less enjoyable. But Moxie Girls would demand more from their media.