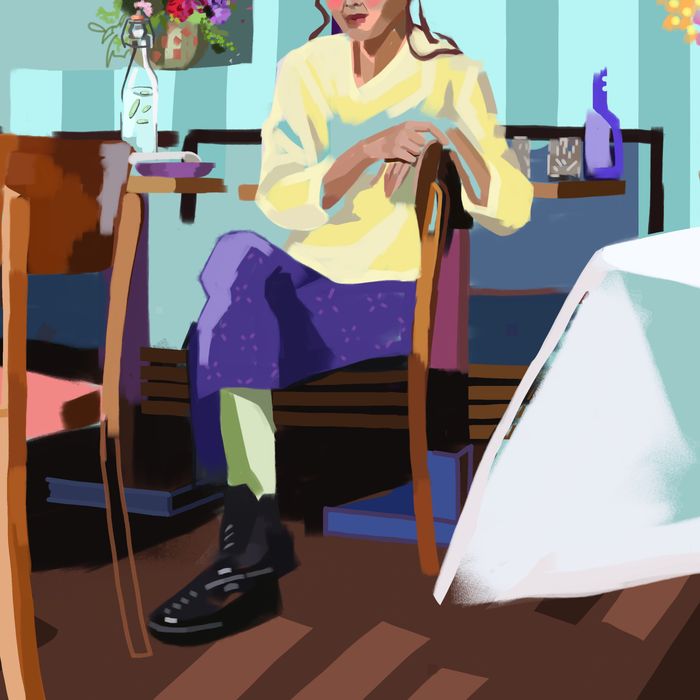 "Second Acts" is a series about making big changes later in life.
Nasim Alikhani spent most of her career in odd jobs — nannying, waitressing, running a copy shop. But her passion was always in the kitchen, where she created feasts inspired by her native Iran. Finally, at age 59, after decades of testing her recipes on family and friends, she drummed up the confidence to open her own restaurant, Sofreh, in Brooklyn's Prospect Heights. It was an instant hit, earning rave reviews and landing Alikhani on multiple "Best of" lists. Here, she talks about the moment she realized her hobby could become her second act — and a wildly successful one.
I was born in Iran, and I went to school to study law to become a judge. Then the revolution happened, and women could no longer be judges. The only option for an outspoken woman like me was to leave my country, and so I came to New York in my early 20s on a student visa. I lived in Jackson Heights, Queens, and I didn't have any money. I couldn't study law in the U.S.; I couldn't afford it. I was starting over completely.
I found a job as a nanny, and the family paid me a little extra to cook their meals. My own mother had taught me to cook when I was growing up, and it was always something I was passionate about, but I never considered it professionally. The family noticed that I could cook really well, and the wife recommended me to her friends, so I started cooking in other people's homes for parties, people's birthdays, things like that. People would tell me, "You should open a restaurant." But I was so young, and still a student in a master's program. To me, the only way to advance was through higher education, so I got a useless master's degree and kept doing all kinds of odd jobs — waitressing, babysitting, working in a copy shop.
When I got the opportunity to open my own copy-and-print shop, I was beside myself. It was the first chance I had for financial stability. I had that business for eight years, and it did really well. During that time, I got married, and between my husband and me, our financial situation improved significantly. We were working hard and dining out a lot, and I would always look at the food scene and say, "Why is nobody doing a good job with Iranian food?" I started thinking seriously about opening a coffee shop in the East Village that would serve Persian food for breakfast and lunch. We were also trying to start a family, and it was difficult. I lost pregnancies. And then I got pregnant with twins, so I put the restaurant idea on the back burner.
For many years, I was a happy stay-at-home mom. I also focused on "honing my knife," as we say. Every meal was a project, even the kids' breakfast. I baked, I pickled, I threw massive parties, I cooked for my kids' school, I volunteered to make meals for charities I liked. I was one of those annoying mothers who bring cupcakes everywhere and throw pizza parties for the entire soccer team. Along the way, I got to experience what it's like to cook for 40 people, for 50, for 100, even 400 people. I also started researching Iranian restaurants in the U.S., in Canada, and in London. I realized that there's a huge vacuum for high quality Persian food. At that point, my kids were in middle school, and I started to plan for what I could do when they were no longer at home.
When I told my husband that I wanted to open a restaurant, he was very resistant. He told me about the statistics, that most restaurants fail in the first six months. I told him, "You can either help me, or I'll go and do it myself." By that point, I was in my mid-40s, and I needed to be able to tell myself that I tried it. I can handle failure. I have been disappointed in life. I lost babies. I lost multiple dreams. But what I cannot handle is knowing that I had an opportunity but I chickened out.
I started interning for various restaurants, and I learned a lot about the logistics of running one. It helped me realize what kind of space, what kind of location, what kind of restaurant I wanted. And that gave me a lot more confidence that I was going to do well. My husband and I found a restaurant space in Brooklyn and built it from the ground up. That process took six years, because the building was landmarked and getting permits took forever. During that time, I kept working in restaurants and I wrote my recipes. I thought about every detail — the mismatched silverware, the calligraphy on the menu. I was working about 16, 17 hours a day. When we were finally ready to open in 2018, I would wake up with my heart coming out of my mouth every night, I was so anxious.
For the first few months after we opened, I couldn't believe it was actually happening. I was terrified that the food was not good enough, that I was not good enough. People would call me chef, and I was like, Who are they talking to? And then those glowing reviews started coming in. I would see my name and think, This cannot be real. When Melissa Clark called to ask if she could put one of my recipes in the New York Times, I couldn't believe it. I couldn't even answer. And my husband was like, "You have to call her back!"
Those reviews kept me going through our first six months, which were brutal. The hours were long, and there was some tension in my kitchen. As a woman, and as a woman of color, I had to constantly establish "It's my restaurant, for God's sake. I know what I'm doing."
The other thing that kept me going, and made me realize that we were successful, was the empty plates of all my guests. On my phone, I have at least 50 pictures of empty plates, not a grain of rice left. To this day, that gives me the most joy. It never gets boring. It never gets repetitive. It affirms that is what I am supposed to do. I feel like everything I did in my life, from when I was very young, prepared me for this point.
Before the pandemic, we were financially successful, but that didn't matter much to me until COVID hit and we had surplus to get us through. Some of our workers didn't qualify for unemployment, so we decided to not let anybody go and to take care of our people. It has been challenging, but our business is still in a good place.
If I wanted monetary gain, maybe I would be disappointed right now, because the pandemic has been so hard. But I'm 61, and I have a more mature view of success. All of our seats are fully booked for this weekend. My guests come in with a smile and anticipation. What more can I want?