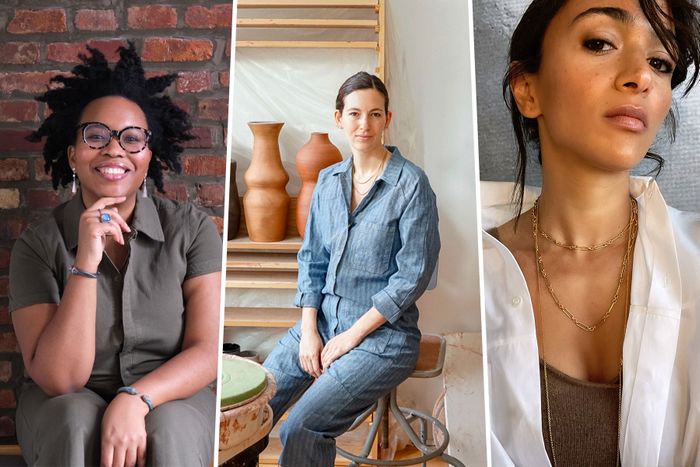 Photo: Courtesy of Talent
New York has always been more than a city — it's a beacon to those who dream of being their most authentic, creative selves. And while living, working, and creating here means something fundamentally different in 2021 than it has in the past, what hasn't changed is the passion and perseverance of the artists and creators who proudly call this city home. In the last year, they've weathered a pandemic while finding new ways of not only continuing to create, but bringing resources and inspiration to their communities like never before.
In tribute to the energy and resilience of the people who call New York home, we partnered with David Yurman, the timeless jewelry makers founded by husband-and-wife artists in NYC, to talk with three New York creatives: ceramicist Helen Levi, artist Laila Gohar, and poet Giselle Buchanan, about their passion for this city, how it informs their work, and why there's no other place they'd rather be.
What attracts you to poetry as a medium of expression?
I believe that poetry is a shared language in the hearts of people who are in love with life. It's the place I go to make sense of what I'm experiencing and it somehow makes my feelings a communal experience, which is the most appealing aspect of it for me. I'm sharing how life has worn me, moved me, and when someone says I was able to explain what they were feeling in a way they had no words for, that means a lot.
What creative possibilities has NYC fostered for you?
New York City has been the epicenter of my creative life. I would not be where I am now if it weren't for nonprofits like Urban Word NYC and Harlem Textile Works (which unfortunately doesn't exist at the same capacity anymore) through which I was able to learn for free as a teenager. These organizations nurtured me as a young artist and gave me permission to believe it was possible for me too. It's part of the reason why I make sure to be a teaching artist in my community now.
I'm also deeply moved by the talent here and have spent so much time in the corner of crowded dive bars listening to showcases put on by artists. Those experiences have shown me how diverse the spectrum of human creativity can be. It has kept me open and curious.
Your workshops have been more popular than ever since the pandemic. What needs do they address? How are they fostering community and creativity?
I think people are processing foundational human emotions at a higher intensity right now. Battling with mortality, loneliness, belonging, grief. These are the feelings poets have been writing about for ages. Poetry has always been a place where people can contend with big feelings. Sharing in creative space, whether in person or virtually, is a deeply healing thing for people. Communal creativity is something we need, and it's integral to our health and well-being in difficult moments.
How has your creativity been impacted since the pandemic? How have you adjusted and maintained inspiration?
Like many artists who had been working in the gig economy, I found myself with a lot of time on my hands at the beginning of the pandemic. It made me feel like I needed to come out on the other side of this having created the master works of my dreams — like I needed to be productive or else this time inside has been wasted. Now, I'm realizing that instead of diminishing my art to being a tool purely for my advancement in capitalism (which, as professional artists, we've been taught to prioritize), I can get back to the basics of how art served me as a child, by allowing myself to create from a place of healing, self-expression and experimentation.
I've maintained inspiration by exploring my creativity in ways that make my life feel more intentional. I've baked rosemary biscuits from scratch. I've made myself adornments. I've made sure to have fresh flowers at home as often as possible. I've also used this time to take in the works of other storytellers, either through reading, watching films or revisiting my favorite TV series. This practice has kept my desire to tell good stories alive.
How would you describe your personal style? 
My personal style is super playful and experimental. I access my inner child when I get dressed. I play with characters and different versions of myself. I've always loved using color, texture and layers. In the past year, I've prioritized comfort in my style over anything else. I pick my clothes in ways that allow for fluctuations. I can shrink and expand in my garments and still wear them. I've paid more attention to how I make what is functional in my life more stylish. In this way, I've been having fun with my glasses and infusing errand-running outfits with my personality.
What do you treasure about the David Yurman pieces you wear? 
I love that David Yurman pieces are wearable works of art. Each piece tells a story and the myriad of ways you can combine them allows you to craft your own narrative visually. No person will wear the same piece in the same ways.
What is most inspiring to you as you look ahead to 2021?
I'm excited to see the ways people are using their creative power to push against the status quo and challenge the structures that exist by questioning whether or not they are functioning in accordance with the world we want to live in. I'm excited for the conversations we will continue to have and all that will be birthed in the hearts and minds of people because of them.
Helen Levi, Ceramicist and Photographer
What attracts you to ceramics and photography as a medium?
I studied photography in college but ceramics has been a hobby since childhood. Although I'll always love taking photos, I find great satisfaction in making a functional, purposeful object that becomes part of a person's daily routine.
Tell us a bit about the space where you most love to create.
My current studio is my fifth one in eight years, and the one where I feel the most settled. The back of the studio has a big southern-facing patio door and I love the afternoon light and shadows. It's cozy and sunny all year round. I'm hoping I can stay here a long time.
How has your creativity been impacted since the pandemic? 
I spent all of the pandemic pregnant or as a new mom, so it's been a lot of life events going on at once. On a really basic level, I've had to learn how to do more with less time — I've definitely never been so efficient! And taking time off for the first time, as maternity leave, really taught me how to step back a bit and let my assistants keep things going in my absence. (Spoiler alert, they've done an amazing job!)
I'm a first-time mom, so I can't compare it to any other experience; but it's been a transition on every level, one that I'm still exploring and understanding more every day.
How would you describe your personal style? 
My day-to-day work wardrobe is function first. I cherish my opportunities to dress up because normally I'm just in dusty pants and a T-shirt. My personal style tends towards comfort: broken-in jeans and cozy sweaters, with some vintage and special jewelry pieces mixed in.
It's an extra special treat to wear a beautiful necklace since I'm not able to wear rings or bracelets while I work, so I love the different David Yurman chains. They feel so wearable and so luxe at the same time.
Tell us a bit about the projects you're undertaking to address community needs in the wake of the pandemic.
I have a mug design on my website which donates 50% of the sales to rotating organizations - The Do Good mug — and I can't wait to revisit the Potters in Protest fundraising dinner series when we're able to; the most recent event had been scheduled for the end of March 2020.
What makes NYC special for you?
I grew up in the East Village, and my parents still live there — I still Iove walking around Tompkins Square Park, which I've done since I was a little kid. The best thing about living and working here is the community, it's something I miss so much in pandemic times. Meeting other designers, talking shop, and making friends with neighbors. Building relationships with creatives I admire has led to some really fun projects. As I look ahead to 2021, I'm most looking forward to hopefully being able to gather again as the vaccine rollout continues.
What attracts you to food as a medium for creativity?
I like how immediate the transfer of emotion is. The way people react to food is visceral — and there is almost always a reaction, no matter what it is. I also enjoy that food is ephemeral. Creating spaces for people to feel comfortable and free to be themselves is very important to me, and you can do that through food.
What brought you from Cairo to NYC?
I had a good childhood, but I always knew I wanted to leave Cairo. I was curious about the rest of the world and felt an attraction to New York specially. In Cairo there is a lot less flexibility, but in New York, it feels like you can be whoever you want to be.
How would you describe your personal style? How has it changed in the past year?
A lot more sweatpants! I didn't even own a pair of sweatpants pre-pandemic and now, especially in winter, it's all I wear. I like to elevate them with jewelry. I like wearing the same piece of jewelry everyday and switching out every few months as opposed to every day. My David Yurman pieces lend themselves well to this — they're both beautiful, and feel like an extension of my body as opposed to a foreign object, which I really love.
Tell us a bit about the space where you most love to create.
I work out of my studio in Chinatown. It's a special little building; a small, two-story building that stands on its own. It feels like a tiny castle.
What is most inspiring to you as you look ahead to 2021?
People's resilience. How people have been faced with so much hardship this year and continue to forge ahead and create opportunities for themselves and for their communities.
This advertising content was produced in collaboration between Vox Creative and our sponsor, without involvement from Vox Media editorial staff.