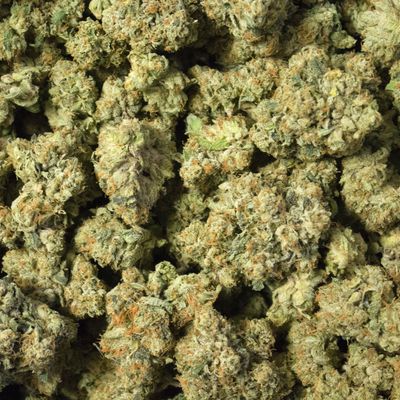 Weed.
Photo: Oksana Smith/Getty Images/EyeEm
At long last, following years of unwavering pressure from activists and momentum in other progressive states, New York has legalized recreational marijuana. On Tuesday night, the State Senate and State Assembly passed the bill following hours of debate, and Andrew Cuomo signed it into law this morning, making New York the 15th state to do so.
"I cannot be more proud to cast my vote to end the failed policies of marijuana prohibition in our state and begin the process of building a fair and inclusive legal market for adult-use cannabis," State Senator Liz Krueger, who sponsored the bill in the Senate, said yesterday in the New York State Capitol. "It has been a long road to get here, but it will be worth the wait."
According to the New York Times, some parts of the law have already gone into effect. Notably, legal adults 21 and older are now allowed to possess up to three ounces of cannabis or 24 grams of concentrated forms of marijuana for recreational use. Also, with the exception of schools, workplaces, and cars, adults can now smoke marijuana in any public space that also permits smoking tobacco. (However, the Times notes that localities could place restrictions or regulations on public consumption.) In addition — and among the most crucial parts of the bill — the state will begin expunging the records of people with past marijuana-related convictions that would be legal under the new law.
"Unlike any other state in America, this legislation is intentional about equity," Assemblywoman Crystal D. Peoples-Stokes, who sponsored the bill in the lower chamber, emphasized yesterday. As advocates of legalization have long argued, the criminalization of marijuana does little to deter recreational use and disproportionately harms Black and Hispanic people, who are arrested on low-level marijuana charges far more frequently than white people. Lawmakers say that racist policing and the deleterious effects it has had on communities of color were at the forefront of their minds when crafting the deal, which they hope will undo some of the inflicted harm. "Equity is not a second thought," Peoples-Stokes continued. "It's the first one, and it needs to be, because the people who paid the price for this war on drugs have lost so much."
Once two new government entities are established, the Cannabis Control Board and the Office of Cannabis Management — which will respectively be tasked with crafting and implementing new regulations — other parts of the bill can take effect. Likely in the coming months, delivery services will be legal, as will lounges where marijuana can be consumed, and residents will be allowed to cultivate up to six marijuana plants at home for personal use. However, the Times reports that it'll likely be at least a year before marijuana dispensaries can open their doors. (The legislation also expands the state's medical-cannabis program.)
Under the law, the estimated $350 million in yearly tax revenue that the new market is expected to generate will go toward public education, social-equity programs, and drug-treatment and drug-prevention programs.
This post has been updated.