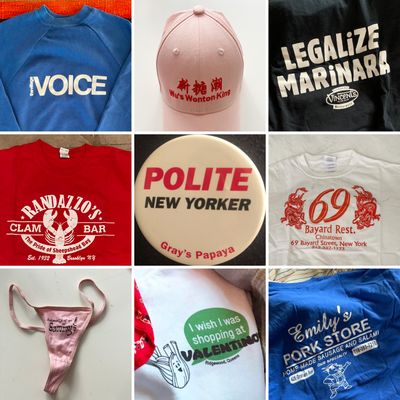 Photo: Courtesy of Sylwia Meyer, Erica Schwartzberg, Becca Hafter, Colin Camac, Gabe Rosen, Angie Chavez, Liz Pavone.
Following the publication of the Cut's cover story last week, New Yorkers took to social media to show off their own New York–specific merch. Whatever you want to call it — we dubbed it "Zizmorcore" — we can all agree that there's a certain flavor of New York souvenir that feels unique to the city. Maybe it's a tote from the local coffee shop you never want to go out of business or a tattered hat from a roller rink you loved that closed decades ago. These items are all over; you just have to know where to look. (Or how to barter — one person said they once bought a Peter Luger hat off a parking-lot attendant.)
Below we've culled some of the collectibles New Yorkers shared from their own closets, from a decade-old Sammy's thong to a hand-painted Pearl Paint sweatshirt. Thanks for sharing!