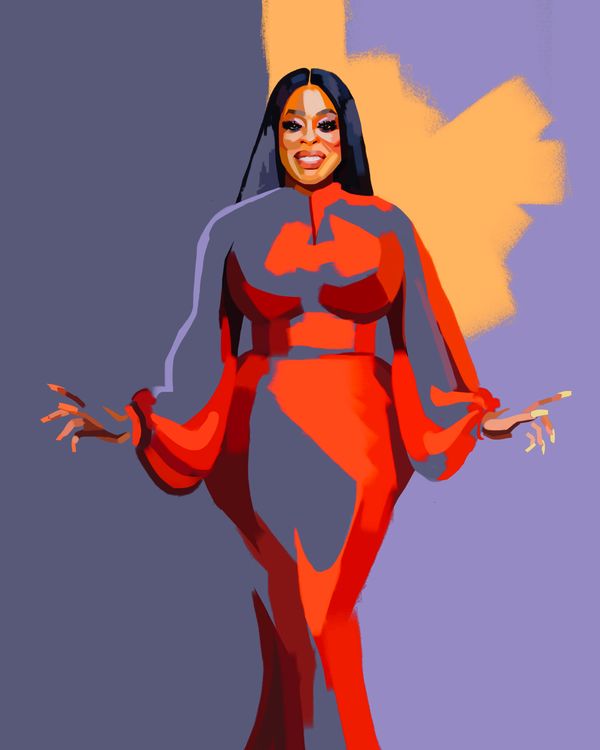 "Second Acts" is a series about making big changes.
There's a scene in the season two finale of Claws — the over-the-top dark comedy about a nail salon-cum-drug-front run by Niecy Nash's Desna Simms — that's stuck with me. In this particular episode, after an especially long day, Desna approaches a man who used to be her boss. She tells him, "Thank you for underestimating me — that shit taught me a lot." She pauses and says, "Now get out of my face."
It was Nash's character saying these lines, but, I thought, it could easily have been Nash herself. She's made a career of daring people to underestimate her, of opening doors that seemed closed to her, of reinventing herself. I would say she's at the top of her game, except that I suspect she has much more game to play. As someone who has had a two-steps-forward, one-step-back kind of career in media (like I assume many of us in media have), it's inspiring to see a 51-year-old woman not just get work, but make professional moves that would make anyone envious.
I was already a big fan of Claws when I saw Nash interviewed live onstage at a taping of the podcast Death, Sex & Money not long after the show debuted in 2017. I had just turned 40, and I was obsessed with Nash's character, a brash businesswoman who took care of her brother and was fiercely loyal to her employees. And Desna was sexy. I loved watching a hot middle-aged woman on TV unapologetically wielding her sexual power. I loved Desna's outfits — tight, low-cut dresses and high heels, and of course, nails always perfectly done. I wanted to feel some of the same power myself, to feel that entering my 40s didn't mean I would melt away into the shadows.
But Desna, of course, is not Niecy, and I was curious what the woman behind the character was actually like. That night, I listened to her explain that she'd had her first kid at 21 and that she was determined to be an actor, even after she had two more kids in her 20s and had to drag the three of them to auditions. She talked about getting her big break — getting cast on Reno 911! — after small roles in TV shows like NYPD Blue and movies like Cookie's Fortune. When she was called about the Reno audition, she said, she was asked if she did sketch comedy, and she answered that yes, she did, even though she had no idea what it was — then quickly called a friend who told her that it just meant making up different characters. I can do that, she thought, and then, when she got to the audition, they were running late, and — as she tells it — she knocked on the door and asked if they were going to get started because she had to get her kids to Chuck E. Cheese by seven. Hardly a conventional Hollywood move, but she got a callback, and then the part. In that same two-week period, she booked a recurring role as Bernie's sister Benita on The Bernie Mac Show and a job as the host of the Esquire Network (RIP) show Clean House.
Nash's career wasn't a straight upward trajectory from there, though. It includes one season of a show about a group of kooky hotel managers, the voice of Mrs. Boots on an animated show called Slacker Cats, and two episodes of Gary Unmarried, starring Jay Mohr as a recently divorced painting contractor. But then came two comedic roles that finally seemed to build on the work she had done on Reno: the owner of a beauty salon and Cedric the Entertainer's wife on The Soul Man, which ran from 2012 to 2016, and the nurse Didi Ortley on the underrated three-season HBO dark hospital comedy Getting On (for which she was twice nominated for an Emmy). Still, it seemed like this would be the lane her career stayed in: mainstream to dark comedy and everything in between.
Until 2013, when she got cold-called by Ava DuVernay to be in Selma. (She recalls talking to her "like I've known her my whole life.") It was a departure from the other characters she'd played, a historical, dramatic role in a significant movie about the civil-rights movement. But as Nash tells it, drama was what she'd originally wanted to do, ever since she saw Lola Falana on TV when she was 5 — and this was her chance. After seeing the completed film for the first time, she said, "I was full … full."
But feeling full didn't mean Nash stopped there. A few years later, when she heard about DuVernay's 2018 Netflix limited series When They See Us about the Central Park Five, Nash didn't get a call — so she called DuVernay, and then she texted her, and then, she says, she slid into DuVernay's Instagram DMs. When I heard that story, I was reminded of something she'd said onstage during that Death, Sex & Money taping. That her "plan A was to be an actor. Plan B was to make that plan A work," adding that she adopted "no matter what" as a mantra, which "meant push through whatever the obstacle is — or whatever it is you have to face — you make it happen, no matter what." She told Shondaland in 2019 that when she managed to finally make the transition from comedy to drama, "after the industry saw me as I saw myself, it began a whole different level of work."
When I look at Nash's career, I see someone who could have stayed comfortable, who could have continued simply taking the roles she was expected to play, but instead made the choice to expand her range and keep challenging herself — she's not only acted in a range of roles, but directed too. Middle-aged women in Hollywood aren't supposed to keep reinventing themselves; they're supposed to quietly fade away into the background. They're supposed to be content playing the few roles that exist for them and be happy about it. The same could be said for middle-aged women in media: We're not the prodigies or the ingenues anymore, and it can be difficult to continually define your own lane. I left journalism and started a podcast in part because I couldn't handle being defined by other people anymore; I wrote a memoir because I wanted to be in charge of my own story. I wanted to rock the boat in the same way that Niecy Nash is doing in her own brilliant way, except that Nash isn't just rocking the boat, she's buying her own yacht and throwing a party on it. She's saying, if you want to underestimate me, go right ahead. I'll be over here.