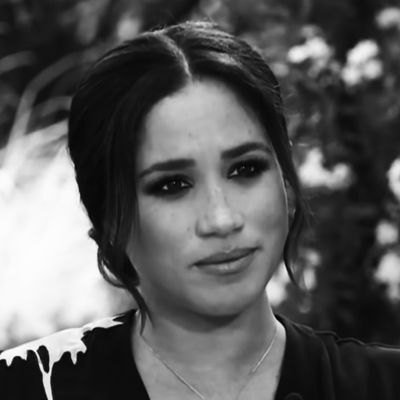 Photo: Harpo Productions/CBS
"Never complain, never explain" has long been the British royal family's modus operandi for dealing (or not dealing) with its notorious tabloid press. It's a cutesy, if crusty, way of saying that rather than comment, the stiff-upper-lipped Windsors prefer to ignore stories about themselves until they magically disappear. They've employed this strategy through broken marriages and cheating rumors and Prince Charles wishing to be Camilla's tampon. The Palace didn't breathe a word in 2019, for example, when Prince William was dogged by allegations of an affair with Rose Hanbury, the outrageously titled Marchioness of Cholmondeley. But in the case of Meghan Markle and Prince Harry, it's a tactic that backfired spectacularly. As the couple revealed in their shattering interview with Oprah, it wasn't just the toxic British press that forced them from the Firm, but the monarchy's failure to support its first modern member of color, deny false stories about her, and publicly call the abuse what it was: racism.
Instead, according to Harry and Meghan, senior members of the family drew false equivalences with their own seasons of catty coverage. "They very much have this mentality of, 'This is just how it is. This is how it's meant to be. You can't change it. We've all been through it,'" Harry said on Sunday. Except that Meghan's mom, Doria Ragland, was the only one subject to headlines describing her as "straight outta Compton" (in fact, she lives in View Park–Windsor Hills) and Meghan the only royal woman to be repeatedly cast as "demanding" or "bullying" — variations of the angry Black woman trope. Even her penchant for avocado toast was an affront, with the Daily Mail lamenting that Markle was "wolfing down a fruit linked to water shortages, illegal deforestation, and environmental devastation." As she retorted to Oprah: "That's a really loaded piece of toast."
Far be it from the Palace, global headquarters of white privilege, to grasp the nuances of misogynoir. It was surely unpleasant when the tabloids speculated on William's dalliances within the Turnip Toffs, the clique of youngish aristocrats who own giant swaths of the British countryside, and nasty when they ragged on the state of Kate's feet during a royal tour of India. But salacious coverage is a thing apart from racism, which Meghan said escalated the volume of death threats and online abuse against her. In a bonus interview clip released by CBS on Monday, the duchess made the distinction clear. "Kate was called Waity Katie, waiting to marry William … while I imagine that was really hard," Meghan said, "rude and racist are not the same." Another key difference, she added: "You've had a press team that goes on the record to defend you, especially when they know something's not true, and that didn't happen for us."
Indeed, there is a precedent for the Palace selectively commenting on false stories for family members who are not Meghan and Harry. In 2019, Kensington Palace deigned to deny that Kate Middleton got "baby Botox," contrary to an Instagram post by a British medi spa. The rumors are "categorically not true," a palace rep said in a statement, adding, "The Royal Family never endorse commercial activity." Last year, they issued another rare denial, in response to a Tatler cover story claiming Kate felt "exhausted and trapped" by the increased workload left in Harry and Meghan's wake. And in 2015, the Palace emphatically denied "that the Duke of York had any form of sexual contact or relationship" with Virginia Giuffre, who says she was forced by Jeffrey Epstein to have sex with Prince Andrew when she was 17. What does it say about the royal family that they're willing to stand by an alleged sexual predator but leave the only Black woman among them to suffer to the point of suicidal thoughts?
"One of the most telling parts, the saddest parts … was over 70 members of Parliament, female members of Parliament, both Conservative and Labour … called out colonial undertones of articles and headlines written about Meghan," Prince Harry said. "Yet no one from my family ever said anything over those three years."
Of course, calling out the colonial undertones (more like overtones) and racism baked into the U.K. press would almost undoubtedly force the monarchy to reckon with its own history of white supremacy, a dark legacy the institution would rather ignore. Plus, as Harry shared in his capacity as recovering royal, there is a codependent relationship between the royal family and the tabloids, however venomous: "There is this … invisible contract behind closed doors between the institution and the tabloids … the institution survives based on that."
It's a striking contradiction: The royal family is so desperate for survival, it's willing to tolerate the British press at the expense of Meghan, a Black duchess and talented philanthropist who was the monarchy's very best chance at staying relevant among its Commonwealth countries, many of which are majority-Black. "I mean, here you have one of the greatest assets … that the family could have ever wished for," Prince Harry told Oprah of his wife. Past tense: had.