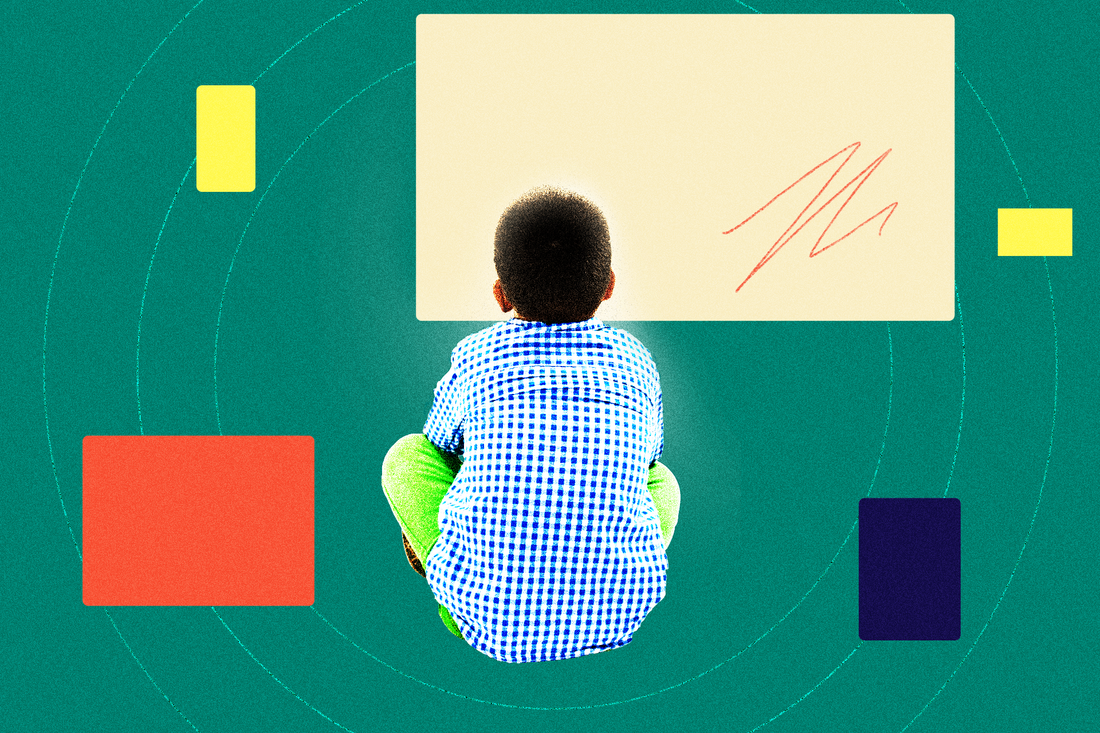 Photo-Illustration: Lauren O'Connell
Between remote schooling, video calls, streaming marathons, and gaming, our screens have been a lifeline for many of us this past year. For parents, this has meant striking a delicate balance: of course you want your kids to spend time playing outdoors, reading books, and socializing face-to-face, but the realities of the pandemic have moved some of those activities online for now. With our phones, tablets, and other devices now essential for both work and play, figuring out how to encourage kids to use them productively is an important task for every parent, and in partnership with Total Wireless, we're here to help you do just that.
"Over the past year, obviously we have all increased our screen time majorly," says Lizzie Assa, a parenting strategist, mom of three, and the founder of The Workspace for Children. For her kids — a teen, a tween, and an eight-year-old — screen time might include getting through virtual school during the week and sitting down for a video-chat playdate or messaging with friends on the weekend.
But the increased use of screens isn't a reason to let go of building healthy habits around devices, she says — instead, it's an opportunity to reinforce them. "For me and for my family, we use screen time as a tool and not a fallback," says Assa.
Most of the popular advice around screen time, though, was written before the pandemic upended all of our lives — and parents in 2021 deserve guidance that acknowledges the special circumstances and pressures of the moment. And to get through these times, it's important to have a plan that can keep up. Total Wireless offers no-contract, unlimited family plans with no hidden fees, and it uses America's largest and most dependable network, so everyone can stay connected to the things they love and save your family up to $1,200 a year.*
Here are five practical tips using screens to the whole family's advantage:
Be clear about who's in charge…
"For younger children, it's always going to be that the grownup is in charge of screens," says Assa. That means you as a parent get to decide when and how much they're using your devices, and what they're using them for. It also means these devices are otherwise kept out of sight. "You're not going to just leave it on the coffee table so that when your three-year-old rolls out of bed, he just turns it on. Instead, you're going to have specified times where you have screen time."
Teens and tweens need boundaries, too, though they can and should evolve over time. Assa says her oldest uses a cell phone, though she makes clear, first, that the device belongs to her. "We definitely let him be on it more than we would have pre-pandemic, because that's how kids are connecting right now," she says. "But at night we're pretty hard-line about the phone goes back in the kitchen and gets plugged in the kitchen. And if you get caught with your phone not in the kitchen at night, that phone is back with me."
… But give older kids some breathing room.
It's not realistic to expect a teenager to always resist the temptation of checking their notifications or opening another tab while they're doing homework. Assa advises that parents acknowledge that and help their kids understand why it's sometimes so hard to stop scrolling. "The truth of the matter is, especially for teens and tweens, they need to learn to monitor themselves. They need to learn to be aware of their habits," says Assa. If they understand, for instance, how social media can trigger the brain to release dopamine, they can hopefully feel more informed about their decisions around using it.
If you're nervous that your teen is becoming too reliant on the screens, however, you can check the total data used on each line on Total Wireless' My Account app. Once you have a clear picture of how much data is being used, you'll be able to work together with them to set realistic boundaries.
Set time aside to disconnect from devices and connect with one another
Assa recommends taking 10 minutes each day, whenever is most convenient, to sit down and unplug with your child. This means intentionally saying, "'I'm putting my phone in the other room,' and if you have older kids saying, 'you're going to put your phone in the other room, too, and we're going to hang out. I'm going to set the timer for 10 minutes and this is just about us,'" she says. This helps communicate that, despite everything else going on in your lives, your connection is the most important thing.
Model the habits you want your kids to learn
Kids aren't the only ones spending more time with their screens — and they're watching us every day as we tap, type, and scroll. This means parents should be aware and intentional about the examples they set, says Assa. "For me, I'm saying to my kids, 'Your phone and your computer are in the kitchen at night.' And I'm saying, 'My phone at night is also not next to my bedside table,' and following through on that as best I can," she says.
Go easy on yourself
At the end of the day, rules are meant to be broken, and that's never been more true than this year. "Everyone's going to have days right now where they want to just pull the covers over their head — and if that means your kid is on a screen all day, then by all means, that's okay," says Assa. "Just know that you can change your mind and start over the next day."
"A lot of parents think once they've let go that there's no way to pull it back. The guilt overtakes them and they think, 'I can't upset my child by pulling it back.' And that's not true. You can always start where you are and set up a new routine."
*Savings claim: When compared to the monthly cost of comparable 4-line postpaid plans of the leading carrier. Excludes taxes, fees, autopay discounts, and limited time pricing. Source: Competitor Websites, February 2021.
This advertising content was produced in collaboration between Vox Creative and our sponsor, without involvement from Vox Media editorial staff.