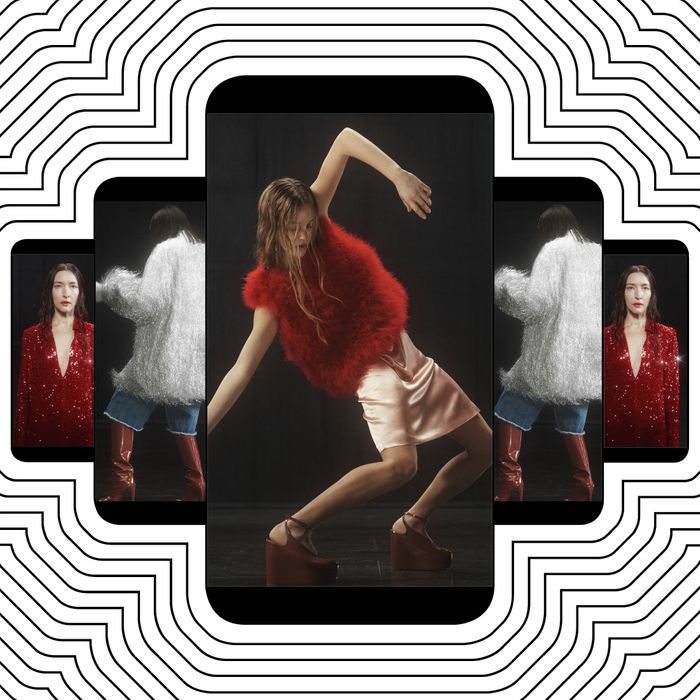 Now more than ever, people are experiencing fashion through their phones. In "Screen Time," fashion writer Emilia Petrarca shares all the screenshots, double taps, and swipes she made this week.
The best thing I did this week was watch Ariana Grande's Sweetener tour documentary on Netflix, which is called Excuse Me, I Love You. I know … I'm just as surprised as you are. I turned it on thinking it would feel like eating a bag of fluffy cotton candy, which it did, but in a way that tickled all my senses as opposed to rendering me comatose.
Ariana Grande is pop incarnate: She's sugar, spice, and everything nice. She sucks on lollipops and tosses them into the audience with a whip of her signature ponytail. Most of the movie is bathed in a pink-purple glow, as if it were filmed inside an Easy Bake oven. But unlike cotton candy, the show is actually substantive. Ariana Grande can sing. She's also skilled at telegraphing raw, unfiltered emotion. Her music makes you feel love and loss and sexiness and sadness all at the same time. Sure, it looks like a Hallmark Valentine's Day card on the surface, but after about a minute, you're like, Wait, why am I crying?
This may seem like a leap, but the best collections during Fashion Week so far this season have been made of similar ingredients and had a similar effect on me. When I put the Dries Van Noten short film up on my television screen on Wednesday night, for example, I was just as entranced. I couldn't get off the couch, but my heart was exploding out of my chest.
Below, my week in scrolling.
A Fashion Film That Actually Made Me Feel Something
This week, spring started to feel like less of a distant fantasy. Joe Biden said we'd all be vaxxed by May, and I started texting with my friends about what we were going to wear when we could go out again. Our go-tos are obvious: I want to wear tight clothes and short, little mini-skirts that set my legs free after a year of sitting on my butt. I want to wear fabrics that are see-through and sensual and that make me feel like a french fry being dipped into a milkshake. None of this is very deep, and that's okay. Everyone is allowed to indulge in a sort of flashy, Versace-type lifestyle this summer. (As long as it doesn't devolve into a Suitsupply orgy.) But the Dries Van Noten fall 2021 collection tapped into something much quieter and more intimate, and made me realize: I want that too.
Photographer Casper Sejersen shot the film and accompanying lookbook with models dancing around an empty theater in Antwerp. "A call to passion" is the first sentence in the show notes, and the emphatic, loosey-goosey body movements remind me of people dancing alone in the audience at an Ariana Grande show. They look like they are really and truly feeling themselves, and it is a pleasure to watch. Ah, pleasure. Remember that?
Some Marabou 4 U
I couldn't quite put my finger on what, exactly, was so pleasurable about the Dries Van Noten collection until I found the right word for it: marabou, the down-feather trimming that looks like soft tinsel. Rolls off the tongue, doesn't it? M-a-r-a-b-o-u. It's used to make feather boas and to embellish "sex-kitten" mules, like the ones Marilyn Monroe wore in The Seven Year Itch. I could use more of it in my life.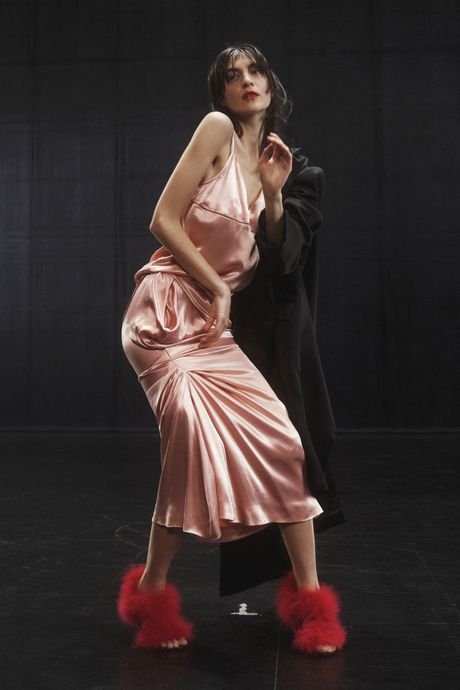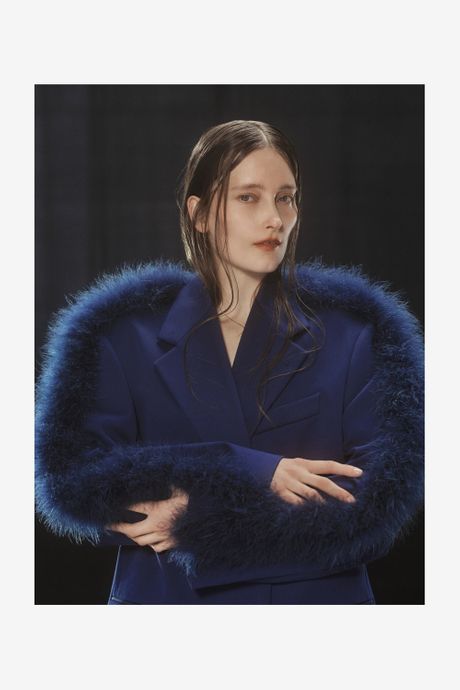 A Wall I'd Like to Be in Human Form
As Cathy Horyn mentioned in her review, Prada had similar trappings to Dries this season, but instead of marabou, it was all about faux fur. This extended beyond clothes. Rem Koolhaas and AMO designed a fuzzy set with walls I'm just dying to run my hands along. This deep purple one below made me realize that I have none of the color in my wardrobe, and that it would go really well with all the green and black I do have.
So now, of course, I need to buy more purple. I think I'm going to start small, maybe with a pair of purple sunglasses (see below).
Something Else I Noticed During the Prada Livestream
I'm very inspired by the way Miuccia Prada wears her mask on her arm, as opposed to crumpling it up and stuffing it into her pocket like I do when I'm not using mine. It's like a cute little handbag or a piece of jewelry. Actually, now that I think about it, its shape does sort of resemble the Prada triangle, which was blown up and turned into arm pockets this season, as well as the geometric white handbags models carried down the runway. Coincidence?
A Young Designer to Know
There wasn't much happening, fashion-wise, in New York this season, but Bed on Water, a New York–based line by designer Shanel Campbell, has my attention. (And not just because of all the feathers and fringe.) This is Cambell's second collection since graduating from the Parsons MFA program in 2017, and she told i-D that it's "supposed to feel like a party rather than something developed from a single idea." Even though the clothes are mostly displayed on mannequins in the lookbook, they are full of life and personality and sex appeal. That said, there is clearly more to them than surface-level tricks. "There is a heaviness disguised as beauty in my work, it reflects my baggage and the traumatic tensions I need to release," Campbell wrote in the collection notes.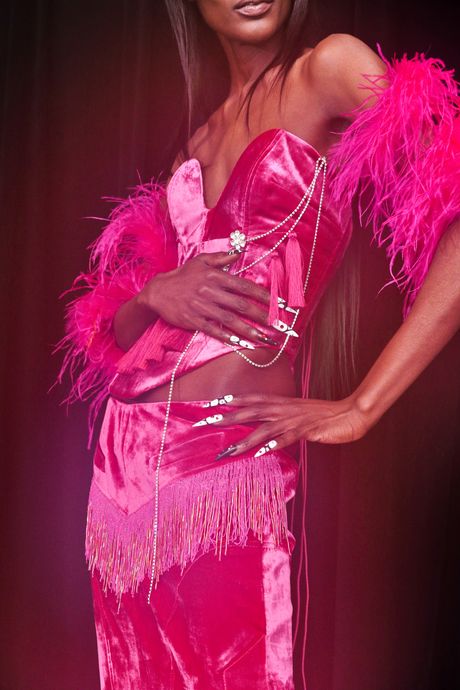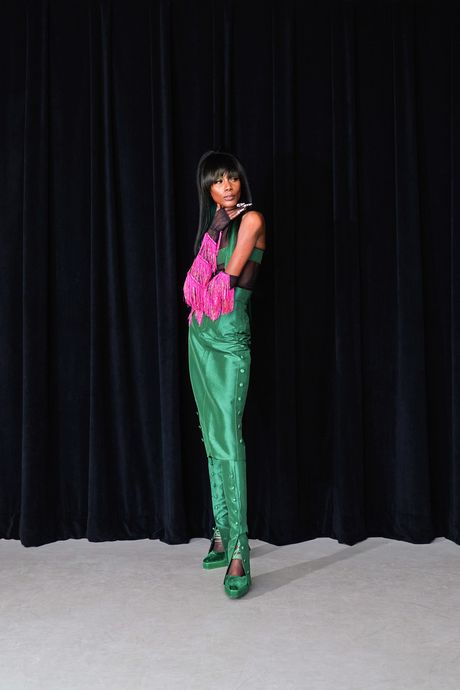 A Trend I'm Finally Embracing
In addition to marabou and tinsel and all these other Party City trimmings I'm seeing on the runway, I'd also like to add more fringe to my wardrobe. I bought this long top (left) by Helmut Lang on sale about a month ago, and sometimes I'll put it on after work and just dance around in my room. It makes moving approximately one million times more fun. The Missoni top on the right is also still available at Arcade Vintage, if you're interested.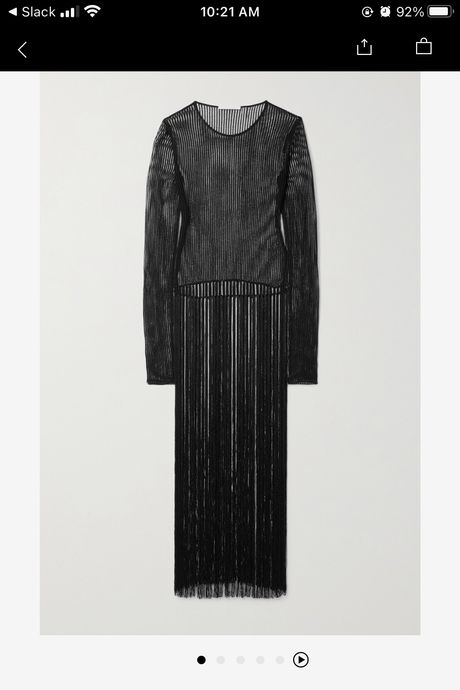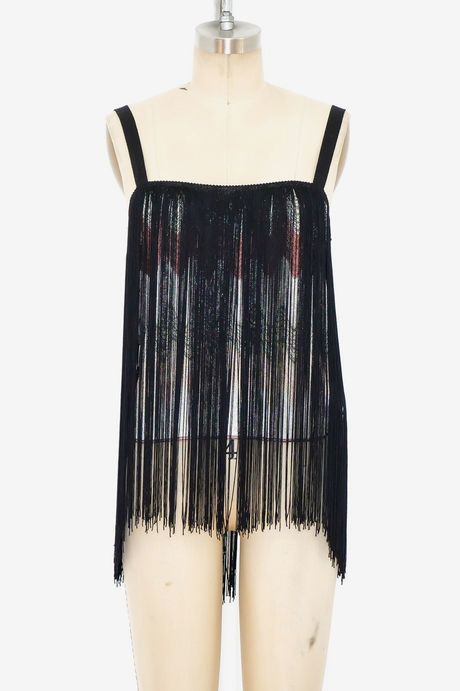 Birkenstocks That Aren't Boring
I am so ready to trade my black shearling Birkenstocks for a flashier pair of going-out shoes, but thankfully the brand invited invited Central Saint Martins fashion students to spice up the classic slip-on shoe this year. Below are new designs by two of the ten finalists, which are cool enough to wear with a fringe top. You can shop them, here.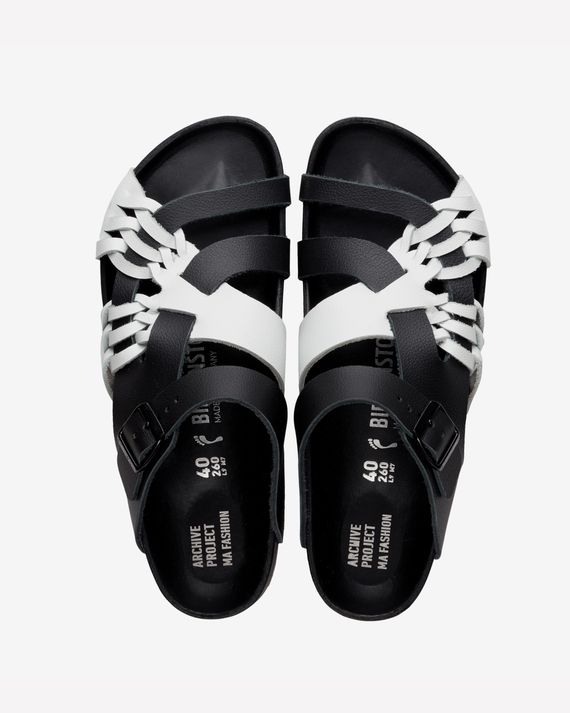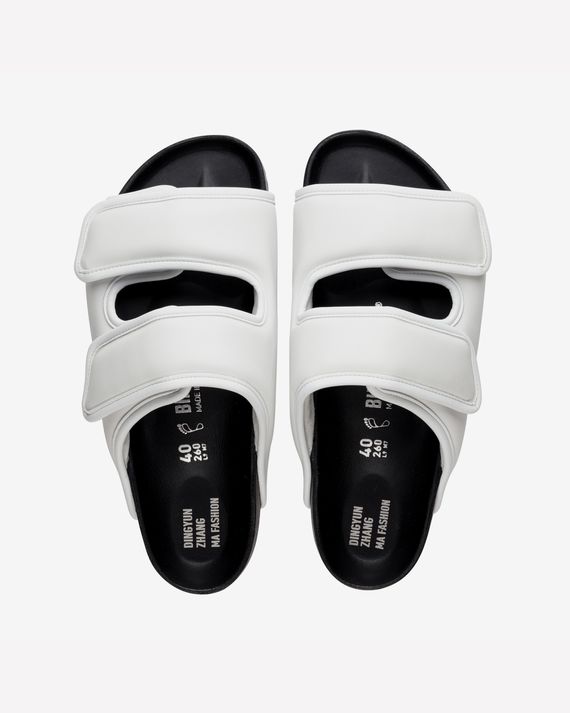 A Prediction
I've joked that the bandage dress brand Hervé Leger will make a comeback in 2021 as we (hopefully) start going out to clubs again. But it's hard for me to imagine ever shaking the Sweet Sixteen associations I have with the name. What seems more plausible is that Alaia's form-fitting dresses will make a comeback, instead. With Raf Simons's former right-hand man Pieter Mulier soon to take the helm, I can see the brand becoming a go-to for flirty dresses that make you feel like a teenager without actually looking like one at all. Below, Naomi Campbell out on the town in some vintage Alaia, just to give you an idea.
A Meme That Made Me Laugh
A TikTok Reviewer I Now Have a Crush On
He's an Irishman named Killian who "reviews" banal aspects of the countryside like hedges and stone walls. He has a cunty sense of humor (his word, not mine) and, of course, an Irish accent. I get Hot Priest energy.
Daily Average Screen Time This Week: 4h26m
Up 56 percent from last week. This is embarrassing.