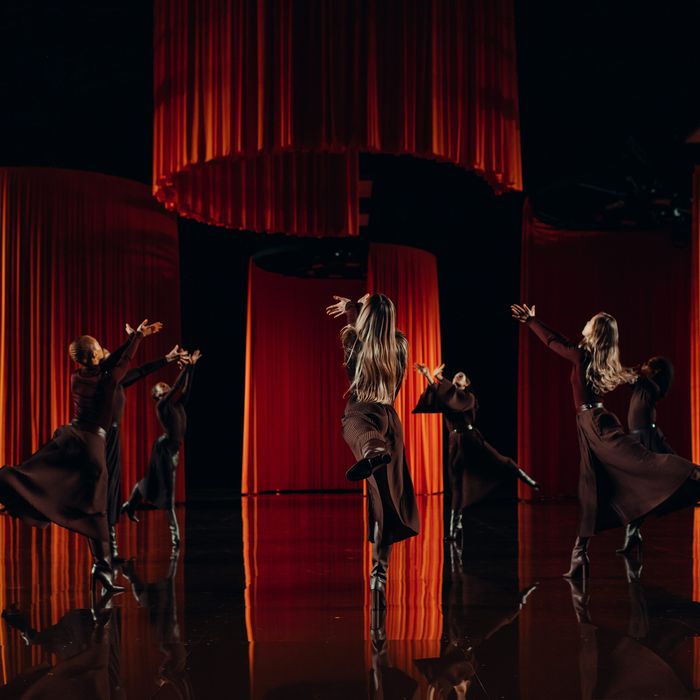 How will it feel to waltz down the street, no mask, no fear, in a few months when most of us have (hopefully!) been vaccinated? What will be the right outfit for that mood of freedom? That's the question I am left with after seeing most of the fashion shows on offer this season, and there are as many different interpretations as there are brands.
For Nadège Vanhee-Cybulski of Hermès, the mood is strength, determination, and resilience. Her fall/winter 2021 collection, shown March 6 in Paris, New York, and Shanghai, featured three distinct dance performances, specific to their locales.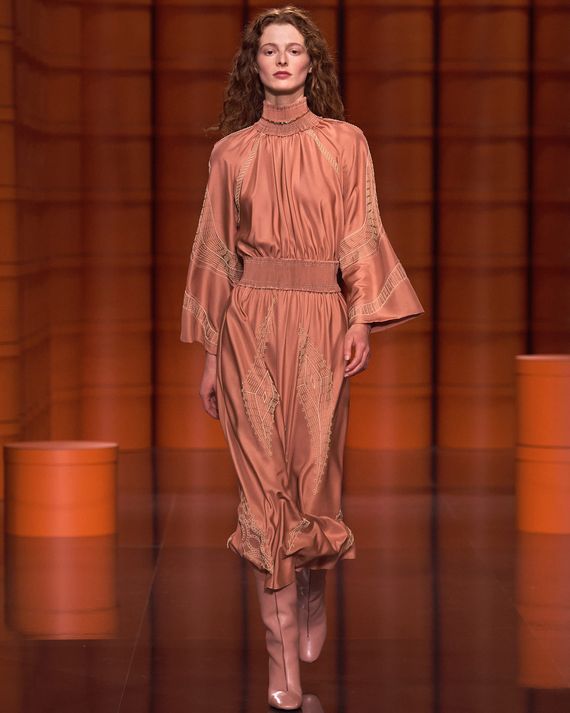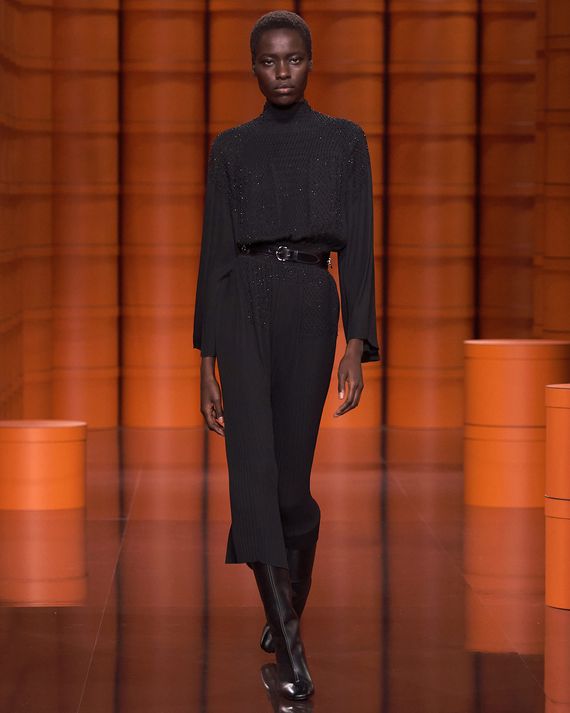 In Manhattan, performing at the Park Avenue Armory uptown, seven dancers wore items from the new collection, including black pleated dresses of delicately beaded shantung silk and georgette, and performed the kind of staccato moves familiar to many New Yorkers trying to make it down Madison Avenue on a crowded Saturday afternoon. The choreographer Madeline Hollander let the pedestrian nature of the city dictate the moves. The progression of the dance unfolded as a series of emotive walks, the dancers' heads held high in defiance throughout. The energy of the dance mirrored what Vanhee-Cybulski described to me over Zoom as "a spirit of resistance" in the face of the creative restraints she and others experienced during the long year of COVID lockdown in France.
With every Hermès collection, there's always the surprise element of seeing how the designer could possibly use leather in a new way each season. Vanhee-Cybulski never seems to tire of the challenge of making a ready-to-wear line for a house with its roots in saddle-making. This season she's mixed leather into the waistbands of denim trousers (to call them simply "jeans" doesn't seem to do them justice somehow), as well as reinterpreted a black, belted Gilet vest with edgy fringe. This collection feels even more chock-full than usual of Easter eggs for Hermès history buffs — snaps on a dress, in Look 20, riff on the Médor studs that fans of the brand will recognize from the popular Collier de Chien bracelet. Embroidery on a quilted jacket from Look 5 recalls the scarves for which the house is so well known. References to the brand's history are reintroduced in unexpected ways on various garments, including a perfect, simple pair of boots with leather seams finished in the same style as the painted edges of a Kelly bag.
Color has been kept to a minimum in this collection, save for some bright-poppy hits of red and a wonderful milky tangerine. Instead, Vanhee-Cybulski pays more attention to texture, surface, and the juxtaposition of leather with softer fabrics like cashmere, and an unusually high number of smocked dresses. The effect is more ladylike than last season's geometric-cutout, clingy looks — but there's nothing prissy about the high necks and longer hemlines, because the leather keeps things a bit "tough," for a nice tension. The Hermès woman this season seems to know exactly what she wants, which apparently is to get out and go for a walk no matter the weather. Look 53, a waterproof, technical cashmere coat, falls somewhere on the spectrum between a trench coat and a blanket, in a color that is hard to describe — not quite cream, not off-white nor beige. If it were a Farrow & Ball paint chip, it might be named something like smoky brûlée. On another garment, a waterproof pocket could stash a small spray bottle of hand sanitizer if the wearer so desired.
Despite the fact that most of us will never be able to own the kicky new interpretation of the Birkin (which takes the center of the bag and turns it into a detachable pouch that can be carried like an attaché), the brand knows how to keep people engaged at the lower-priced points of entry as well. Tiny little squares of silk, finished with the rolled edges of their larger scarf cousins, can be folded and worn as bracelets. Small "bags" that look more like wallets, with long delicate straps meant to be worn around the neck or cross-body, are designed to carry just the essentials, like your phone, AirPods, and an Hermès lipstick. Think of them as elegant alternatives to the fanny pack, for your long, stylish, choreographed walks to come.