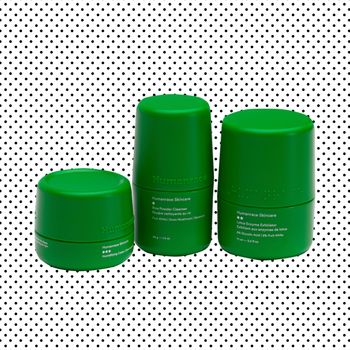 For years, Pharrell Williams's skin has looked so good that even CNN has confirmed reports that he is not "a vampire." For years, his skin-care advice has been frustratingly simple. "I just wash my face," he said. "I exfoliate," he also said. He might as well have added that he breathes.
But after weeks of testing his skin-care line, Humanrace, I have to admit that it is actually pretty good. In a world where things like apple-stem-cell moisturizer exist without being questioned, Humanrace works because it is so simple (and was developed with NYC dermatologist Dr. Elena Jones). And when the current skin-care manifesto seems to be to add as many entries as you can into a spreadsheet of your skin-care routine, Humanrace happily features just three steps (for now).
Humanrace's first and second steps are two exfoliating cleaners, because Williams has said he exfoliates like both "a narcissistic madman" and a "monster" yet finds it to be a philosophical process. "Sometimes you need to cleanse your spirit. Sometimes you need to cleanse your mind. Sometimes you've just got to get rid of some dead skin," he told Allure.
When you want to exfoliate like a philosopher, there's the Rice Powder Cleanser, a gentle wash with rice particles (it will feel familiar to anyone who has tried Tatcha's Rice Polish). When you want something a little stronger, there's the Lotus Enzyme Exfoliator, a creamy wash with fruit acids and 8 percent glycolic acid (allegedly Williams's favorite face acid, because of course he has one). Exfoliating with this wash particularly paid off — I got the immediate gratification of my skin feeling smoother and softer, like I was a nail being buffed shiny. Even after years of retinoids, it seemed that this cleanser had found some dead skin yet unsloughed and shucked them off my face.
The third step for Humanrace is its Humidifying Cream, meant to recall the way your skin reacts positively in humid weather. A solid lotion that bounced when I dipped my finger into it, it was pure white and already looked dewy in the jar. It spread easily across my skin without any sort of greasy feeling, giving me the slight glistening look of being in a high-water-vapor environment. My skin looked healthy and quenched.
The products are vegan, fragrance free, and come in recyclable containers the same bright-green color as ceremonial-grade matcha. They're also so popular (especially on TikTok) that they are constantly sold out. But everything is currently available, including all three products in a $100 set that Williams calls the "three-step facial."
Every product is independently selected by our editors. Things you buy through our links may earn us a commission.