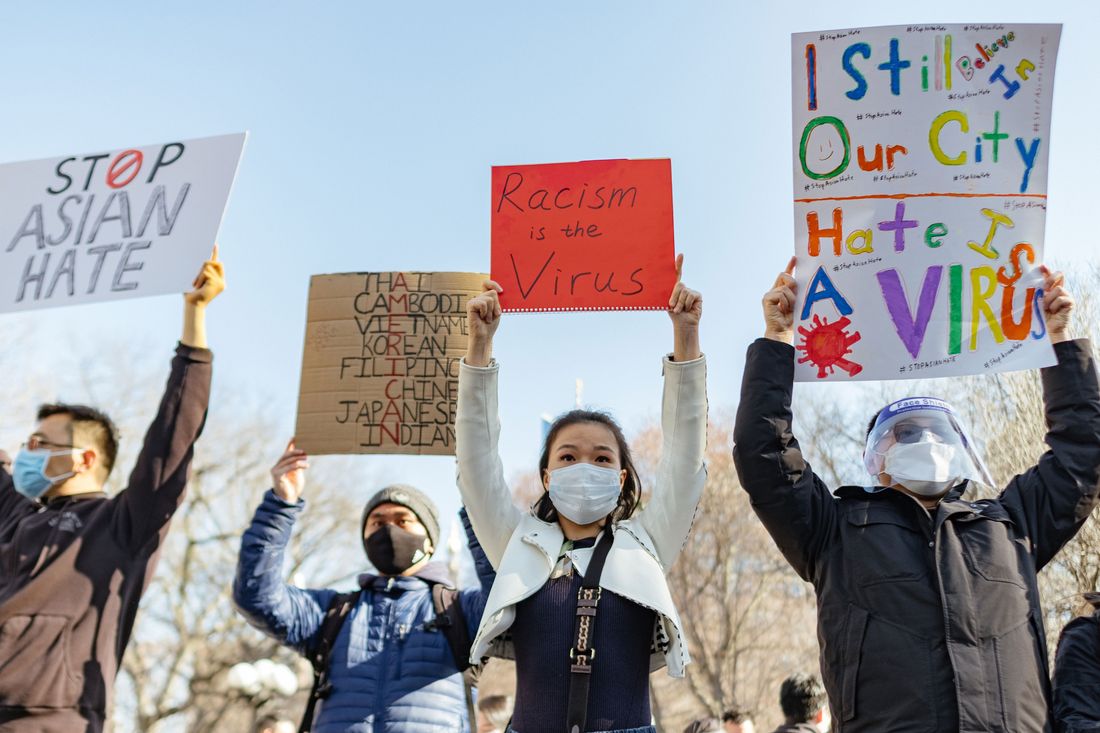 Photo: Stephanie Mei-Ling
Hate crimes against Asian Americans have risen dramatically over the past year, a trend often attributed to the racist, xenophobic rhetoric former president Donald Trump inflamed around the coronavirus pandemic. In August 2020, the United Nations counted more than 1,800 bias-motivated incidents involving Asian Americans in the eight weeks between March and May alone. By September, the New York Police Department had documented a 1,900 percent jump in anti-Asian hate crimes within a 12-month period. Last week, Stop AAPI Hate released a report confirming the pattern, noting that women seemed to have been targeted with particular aggression, reporting everything from verbal to physical attacks at nearly 2.3 times the rate men did between March 2020 and February 2021.
On the same day those new figures were published, a white gunman murdered eight people — six of them Asian women — at three Atlanta-area spas. Although police were quick to minimize the role of racism, saying the shooter struggled with "sex addiction" and saw the businesses as "a temptation … he wanted to eliminate," many people understood the rampage as an act of violence rooted in dangerous, harmful stereotypes sexualizing Asian women. Over the weekend, protesters came together in cities across the country, to demand an acknowledgment of and end to the attacks. On Sunday, New York City saw a pair of concurrent rallies in downtown Manhattan that together drew thousands: The Black & Asian Solidarity 5K Run and Walk in Union Square Park, organized by Running to Protest, and a second in Columbus Park in Chinatown.
"We want Asian Americans to know that Black America has their back," said Kelvin Coffey, one of the organizers of the Union Square event, which emphasized the importance of solidarity among marginalized communities. "Because they had our backs last June and July. I saw the marches they led for Black Lives Matter." (Cut editor-in-chief Lindsay Peoples Wagner also spoke at the rally.)
Photographer Stephanie Mei-Ling started at the demonstration in Union Square, where protesters raised up signs reading "Hate Is a Virus" and "Stop Asian Hate." She described the energy of the entire day as "beautiful."
"The message of the day was one of solidarity and unity between Black and Asian communities, and that felt so good. There was important and much-needed dialogue about the history of cross-cultural tensions, of shared struggles, and of how we can come together to in an effort to dismantle racist and extremist ideology. This is what community looks like."
Eventually, marching alongside protesters — some of whom ran, while others walked — she ended up in Columbus Park. There, New York mayoral candidate Andrew Yang — one of the demonstration's speakers — spoke broadly about the surge in violence against the Asian American community, saying, "It has been staggering to see the racism against our community morph and metastasize into something dark and virulent and increasingly dangerous." While on her way to one of the demonstrations, a 37-year-old Asian mother who was carrying a protest sign was repeatedly punched in the face in front of her young daughter, in what police are investigating as a suspected hate crime.
Below, view Mei-Ling's pictures from the day.