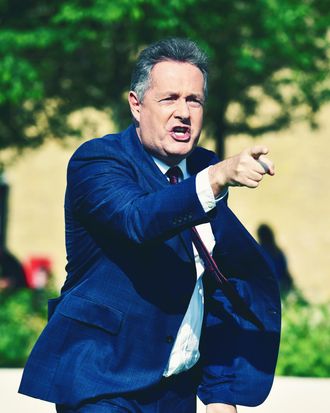 Piers Morgan, a bloviated "crusty tea and crumpet ass" bigot with a history of terrible opinions and a penchant for never shutting up about them, finally shut up early this morning, England time, and it is one of the more satisfying things you will ever witness. Instead of beginning the day with your meditation or Yoga With Adriene, may I suggest watching this footage of Morgan huffily walking off his own set like a giant pink baby, which will bring you peace and light?
It seems Morgan was unable to sit through even ten minutes of criticism after he spent yesterday's Good Morning Britain broadcast trashing Meghan Markle and Prince Harry's Oprah interview, dismissing their extremely specific and devastating claims of racist treatment in the palace and Markle's struggle with suicidal ideation. On Monday, following the bombshell interview, Morgan called the conversation "contemptible" and went so far as to say he didn't think Markle was telling the truth about asking the royal family for help when she contemplated killing herself: "I don't believe a word she says, Meghan Markle. I wouldn't believe her if she read me a weather report," he said, stunning even his co-anchors. Mental-health charities released statements saying Morgan's reaction was irresponsible and harmful.
Now, if you've spent even a few minutes understanding who Piers Morgan is in the universe, you know that this unfeeling, despicable tirade didn't come from nowhere. Morgan doesn't just have a history of antagonizing famous women and saying racist things — he also has very well-documented personal beef with Markle. In December 2018, which was six months after Meghan and Harry's wedding, Morgan wrote a column in the illustrious Daily Mail with the headline "Meghan Markle Is a Ruthless Social Climbing Actress Who Has Landed the Role of Her Life and Is Determined to Milk It for All She Can — and That's Why the Palace Is Beginning to Turn on Her." In the piece, Morgan claimed he was "ghosted" by Markle after the two became friends via Twitter in 2015 and met for a drink in London in 2016. He was clearly very steamed that Markle had stopped communicating with him after she met Harry.
It would seem fairly obvious that Morgan feels personally slighted by Markle ceasing to give him, an old man on morning television, attention after she began the somewhat intense experience of dating a prince and has been retaliating ever since. His disparaging of her has nothing to do with what she's "done to the institution of the monarchy" or whatever but simply stems from his giant ego, which couldn't stand the fact that this Suits actress from Los Angeles wasn't dying to go eat Scotch eggs with him.
Morgan's co-host Alex Beresford called this out directly, which is what made Morgan so mad he stormed off of Good Morning Britain. "So I think we all need to take a step back, and I understand you don't like Meghan Markle. You've made it so clear a number of times on this program — a number of times," Beresford said, clearly angry. "And I understand you've got a personal relationship with Meghan Markle, or you had one and she cut you off. She's entitled to cut you off if she wants to. Has she said anything about you since she cut you off? I don't think she has, and yet you continue to trash her." That's when Morgan got up, made a scene, and muttered, "I'm done with this. See you later. Sorry, I can't do this."
As I watched Morgan stomp away, I couldn't stop thinking about the Donald Trump baby blimp that was flown over Parliament Square in London when Trump, a friend of Morgan's, made his official visit to the U.K. in 2018. Morgan looked exactly like that enormous floating infant; all someone had to do was prick him with the tiniest bit of truth and he just completely deflated. Okay, I'm going to watch the clip again. Toodle-pip!
Update, March 9, 1:30 p.m.: Morgan is leaving his role at Good Morning Britain altogether, according to a statement from ITV, the network on which the program runs. "Following discussions with ITV, Piers Morgan has decided now is the time to leave Good Morning Britain," it reads. "ITV has accepted this decision and has nothing further to add."
Morgan's departure comes after over 41,000 people wrote into the U.K. media regulator Ofcom to complain over his remarks about Markle on Monday.