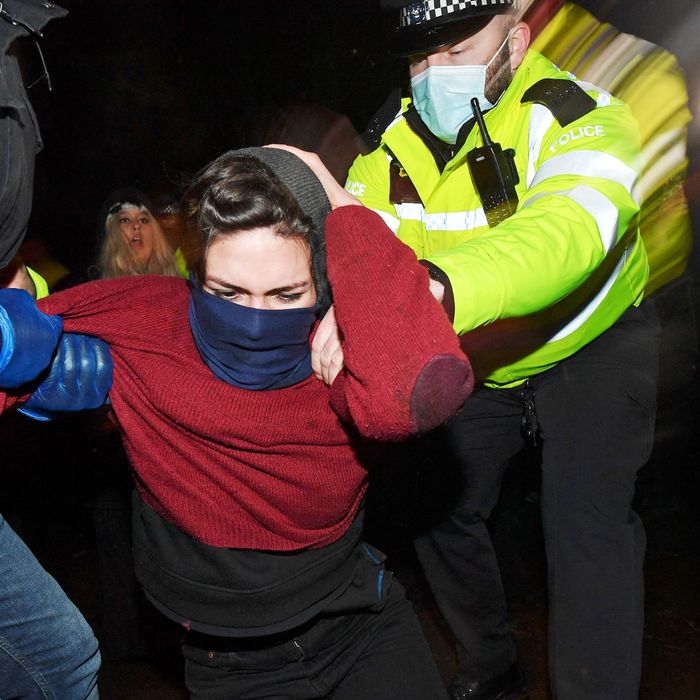 Photo: JUSTIN TALLIS/AFP via Getty Images
Earlier this month, vigils planned in memory of Sarah Everard — the 33-year-old woman believed to have been abducted and murdered by a London cop — ended in an alarming show of police force. Images of officers swarming women, dragging them apart and throwing them to the ground, went viral. Addressing criticism of their aggressive response, the Metropolitan Police said that, although they never wanted to resort to physical action, they "were placed in this position because of the overriding need to protect people's safety" during the pandemic. Now, the independent body tasked with investigating the incident has agreed, concluding that police "acted appropriately" in handling the nonviolent crowd.
"After reviewing a huge body of evidence — rather than a snapshot on social media — we found that there are some things the Met could have done better," Matt Parr, leader of the Inspectorate of Constabulary and Fire and Rescue Services, said of the determination, according to the New York Times. "But we saw nothing to suggest police officers acted in anything but a measured and proportionate way in challenging circumstances."
The event itself took place in Clapham Common, the South London park Everard reportedly crossed on her way home the night she disappeared. Police declared the vigil illegal before it began, but Everard's death had kickstarted an international conversation about violence against women and the abuse of power by law enforcement. As writer Sirin Kale, who attended the vigil, put it: "The same police force that employed the man accused of killing Everard now prevented women from grieving for her." Thousands of people showed up for the memorial, laying flowers and listening to speeches.
But as night fell, the mood shifted: Police arrested multiple women in the standoff that ensued, and many were manhandled by groups of cops attempting to break up the gathering. Attendee Patsy Stevenson, who featured prominently in photos from the event, said she was "just standing there" when male officers surrounded her and took her down, pinning her to the ground with her hands behind her back.
Afterward, London mayor Sadiq Khan called police response "unacceptable," and Home Secretary Priti Patel ordered the investigation. She now accepts the report's findings — that Met officers "did their best to peacefully disperse the crowd," "remained calm and professional when subjected to abuse," and that the risk of coronavirus transmission "justified" forcefully clearing the park — reportedly noting that "images can be taken out of context."
Still, investigators did grant that there had been "insufficient communications" between officers on the ground and command as tensions began to mount. They also noted that "public confidence in the Metropolitan Police suffered as a result of the vigil," and suggested "a more conciliatory response after the event might have served the Met's interests better." Possibly, investigators were referring to then-commissioner Cressida Dick's characterization of the clash as "fiendishly difficult policing."
Unsatisfied with that explanation, Reclaim the Streets, a primary organizer of the event, panned the report in a statement. "We expected a fair and balanced inquiry and are instead being told not to believe what we saw and heard reported two weeks ago," it said. "The disregard for us as women organizers in the report is clear there is still institutional sexism running through the force."