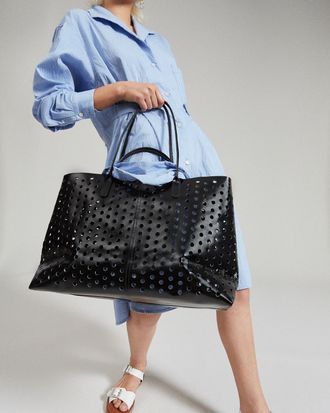 The Rachel Comey Marche Tote in black leather.
Photo: Courtesy of Rachel Comey
When the popular Brooklyn boutique Bird announced that it was closing its stores earlier this year, one question on loyal customers' minds was: Where the heck am I going to get Rachel Comey now?
Of course, there's still Comey's Soho store on Crosby Street, and her clothes and accessories are sold in plenty of other spots around New York. But Bird stores were all conveniently located in Brooklyn, where many of Comey's loyal customers reside. They will be pleased to learn, then, that the designer has decided to open a temporary shop in the former Bird Cobble Hill space, located at 220 Smith Street, starting Friday.
"We've always been a New York brand, and a big part of our community lives in Brooklyn," Comey told the Cut. "After a year apart, a quick jaunt over the bridge seemed like a fun way to reemerge." The space, which will remain open through August, will feature art installations by Comey's friends Chelsea Spengemann and Sara Vanderbeek of Soft Network. There will also be some exclusive items, like the Marche Tote in tan leather ($395).
"Right now, I'm really into our loafers and slip-ons, which I can imagine our new neighbors wearing while playing checkers outside this spring," Comey added. "That's something I haven't seen in a while, but am looking forward to it …"
The Rachel Comey temporary shop will be open 11 a.m. to 6 p.m. daily through August 2021 at 220 Smith Street.