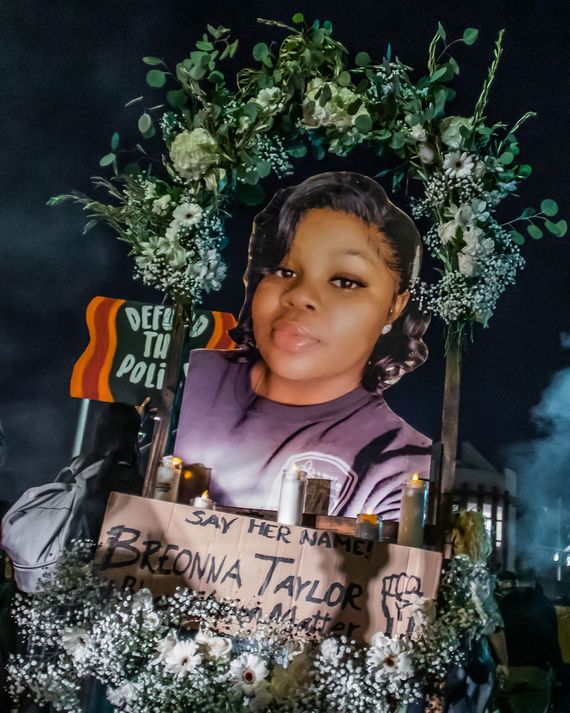 Photo: Apu Gomes/AFP via Getty Images
Representative Attica Scott joined her first protest for Breonna Taylor on May 29. "I remember my daughter, who was 19 at the time, saw it on someone's Facebook live," she says. "We saw the police respond so violently, and she said to me, 'So we're going down there, right?' I said, 'Yes, we are.' That's how it started for us. We were out on the second day of protests and have been out ever since."
For nearly a year now, Scott has been in the streets demanding justice for Taylor, who was shot dead one year ago in her own hallway as police officers executed a baseless no-knock warrant on her apartment. Six months later —after Kentucky attorney general Daniel Cameron announced that none of the cops would face charges for her death — Scott was arrested alongside her daughter after a demonstration and charged with felony rioting. To Scott, the sham arrest and the charges (dropped two months later) read as another attempt to break the movement. Instead, she said, "it strengthened my resolve."
When Scott won her position in 2016, she became the first Black woman to serve in the Kentucky legislature in over two decades. "As a mama of Black children, I knew it was important for me to take the lead on this," she said. On August 16, she prefiled Breonna's Law for Kentucky, a bill that would (among other reforms) ban no-knock warrants throughout the state, require officers to keep their body cameras on the entire time they're serving a warrant, and obligate them to undergo drug and alcohol screenings after an officer-involved shooting. She has pushed to get Breonna's Law passed for the past seven months.
Speaking to the Cut minutes after a March 10 hearing on Breonna's Law, Scott reflected on her arrest, on a year spent challenging a system designed to prevent meaningful change, and what justice for Breonna Taylor will finally look like.
The attorney general made his announcement on September 23. We listened to him tell us that there would be no justice for Breonna Taylor. And this was in the midst of the mayor and the governor overreacting and issuing a curfew with an alphabet-soup of law enforcement, from DHS and ICE to state troopers and national guard to the LMPD in Louisville, mobilized against us. All of that in that one week. I knew that we were going to need sanctuary because it was clear that law enforcement was ready to be violent. I will always remember having that conversation with one of my colleagues in the state House. She called her pastor and said, "Folks need sanctuary, can we open the church?" I will always remember her pastor saying, "That's what a church is for. Of course we will open our doors." They kept their doors open the entire week. In the midst of all the hurt and pain that we felt from the attorney general's announcement, there was also a reminder of community and love and justice, and what that looks like in action.
We were out the entire week. On September 24, we had all been down at Injustice Square Park, rallying and getting ready for a march. A bunch of us, including my daughter and my friend Shameka [Parrish-Wright, operations manager at the Bail Project and now a mayoral candidate] and two other folks, decided to follow along in Shameka's vehicle because we had seen across the country that folks were plowing into protesters. We wanted to provide some safety in the rear of the march. It was well before curfew and we had no intention of breaking curfew. We were just following along, and as it got closer to nine o'clock, we said, "You know what, we better go ahead and head over to the church." But the police blocked us into the parking lot. They put a concrete barrier through one exit, and they blocked us off with a militarized vehicle from another exit. So we ended up just parking and walking. We could almost reach our hands out and touch the church when we were stopped by police and told to go back, but when we tried, they yelled, "Circle 'em! Circle 'em!" They detained us on the sidewalk for two hours, and then we were in lockup for ten hours — all in the midst of COVID. There were 17 women in one cell together in the midst of COVID. It was ridiculous.
I'd never been arrested before. But I wasn't surprised; I was more concerned, as a mom, because I couldn't keep my teenage daughter safe. She was terrified, she thought she would lose her scholarships and her job. She's a pharmacy tech, she's been on the front lines since COVID began; she's doing all of this to take care of other people, and then to experience what she did because of the police, it really hurt her. And I couldn't protect her. Any naïve notion she had about police, that they were here to protect and serve all of us — she saw for herself that that wasn't true. So I was upset! It wasn't curfew. We were headed to sanctuary; there was no reason to arrest us.
And I was shocked. The next day, when we got our release papers and I saw that we had been charged with a class D felony for rioting and [accused of] attempting to firebomb the library, I was even more angry. I was like, How dare you. I'm the biggest nerd around, and the library — we were in my district that I represent, I was with my child, how dare you lie about us?
There's a part of me that truly believes they knew who they were arresting. They'd been flying drones for months and watching a lot of us, monitoring us. All of the tactics that police used for months over the summer, whether it was the tear-gassing, the long-range acoustic devices, the rubber bullets — all of it was designed to stop the protests. There were nights where a hundred or more people were arrested at a time. When we were arrested, 24 people were arrested. All of that was definitely designed to break us, to break our resolve, to splinter our movement, to stop us from using our voices and our agency. I have no doubt about that. You don't mass arrest people unless you think it's actually going to stop them from speaking up.
For me, though — I felt like I wanted to be a stronger advocate for police accountability [after getting arrested]. I wanted people to know that they have the right to protest. I felt an even stronger push to advocate for Breonna's Law. I felt a need to be in even more solidarity with Breonna's family and other people who've been victims of police violence. It strengthened my resolve. I felt more committed to seeking justice. We raised our voices and used everything we had at our fingertips to get us to this point — today, the week where literally thousands of people across the country are going to be reflecting on Breonna Taylor. We never gave up. It's taken a very long time, but the people never stopped. They were clear that protests and policy and politics all go hand in hand.
Last Tuesday, there was a rally here supporting Breonna's Law. Dozens of people came in car caravans from different parts of Kentucky. That same day, our bill was posted in committee. I've never had a bill that was even heard in committee. Today was a first for me, in five years being here, and that happened because of the people. The people showed up at the people's house, at the front doorsteps of the Capitol building to say, "This is what we demand." Because of them, we had a hearing this afternoon.
As folks who are still on the front lines, we're clear that our demand to fire, arrest, and charge the officers who were involved with Breonna Taylor's murder is still top priority. We have not wavered from that. Even with the passage of a good and important no-knock warrants bill, we know that there's still a lot of work to do. That there's still police accountability measures that must be addressed. That we can't allow police to continue to operate as a rogue organization that Black taxpayer dollars pay for. I have to remain hopeful. I remain hopeful because the people of Kentucky have not given up, have committed to keep going. We continue, in Louisville and across Kentucky, to seek justice for Breonna Taylor. We are unwavering in that. We lift up her family. We are all family in this. And we will not be moved until justice is served.