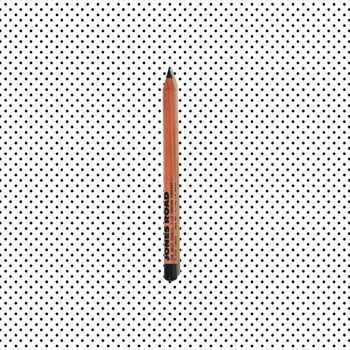 I have tried many, many eyeliner pencils. Right now I have over 20 dark-brown eye pencils in my apartment, sitting in a repurposed bougie candle cup. But none of them are as sharp, yet smudgeable, as the one from Bobbi Brown's new line Jones Road.
You'll notice upon first use that it is noticeably less creamy than other pencils. Brown says the inspiration came from '70s-era liner pencils, which were more like graphite art pencils than kohl or charcoal, and more dense in color. But despite the lack of creaminess, this still has good glide. It takes only a second for me to fill in my lashline. The pigment (which comes in black, brown, navy and silver) can be blended easily. I like that it's sharp enough to draw a thick line, or even a precise cat eye, with tight flicks and corners.
Brown also says the pencil is "clean." I think we all know by now that clean is more of a marketing term than anything. But in this case, it means that the pencil's formulas are free of phthalates, sulfates, petrolatum, PEGs, cyclic silicones, EDTA, or BPA
The truth is that 99.9 percent of eyeliner pencils smudge on me because of my protruding eye shape and double-eyelids. This one isn't a miracle in that regard either, but it barely smudges, and there is little to no fallout of pigment flecks or dust. If you like that slept-in Kristen Stewart look, you'd be better off with Jillian Dempsey's pencil. But if you want an all-around great makeup basic, this is it.
If you buy something through our links, New York may earn an affiliate commission.