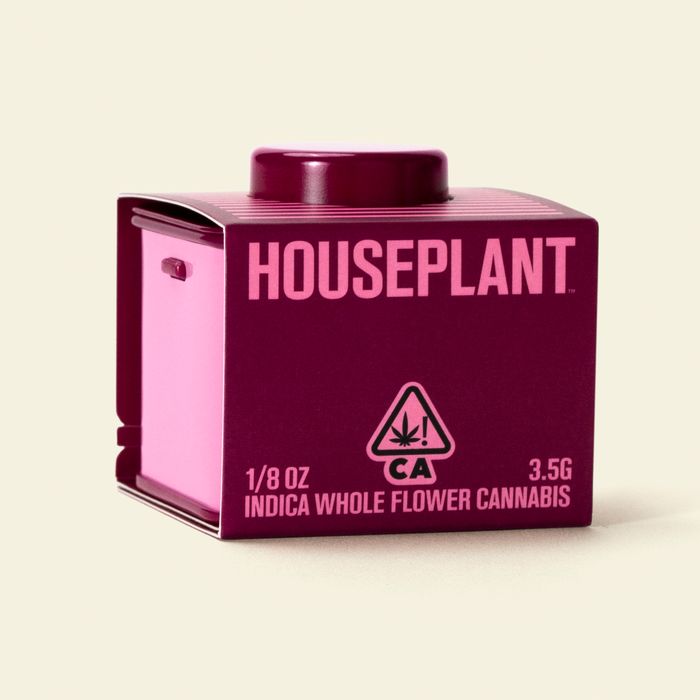 Photo: Courtesy of Houseplant
That Seth Rogen is launching a cannabis brand seems perfectly reasonable. If you were to identify a motif in the actor's filmography, it would probably be weed, and if you were to trust anyone to give you some of the good stuff, it would definitely be Seth Rogen. As the famed and self-proclaimed stoner said in a video announcing the launch, "If you know anything about me, it's that I really love weed."
And indeed, he describes Houseplant as the culmination of ten years of work (and weed smoking). Founded by Rogen and Evan Goldberg — a producer and screenwriter, and the other guy behind Pineapple Express, Superbad, This Is the End, and more — it launched in Canada in 2019. Now, the childhood buddies who, as Rogen tells it, "met in Bar Mitzvah class when we were 12 years old," are bringing Houseplant to America.
But here at the Cut, we like to do our due diligence — just because Post Malone loves rosé doesn't mean his rosé is that good, and just because Seth Rogen is a famous stoner doesn't mean his weed will knock your socks off.
Or will it? That, of course, is the question of the day, and we took it upon ourselves to investigate. Before we did, we spoke to the men behind the marijuana about particulars.
Tell us about your early experiences with weed.
Seth Rogen: I started smoking weed when I was 13. Evan didn't smoke weed until he was 15. I constantly tried to convince Evan to smoke weed, which probably made him not want to.
Evan Goldberg: You probably pushed my weed smoking [back] two years. Seth and several other people seemed to want to peer pressure me. And I don't succumb to peer pressure!
Rogen: But I think the first time you smoked weed was with me.
Goldberg: We were in an alley three blocks from my house. I remember being convinced my mom was going to find us, which makes no sense. Why would she drive down a random alley?
Rogen: No, the first time you smoked it was at a party, and then you threw up in a wicker basket.
Goldberg: The first time I tried pot was the worst possible thing. I'd had like ten beers and Seth was like, "Want to try it today?" And I was like, "Yeah, why not." And then I threw up. The first time I enjoyed it was the second time in an alley. We hope to create a world where your first time is not in an alley.
Is that Houseplant's motto?
Rogen: We're still workshopping that.
It sounds like product testing probably comes pretty naturally to you, then. 
Goldberg: We share a desk in an office pre-pandemic, and we would smoke and talk about weed all day long. I'd be like, "Oh, I like this one. I feel like I can get more done in the day with this."
Rogen: We wanted to see how it integrated into our lives. It's like, can I smoke it at 9 a.m. and go exercise? Can I smoke it at 10 a.m and then go work for hours?
Goldberg: We do this very adorable thing where we kind of go on little weed dates to try out the weed. Just where we'll go for a walk, eat some food, see what happens, see how they interact together.
What's the best weed you've ever had?
Rogen: Two of the strains we're launching with are some of my favorite types of weed, and it is not a coincidence. Part of it is just I want as much access to them as I can possibly have.
You're also selling ceramics, which we have to imagine was inspired by Seth's pottery hobby.
Rogen: The lid of the [Houseplant] block lighter is roughly modeled off of the type of ashtray that I would make with a notch in it. We have many more designs and products coming out that are specifically modeled on things that I've made in the past.
How do you plan to make Houseplant socially equitable and/or how do you work to address social justice in cannabis?
Rogen: [America] has an objectively terrible and racist history when it comes to cannabis. It's a tool to put people of color, and mostly Black people, in jail. More people are put in jail for weed than anything else. It's insane. We think it's wrong, and we're going to fight very hard to use whatever influence we have to end that.
Do you plan to donate any of the profits?
Rogen: Our Canadian business has donated money to support these organizations. Our American business does not have profits at this moment. We also give money personally. Based on conversations with dozens of policymakers, investors, advocacy groups, etc., we decided to invest in programs and partnerships that centered around leveraging our expansive network/unique skill sets to assist underserved entrepreneurs through mentorship and to raise awareness around policy issues and the terrible history of the war on drugs.
The other day you had on your Instagram a picture of six or seven joints, and the caption read something like: "Preparing early for the day." Is that typical for your daily consumption? 
Rogen: Yes. I honestly don't even know how many joints I smoke a day, but I would say that was a typical amount.
What are some of your favorite drinks and snack pairings when you're smoking?
Goldberg: Coffee and sparkling water.
Rogen: Sparkling water. It is so integrated into our lives that we do not modulate any other behaviors around it. I just smoke weed from literally the minute I wake up to the minute I go to sleep and often wake up in the middle of the night and smoke more weed. It is my base level of operation.
What kind of sparkling water? 
Rogen: That lime Topo Chico is real good.
So, is Houseplant any good?
Houseplant is launching with three strains, each — like Pineapple Express — named after weather systems. They come in cute, reusable, stackable tin packages that seal in odor. They're also color coded: orange for sativa, magenta for indica.
Katie sampled Pink Moon, an indica strain with 26.45 percent THC, notes of citrus and lavender, and a spicy, clove finish that is, per Houseplant, "well-suited for increasing creativity and sufferers of depression." Katie found it smooth to smoke, nice tasting, and ideal for curling up on the couch to watch Top Chef. 
Katie enlisted her wife, Lydia, to sample Rogen's favorite strain, Pancake Ice, a 33.95 percent THC sativa which promises a "serene and pleasant body high" with a "pronounced" cerebral effect. Lydia prefers more active highs, and Pancake Ice delivered. While it has a higher percentage of THC than she usually smokes, she experienced no "unpleasant hangover-y type effects" and felt perfectly lucid after the fact.
Neither Katie nor Lydia are everyday smokers, but have found the occasional smoke to be a great help in managing anxiety and depression during COVID (along with therapy, of course). Their overall impression of Houseplant is exactly what Houseplant positions itself to be: an ordinary, even routine weed-smoking experience, something you might easily integrate in your day-to-day — perhaps while drinking coffee or a seltzer (or burritos, or cookies).
All products will launch and become available to consumers on Thursday, March 11.