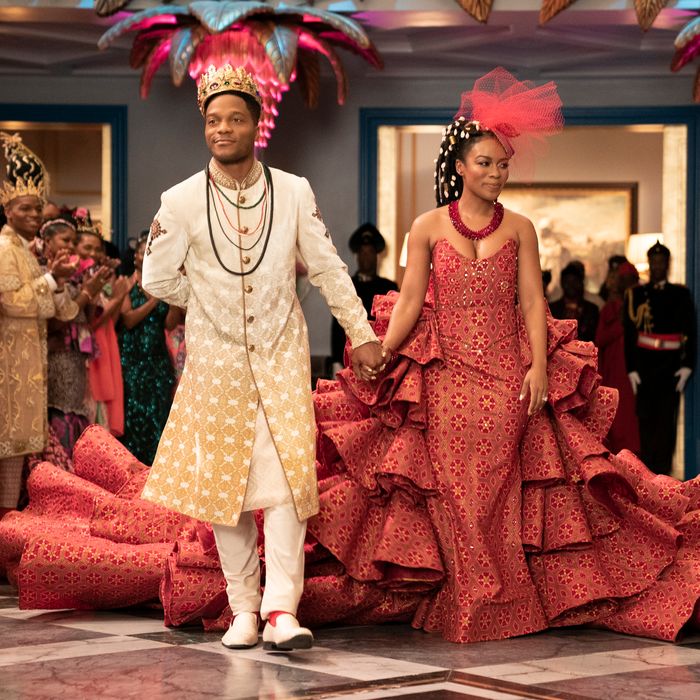 The
Coming 2 America
wedding dress.
Photo: Annette Brown/Paramount Pictures/Courtesy of Amazon Studios
Coming 2 America had a lot to live up to when it premiered on Amazon this month. The iconic 1988 original tells the story of Eddie Murphy's Prince Akeem, heir to the Zumandan throne, and its 2021 sequel picks up several years in the future, putting us somewhere in the present day.
Given the leap into the future, Coming 2 America had to reimagine the original film's celebrated costumes. In the '80s, Deborah Landis did wardrobe for the fictitious African kingdom, but this time filmmakers tapped legendary costume designer and Oscar winner Ruth E. Carter to create the modern incarnation, which she completed right before the pandemic hit. Below, the Black Panther designer talks about multicultural influences, African royalty, and that gigantic wedding dress.
In both Black Panther and Coming 2 America, you're creating for imagined Afrocentric universes. You're also making a ton of costumes. Can you speak to the differences and similarities between your experience on these films?
Black Panther was more about, you know, battles, and Coming 2 America is a comedy. The aesthetics are totally different. One's much lighter than the other in terms of the approach. You want to have fun in Zamunda and you want to be smart in Wakanda. You want to be serious in Wakanda, but you want to have a great party in Zamunda.
The approach to the latter is much more colorful and vibrant, and with Black Panther even the costumes are much more complicated — you have sculpted helmets and panther suits — as well as real tribal influences. We have some influences in Coming 2 America, but it was a much, much more lighthearted approach.
Can we talk about how many costumes there were? And there are always multiples of some. How many did you have to create?
You know, I never counted. Someone said 800 earlier today. Somebody must have counted. 
How much of this was made from scratch, and how much did you pull from existing designers?
Ninety percent of the looks were custom-made. Ten to 15 percent were pulled from costume houses. And then there were over three dozen designers that I collaborated with.
We actually did find some original Coming 2 America dresses for the background [costumes] at a costume house. We mixed them in so it would have the nod to the first one.
Where were the nods? 
In the menswear, in the big shapes of the dresses, the wedding dress. I didn't want to put too many tuxedos on the royal family, I wanted to make them opulent and golden and use a lot of red. When I think of African royalty, I don't think of a tuxedo.
There's an Afrocentric aesthetic, which you see in the original film, but I'm Indian, and I saw a lot of that in there, too. What were some of the cross-cultural inspirations you drew from?
When I looked at a lot of African looks, especially from the East, there were a lot of East Indian influences there — you can tell that the two countries shared a lot.
I wanted to show that Zamunda wasn't an isolated place where you can only be West or East Africa, and not one that only had an African presence — one that had a world presence, a world embracing the aesthetics. That's the kind of a view of Africa I was interested in.
Tell me about the military looks we see on Wesley Snipes and Teyana Taylor. Were you drawing from any real militaries? 
We thought, Let's not even use inspiration from any real military, let's just let it be a mash-up — there's a kind of anarchy in the design. We wanted Nextdooria to be the complete opposite of the palace.
KiKi Layne was wearing a number of Puma-branded items. Can you tell me about that collaboration?
Puma had a collaboration going on with [New York–based brand] Jahnkoy. I love the Jahnkoy aesthetic, so we created those looks ourselves and built those pieces in our workshop. So I got a shirt from Puma and cut it up and made KiKi's green-and-white outfit.
What was the most challenging piece to make? What comes to mind for me is that gold Teyana Taylor cage dress and that absolutely gigantic wedding dress …
The cage dress came from Laurel DeWitt. I went to her for crowns because she's a metalsmith, and she just had this dress hanging out at her parents house.
The wedding dress was Lavie By CK — she did that wonderful Tracee Ellis Ross African number with the train — so I was like, let's have her make that. That was challenging, because the train in the first movie was all the way down the corridor. Ours had its own room when we were done.
How much did it weigh? 
Eighty pounds. We couldn't hang it up. We had to put it on a dress form and then let the train just be in a separate room, an office room all by itself, because it was that huge.
What was your favorite piece?
A lace dress that we had for KiKi Layne, it was so beautiful. We painted it gold. Everybody was looking at me cross-eyed when I said that, but it was white, and I said, "She can't be the person at the wedding in a white dress." So we painted it gold because she was to be queen.
Was the Bulgari viper necklace that Leslie Jones put on real? 
Yes. We had a security guard on set with us every time that the necklace was around. I was like, "For what? In case someone snatches it and runs out? What's the security guard going to do? Run after it?"