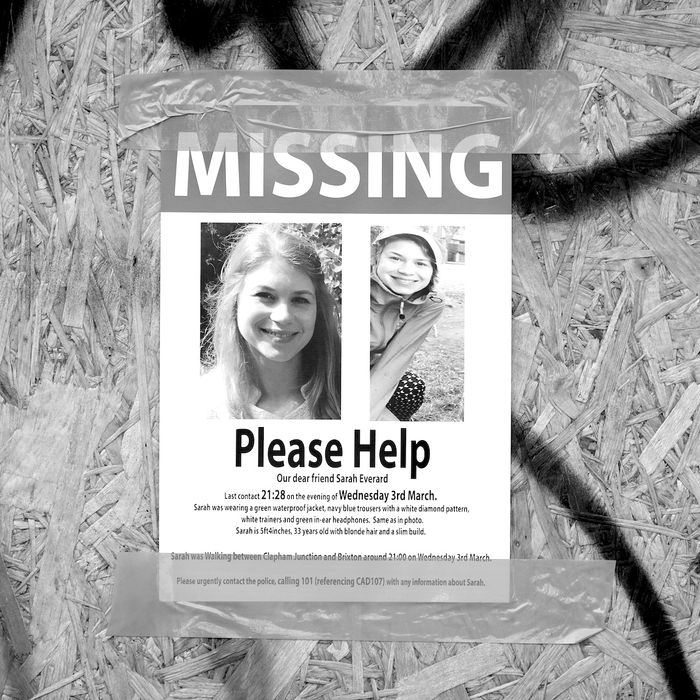 A missing-person flyer for Sarah Everard.
Photo: LEON NEAL/Getty Images
Earlier this month, a London woman vanished on her way home from a friend's house: 33-year-old Sarah Everard was last seen on doorbell-camera footage while walking through the city's Clapham neighborhood on March 3, around 9:30 at night. Earlier this week, Metropolitan Police took one of their own officers into custody on suspicion of murder, and after a widespread search that reportedly involved hundreds of houses, human remains were located in a neighboring county. On March 12, police confirmed that the remains had been identified as Everard's, and charged the officer with her murder.
Here's everything we know about Sarah Everard's disappearance and the ongoing investigation.
She was last seen on CCTV footage, walking home.
According to the BBC, Everard — a marketing executive — was last seen in person leaving a friend's house on Leathwaite Road in Clapham, London, around 9 p.m. on March 3. She planned to walk to Brixton, where she lived, a trip that should've taken roughly 50 minutes. She reportedly crossed Clapham Common, and was spotted on security footage around 9:30 p.m. According to the Evening Standard, she spoke on the phone with her boyfriend for about 15 minutes while she walked, making plans for the next day — he reportedly notified police when she never showed up. At the time of her disappearance, she was dressed in a bright-green raincoat, white-and-blue patterned pants, green headphones, and a white beanie.
Police solicited the public's help on March 5, tweeting that they were "increasingly concerned" as to her whereabouts. On March 6, her family insisted that "she is always in regular contact with us and with her friends and it is totally out of character for her to disappear like this," per the BBC. The police circulated a CCTV image of Everard and urged Londoners who live in the area to check their security cameras for possible sightings of the missing woman.
Meanwhile, the Metropolitan Police searched more than 750 homes in South London, according to the New York Times. They searched the ponds in Clapham Common, and widened their inquest to the county of Kent. There, they made two arrests on March 9.
Police arrested a member of the Met's diplomatic protection unit.
Late that night, police announced the arrest of a Met officer on suspicion of kidnapping, which they subsequently escalated to suspicion of murder. They also arrested a woman in her 30s, on suspicion of assisting an offender. The Met did not immediately identify the suspect, but according to The Guardian, the officer is 48-year-old Wayne Couzens, a member of the parliamentary and diplomatic protection command that patrols government premises such as 10 Downing Street. Couzens is, per The Guardian, also suspected of indecent exposure in a separate incident, and police took him into custody at his home in Deal, Kent.
"This is a serious and significant development in our search for Sarah and the fact that the man who's been arrested is a serving Metropolitan police officer is both shocking and deeply disturbing," Met assistant commissioner Nick Ephgrave said while announcing the arrest at midnight, according to The Guardian. Met commissioner Dame Cressida Dick noted that the arrest sent "shockwaves and anger through the public and through the Met."
"I speak on behalf of all my colleagues when I say that we are utterly appalled at this dreadful, dreadful news," she added. "Our job is to patrol the streets and to protect people."
Human remains were located during the search, but not immediately identified.
In addition to searching a residence in Deal, authorities also searched a wooded area in Ashford, Kent, where they found "what appears to be human remains," Dick said on March 10. Per the Times, Dick stressed that the identification process could take "considerable time." For now, she said she planned to escalate patrols in the area where Everard was last seen, saying: "Sarah's disappearance in these awful and wicked circumstances, I know, are every family's worst nightmare."
The following day, the Metropolitan Police shared a statement from Everard's family, asking for help from the public. "No piece of information is too insignificant," they wrote, describing Sarah as "kind and thoughtful, caring and dependable." The statement continued: "She always put others first and had the most amazing sense of humor. She was strong and principled and a shining example to us all. We are very proud of her and she brought so much joy to our lives."
The officer in custody reportedly injured himself inside his cell.
On March 11, the Met reportedly disclosed that their suspect had been hospitalized after injuring his head while in custody, according to the Telegraph. And while few official details have been made public, an unnamed source allegedly told the Sun, a U.K. tabloid, that Couzens "was found unconscious in his cell" and was given "immediate first aid" before being rushed to the hospital. "It caused a hell of a panic, and serious questions are being asked over how it happened," the Sun's source said, adding that the head wound appeared to be self-inflicted overnight, when Couzens was believed to be alone. Again, that's a tabloid report, but the Telegraph cites Scotland Yard as saying that the suspect has now been treated and returned to custody.
Police have since confirmed that the remains have been identified as Everard.
On March 12, Metropolitan Police assistant commissioner Nick Ephgrave delivered the tragic news: that the remains, a body, have been identified as Everard. "I know that the public feel hurt and angry about what has happened, and those are sentiments that I share personally, and I know my colleagues here at Scotland Yard and across the Met share as well," he said. Meanwhile, he noted, "the investigation continues at a pace and we have hundreds of officers working round the clock to establish the full circumstances of Sarah's disappearance and her murder."
Wayne Couzens has now been charged.
The same day police confirmed that Everard's body had been found, they formally identified the suspect in custody as Couzens, and charged him with kidnap and murder. Per a news release, the woman arrested with him on March 9 was released on bail. The exposure incident allegedly occurred in a South London fast food restaurant three days before Everard disappeared. Couzens had his first hearing at the Westminster Magistrates Court on Saturday, and will appear at the Old Bailey (the Central Criminal Court of England and Wales) on March 16. Meanwhile, the Independent Office for Police Conduct announced on March 11 that it had instigated an investigation into the Met's response to the indecent exposure report from February 28.
This article has been updated.