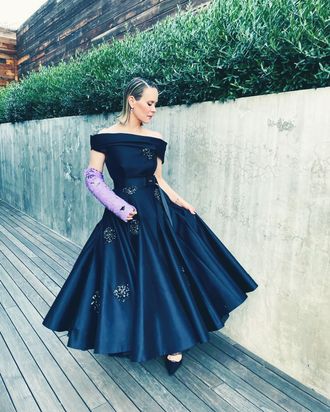 Photo: Handout/Sarah Paulson via Getty Images
For too long, high-fashion houses have egregiously omitted orthopedics from their designs. No more! Ahead of last night's virtual Golden Globe Awards, stylist Karla Welch posted a picture to Instagram of her client Sarah Paulson posing in a custom black Prada dress, which she accessorized with a custom lavender Prada arm cast. "When you're Lady Paulson, you get a custom Prada cast to go with your custom Prada dress," wrote Welch.
The accessory was a hit.
"Perfection," commented designer Marc Jacobs.
"OMG!!!!!!!" commented Real Housewife of Beverly Hills Lisa Rinna.
Paulson was nominated for Best Actress in a Drama TV series for Ratched (an award that ultimately went to The Crown's Princess Diana, Emma Corrin). It is unclear what injury the couture immobilization cast is currently treating. According to Vogue, Paulson reportedly injured her arm while filming the new season of American Crime Story, in which she plays Monica Lewinsky's deceitful confidante Linda Tripp.
Other questions that remain unanswered: How long does Paulson get to wear the glamorous cast accessory? Does she have to be careful to hold it outside of the spray of water when she showers? Is she supposed to return it when she's done so it can be loaned out to other stylish people who have suffered arm injuries? Does the inside of her cast smell, or do celebrities' casts not develop that rank dead-skin odor? Whence the high-fashion pneumatic walking boot?
Unfortunately, because the Golden Globes were an entirely Zoom-based affair, it seems Paulson didn't get the chance to have her fellow nominees sign her fancy cast.