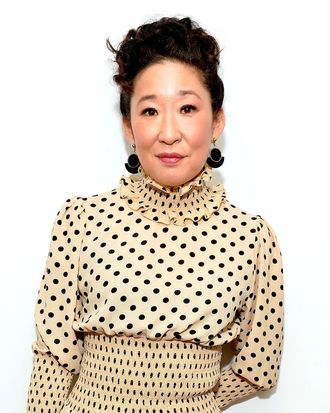 Sandra Oh.
Photo: Noam Galai/Getty Images for Tibet House
Sandra Oh made a surprise appearance at a Stop Asian Hate rally in Pittsburgh on Saturday, where she urged everyone in attendance not to stay silent in the face of bias. "I challenge everyone here, if you see something, will you help me? If you see one of our sisters and brothers in need, will you help us?" she asked of the crowd, which chorused back "yes."
Throughout the past year, violence against Asian Americans — particularly Asian American women — has surged dramatically, new data from Stop AAPI Hate documenting roughly 3,800 incidents between March 2020 and February 2021. This spike correlates with the pandemic's timeline, and the xenophobic, racist sentiment then-president Donald Trump stoked around it. Stop AAPI Hate published its report on Tuesday, the same day a white gunman murdered eight people, six of them Asian women, at Atlanta-area spas. Police attempted to frame the rampage as sexually, rather than racially motivated, saying the shooter struggled with "sex addiction," viewed spa employees as a "temptation … he wanted to eliminate," and was simply "having a bad day." But that explanation struck many as both sexist and racist, sparking widespread outrage and a weekend of protests demanding an end to the targeted violence.
In Pittsburgh, Oh addressed crowds gathered at an intersection near the city's downtown. "For many of us in our community, this is the first time we are even able to voice our fear and our anger, and I really am so grateful to everyone willing to listen," the actor said, speaking into a bullhorn. "One thing that I know is that many in our community are very scared, and I understand that. And one way to go through our fear is to reach out to our community."
"I am proud to be Asian!" she added. "I belong here." She then encouraged attendees to chant those words with her. "Many of us don't get a chance to be able to say that," she said. "I just wanted to give us an opportunity to be able to shout it."