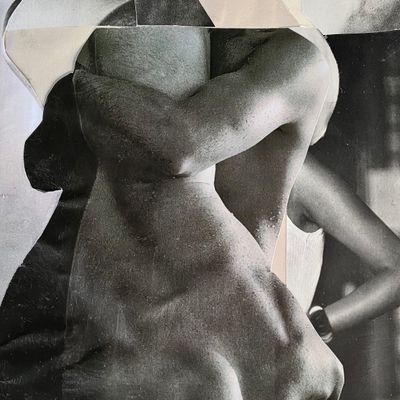 Photo-Illustration: James Gallagher
This week, a lonely artist looking for connection and starting to have in-person sex again: 27, single, Brooklyn.
DAY ONE
11 a.m. I wake up, check my email and Grindr notifications, and roll over to sleep more. I'm unemployed — I quit my job at an art gallery before the pandemic, thinking this would be my year to figure things out — so I've spent most of the past year in my room writing, making music, reading, tutoring, watching films, and jerking off. I've also been sexting, Skyping, and taking nudes more than ever and mostly staying away from unmasked intimacy.
1 p.m. I'm starting to think about intimacy IRL, though. Three weeks ago, I got my second COVID-vaccine dose because of my work in education, and I am excited to begin to get back out there.
5 p.m. Texting with T. He is someone I was romantic with when we first met a long time ago at a college down South, but since we've been "grown-ups" in NYC, we've been in a nice nonphysical friendship. We go on bike rides, hang out on the roof, and take long walks. He's still so sweet and sexy, with warm eyes and a beautiful body.
T tells me about a kinky guy he met, E, whom he's been having regular sex and movie sessions with. He thinks E and I would get along. Buzzed from a sunset spliff, I tell him that I'd love to meet E. I also suggest joining them sexually. T seems caught a bit off guard at this but also open to the idea. He says he'll let me know.
6 p.m. He texts me a little later: He and E are getting together to watch a movie on Friday, and I should come. I say yes. Many of my friends (who are musicians and artists) have been hibernating this winter, and I have been really isolated apart from time with T.
11 p.m. I get in bed and find Stranger by the Lake on the gay horror-movie playlist on Criterion. The guys are hot, and lying naked under the sun sounds ideal right now. The movie is a slow burn, but it keeps me awake, scared, and turned on.
DAY TWO
10 a.m. I start with emails, finishing edits on an essay, and hornily chatting online. It snowed almost two feet recently, and a headless torso on Grindr says he wants to meet in Prospect Park to mess around. Following the "I'll try anything once" credo, I go for it. I'd planned to take a walk up to the park anyway as a treat for finishing projects, so tell him I'll be in touch about adding more fun to the winter jaunt.
1 p.m. I spend much of the afternoon reading and trying to figure out my next moves workwise.
5 p.m. Layered up and ready to explore, I set out for the park, taking my time stomping around the empty streets. Once I get to the park, I walk around for two hours, people-watching and visiting grave mounds of sled fragments.
7 p.m. Eventually, the guy from Grindr messages and says to meet by the picnic tables. I wait for ten minutes and start to wonder if this is a catfish scenario where I'm being tricked by some loser. Fortunately, I love the snow and am not in a bad position if he doesn't show up. But then he does. He gives me a wave and then walks away. I have to follow him like a character from a spy movie. My guy's baseball cap and his sweatpants-and-shoes combination suggest he has a girlfriend and a dog at home. He says he likes to jerk off and do oral and stuff, and he mostly looks ahead dispassionately as we walk up the path. When he does look over at me, his glance is quick but serious and charged. We walk to an untraveled area and settle in and chill for a minute, basking in the silence. Once comfortable, the pants come down, and we jerk each other off. He's especially interested in me and blows me for a while until focusing on finishing himself off. It is serene, and we are quiet, effectively camouflaged beneath the snow and branches but with good visibility to see and hear the surroundings. He says it is the best experience he's ever had in the park.
8 p.m. I get in bed and watch porn on Reddit, thinking about this evening in the park.
DAY THREE
10 a.m. Wondering if this thing with T and E is going to happen. I'm excited and anxious about it.
11 a.m. I do a little work from a café in the West Village — there are a few places where you can sit indoors, thank goodness!
2 p.m. Visiting art galleries in Chelsea. Cruising paintings and sculptures can be hot. Especially masked with my headphones in, I feel like a voyeur. A few years ago, a conversation with a gallery assistant at Matthew Marks led to a date and a fun hookup. No good connections today.
8 p.m. I get home and continue reading Mayo Thompson's novel Art, Mystery with a beer.
DAY FOUR
10 a.m. I've been working a few part-time gigs off and on, one of them writing press releases for art exhibitions, so I do a little of that today. I have two interviews next week for better jobs, so fingers crossed!
1 p.m. Working from another café that will take me in Manhattan and then walking around to see art exhibitions.
4 p.m. I chat on Instagram with D, an artist I recently posed nude for. He has a new book of stories coming out that are supposedly his most carnal and uninhibited yet. When he sketched my body in his studio – from six feet away or more, of course — our conversation flowed perfectly. His writing is sometimes smutty and always brilliant, and I'm fascinated by him.
9 p.m. It's snowing again, and I take a bath before watching a new documentary about incels. It's terrible and leaves me feeling like I need to take another bath.
10 p.m. T says to come over at nine tomorrow and that he has some good red wine. I'm thrilled and can hardly sleep.
DAY FIVE
9 a.m. Apparently, I did get to sleep because I wake up raging hard with dueling ideas in my head: practice self-control and save up for tonight or rub one out now and get the day started happily. I went with the latter. It'll be many hours until I may be going again.
11 a.m. I try to start a new art project, but it doesn't really go anywhere. I'm only focused on one thing: tonight.
1 p.m. I buy some weed for all of us from my guy. We had a no-contact situation before my vaccines, and now we're a little looser about things.
7 p.m. I shower, shave my face, pick out some cute clothes (a sweater and jeans and boots), and that's pretty much it. T is very laid-back and looks like he works with his body, even though he works for a fancy computer company doing coding stuff.
9 p.m. I get to T's apartment, and he's on the stoop smoking a cigarette. The place he's subletting is beautiful; it's the top floor of an old brownstone. We go upstairs to get warm and catch up. There are piles of great books everywhere: Franz Kafka, Octavia Butler, Leonora Carrington.
9:30 p.m. E arrives. He's handsome and tall, blond, wearing black running pants. His smile is innocent, curving into softness. He seems more shy than I am and not as easygoing, but we eventually fall into a good discussion and soon head up the ladder to the roof.
10 p.m. We loosen up and get to know one another before starting the movie. T is mostly quiet as E and I sniff each other out. Two film-nerd tops with different perspectives and tastes. We tussle over what to watch. In the end, T is more excited about what I suggested: Upstream Color. As it turns out, it was a tough watch and hasn't aged well but still contains enough philosophical sparks and strangeness that by the end T still seems to be into it.
12 a.m. The movie isn't a horny choice, but as a hopeful guy, I still think that after it ends we'll all hook up. Instead, as the credits start to roll, E announces he's heading home. No discussion, no smoke, no fucking. He's out. He seems confused or disappointed by the film. I think the movie topped him. I had been curious about a fun new formulation, but I wasn't too bummed when E left. Here I was on the sofa with the main prize of the pair. T and I talk for over an hour, and eventually, I ask if I can kiss him and he says yes. We make out and feel our way back into old habits of intimacy after all these years. It feels so good, and we get in bed, cuddle, and fall asleep.
DAY SIX
10 a.m. We wake up in T's golden bedroom, and I cherish his skin, smell, and closeness. Bundled up, we head out to meet friends for coffee in Bed-Stuy and then go to their backyard to hang in a hammock and enjoy a surprisingly sunny day.
1 p.m. T and I part ways, and I tell him I'd love to do this again, knowing that we may not. Starved for intimacy, I thought last night was perfect, but I know it's not something I can count on with someone like T. In a few months, he'll be moving out of the city for another adventure. He's like a classic vagabond type who before the pandemic would just drive around and live out of his car and meet people in bars and just kinda see the world.
9 p.m. Back in my apartment, I can finally relax alone and tune in to the conversations going down on Clubhouse.
DAY SEVEN
11 a.m. I wake up still smiling about the night with T. It felt good to lay with someone for something more than an anonymized transaction. The Y is open again, and I have an appointment to go swimming tonight. I rest and eat and read.
6 p.m. I walk to the Y and change in the locker room before swimming laps. After, in the shower, a sexy guy has his curtain wide open as he stretches and continues to work out. I am drooling and have been interested in shower contact. Stretching guy leaves and doesn't look too much in my direction. The wait continues.
7 p.m. Horny and walking home from the pool, I check Grindr to see if anyone wants to play with my warm, showered body. I see a new, nondescript profile nearby. This guy doesn't have any pictures, and I have a feeling there's something scandalous about this setup. I send a message and within a few minutes accept an invitation to his apartment.
7:30 p.m. He buzzes me in. The door to his apartment is unlocked. I walk in; it smells like vanilla and lavender. Candles are burning near piles of boxes and clutter. I drop my coat and bag and make my way to the back of the apartment. I walk up to a black door and make out a circular hole — it's a legit glory hole. I step up and pull down my pants, and a hand emerges to guide me through. Not soft for long, I lean into the anonymous hole, and he tells me I can hold on to the top of the door for support. I take his advice and have better balance, hands risen as if in prayer. As I get sucked off, I look into the guy's bathroom, noting what kind of soaps and diffuser he has. Unlike at a bar or club, this glory hole isn't stripped of personal identifiers, but it's still a blank hole I'm passing through.
8 p.m. I come and leave, head spinning at my luck.
Want to submit a sex diary? Email sexdiaries@nymag.com and tell us a little about yourself (and read our submission terms here.)