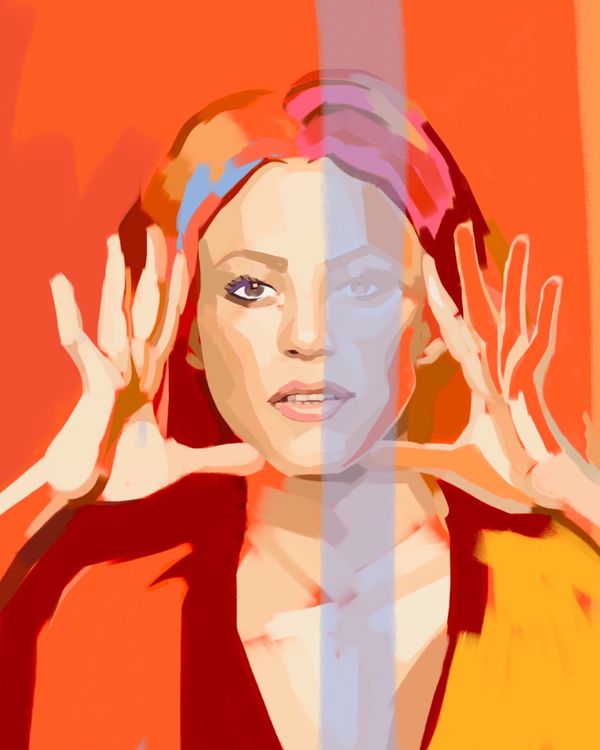 Illustration: by Paco May
"Second Acts" is a series about making big changes later in life.
Last summer, Shakira, whom I've loved for 20 years, started posting pictures and videos of herself skateboarding to Instagram. That Shakira could suddenly skateboard very well, with little to no visible effort, was not particularly surprising, as she's constantly expanding upon her already formidable skill set. Beyond the singing and dancing for which she is world famous, she plays several instruments, speaks six languages, and, early in the pandemic, completed an online course in ancient philosophy from the University of Pennsylvania. (Why not?)
Skateboarding was, at first, a proposed source of entertainment for Shakira's two sons, Sasha and Milan, but the boys soon lost interest, whereas Shakira identified a challenge. A lot of people, including me, might have thought most 44-year-olds weren't particularly interested in learning to skateboard. If I remember correctly from the one summer I tried to learn, it's nearly impossible even to propel oneself forward, and that was with the unspoiled knees and joints of a 10-year-old. There is nothing easier than choosing not to pursue skateboarding. Yes, all your middle-school crushes could be found badly grinding at the skatepark, and it might have been nice to have a reason to be there, too. But once you clear eighth grade, skateboarding mostly never comes up again. Unless you are Shakira.
Evidence of Shakira's transformation first surfaced last May, with a short clip of her skating in a simple, straight line (albeit with a very cool and skatery hand gesture at the end). In June, she posted a longer clip, with a caption signaling her commitment: "My new hobby: It was either this or pottery." In September, she posted a third video, with the caption "I love skating at sunset." There is clear improvement between each video: she gets faster, less shaky, more confident. Watching from home, where I was conspicuously not learning a new skill, I was instantly transported to fifth grade, yearning for the sk8er boy with the on-again, off-again girlfriend who clearly didn't deserve him. (His name, obviously, was Blake.) Once again, I felt a frantic desire to learn to skateboard. Did I do anything about it? Yes: I downloaded 1999's Tony Hawk's Pro Skater 2 (remastered).
In December, Shakira and the Black Eyed Peas released a song called "Girl Like Me." It's not my favorite, which is fine. But in the accompanying video, for no discernible reason except that she can, Shakira skateboards. In traditional Shakira style, she is wearing an absolutely batshit outfit: It's, like, a red leather shredded and studded tank top over black, fringed underwear. (She is wearing elbow pads and knee pads, too, because safety matters.) In discussing the video concept with will.i.am., she was probably like, "I'll dance with a tie around my head, and then I'm going to skateboard around for a while." And will.i.am. said "okay, sure," because nobody tells Shakira what she cannot do.