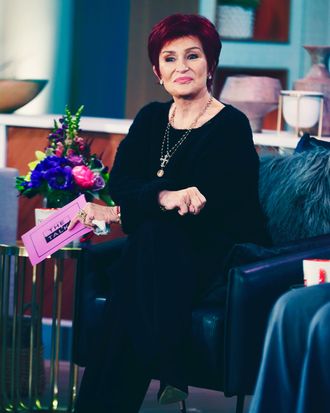 Sharon Osbourne
Photo: Cliff Lipson/CBS via Getty Images
Earlier this month, after an impassioned defense of Piers Morgan queued a meltdown and then an internal investigation at The Talk, co-host Sharon Osbourne was accused of using racist language to describe one of her former colleagues on the show. Now, more than two weeks later, CBS has announced that Osbourne will be leaving her post, explaining that "Sharon's behavior toward her co-hosts during the March 10 episode did not align with our values for a respectful workplace."
During that segment, Osbourne addressed her solidarity with Morgan, recently ousted from Good Morning Britain after many years spent harshly maligning Meghan Markle. The Talk's Sheryl Underwood — who is Black — then explained that Osbourne's staunch support of Morgan suggests she "gives validation or safe haven to something that he has uttered that is racist." Osbourne doubled down in a shouty outburst she would later describe, in an apology, as "panicked" defensiveness that "allowed [her] fear and horror of being accused of being racist [to] take over." But in response to Osbourne's statement, another alumnus of The Talk, Holly Robinson Peete, recalled the time Osbourne allegedly "complained that I was too 'ghetto' for #TheTalk … then I was gone." Osbourne denied this, but CBS nonetheless put the talk show on pause pending an internal review.
Then, journalist Yashar Ali published a report in his Substack newsletter, alleging that Osbourne had habitually referred to certain co-hosts using racist and offensive names. Ali cited "multiple sources, including former co-host Leah Remini" who confirmed that Osbourne often called Julie Chen — who appeared on The Talk from 2010 to 2018, and who is Chinese American — "wonton" and "slanty eyes." Additionally, Ali's 11 sources claimed that Osbourne called her former executive producer and co-host Sara Gilbert, who is lesbian, "pussy licker" and "fish eater." While these people framed Osbourne's bullying as part of a long-standing pattern, her publicist waved aside the allegations, writing that "the only thing worse than a disgruntled former employee is a disgruntled former talk-show host."
Meanwhile, Osbourne insisted that she and Morgan were both "set up," and in conversation with the Daily Mail, called Ali's report "crap." But she also repeated the word "wonton" multiple times, which did little to support her claim that she is extremely not-racist. Anyway, she will not be part of The Talk when it returns on April 12, CBS explaining in its statement: "Going forward, we are identifying plans to enhance the producing staff and producing procedures to better serve the hosts, the production and, ultimately, our viewers."
This article has been updated.