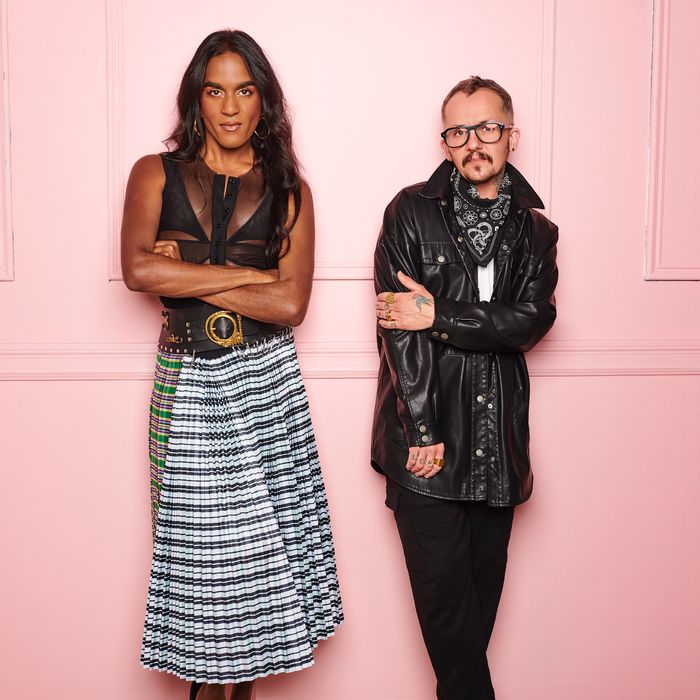 Photo: Courtesy of Shine True
There are a lot of different reasons why someone might dye their hair bright blue on-camera, but for Azul, the star of episode one of Shine True, it's a moment of self-actualization. Azul is a nonbinary artist based in Chicago. After experimenting with different hair colors in college, they found they were "at [their] happiest" when it was blue. So when it came time to changing their name, Azul, which means blue in Spanish, felt right.
Azul is one of many subjects in the docuseries, which premiered on March 22 on Fuse and OUTtv, to become the brightest version of themselves with guidance from its two hosts: transgender musician, artist, activist, and life coach Lucas Silveira and nonbinary photographer and model Richie Shazam. "We serve as the magical mentors that are walking young trans, gender-nonconforming, and nonbinary folk through their journey of realizing who they are," Shazam said over the phone this week. This involves not only guiding them through a visit to the salon but also through tough conversations with family.
Below, the two discuss how the series came together during the pandemic, what it means to them, and what they hope viewers take away from it.
How would you describe the show for someone who hasn't seen it yet?
Richie Shazam: It's a 180-degree spin on traditional makeover shows, which are so built upon perfectionism and needing to look a certain way to achieve success. We're like, No, that's not it. We're already so heavily policed by society; that's not what we're trying to do. We're coming in to offer support, to listen, and to help these incredible subjects see and realize their worth. They don't need to change anything about themselves. In each city, we also sourced these incredible mentors to also show subjects that right around the block, they have queer family to be of service and to help as well.
When it comes to notions of clothing and hair and makeup, those are just the little additives that help us to fully feel confident. We experiment with embracing different silhouettes and seeing what works and what doesn't work. We also talk about the feelings and emotions attached to clothing and haircuts and why they're so important to us. For queer folk, we're constantly dealing with the chaos, and the scrutiny, and pressure, and abuse of the outside world. We're just trying to survive and get by each day. Our clothing is our armor and our shield that allow us to feel a layer of protection.
What was it like filming across North America during the pandemic?
Shazam: Shooting this docuseries during the pandemic came with so many challenges, and it was so rigorous. Like, it was not casual — it was very, very intense, and I just learned so much about people.
Each episode was like four or five days of intensive therapy, not only for [the subjects] but for us as well. We were so overwhelmed with emotions. The person I was at the beginning of my journey with this docuseries is not the person that I ultimately left as. It was an all-queer cast and crew, and I grew so much because I had the incredible lifetime opportunity to be around my people all day every day.
You met these subjects in the middle of a period of intense isolation. Did you find that the pandemic had effected their sense of self at all?
Lucas Silveira: A common statement made by many of the subjects was that gender dysphoria had really heightened because of isolation — having that focus on your body and not having these moments where you can escape it. For myself, I found that I had to put in way more effort in isolation. So I started doing things like dressing up for Zoom calls. You end up having difficulty with the stuff that you put on your body, because either you're trying to hide or you're trying to find a comfort with clothes that lend to a relief of that dysphoria.
Shazam: In our existence and in our bodies, we've built all of these walls and then the pandemic added even more walls. We are away from our friends and our families. We can't socialize and be with one another IRL. It illuminates a lot of the dysphoria within ourselves and how we look at clothes and presentation. That's where Lucas and I came in.
Today is International Transgender Day of Visibility. What do you hope viewers take away from the show?
Silveira: There is a certain glamorized version of trans people — of people who have access. But then there's the other side of just regular folks walking around that aren't TV stars, or actors, or singers. [The show] is an attempt to normalize the nonbinary and trans existence. We are here, and we want to be accepted, and we want to feel safe. I think that a show like this will help people see us and humanize us. This kind of visibility is so incredibly important. In the U.S. right now, our rights are being taken away. If we are seen as human beings, it's more likely that we will find allies. The cisgender world will be like, Actually, this is not okay to take away their human rights and their health care.
Hopefully we're approaching a period where we can all safely come out of our shells and shine a little brighter. How are you feeling personally about the prospect of the world opening up again?
Silveira: I live in Toronto, and over here, that's not looking like it's going to be happening anytime soon. But I think looking forward [at how I will reenter the world], the only thing I can say is: cautiously and with a lot of strength that I gained from being in this situation. As I said earlier, as trans people in isolation, there's a lot to feel and a lot to combat when it comes to having to deal with that kind of focus on our bodies. But at the same time, I feel like it's been a period of spiritual growth. Hopefully I can go back into the world as a better person.
Shazam: I think there's a heightened sense of awareness about the ways in which we interact with one another, and show up for one another, and be present for one another. Working on the show, no matter what was going on, it was all about giving our all to our subjects and giving them that shoulder to lean on. We had a role to make them feel seen and heard. That's something that I hope people extract from our show — and also when the world opens up. Tomorrow isn't promised, but I know that I have 24 hours in the day, and it's not about me, me, me all the time. I want to be of service to people.
Watch the first episode of Shine True, below.
This interview has been edited and condensed.