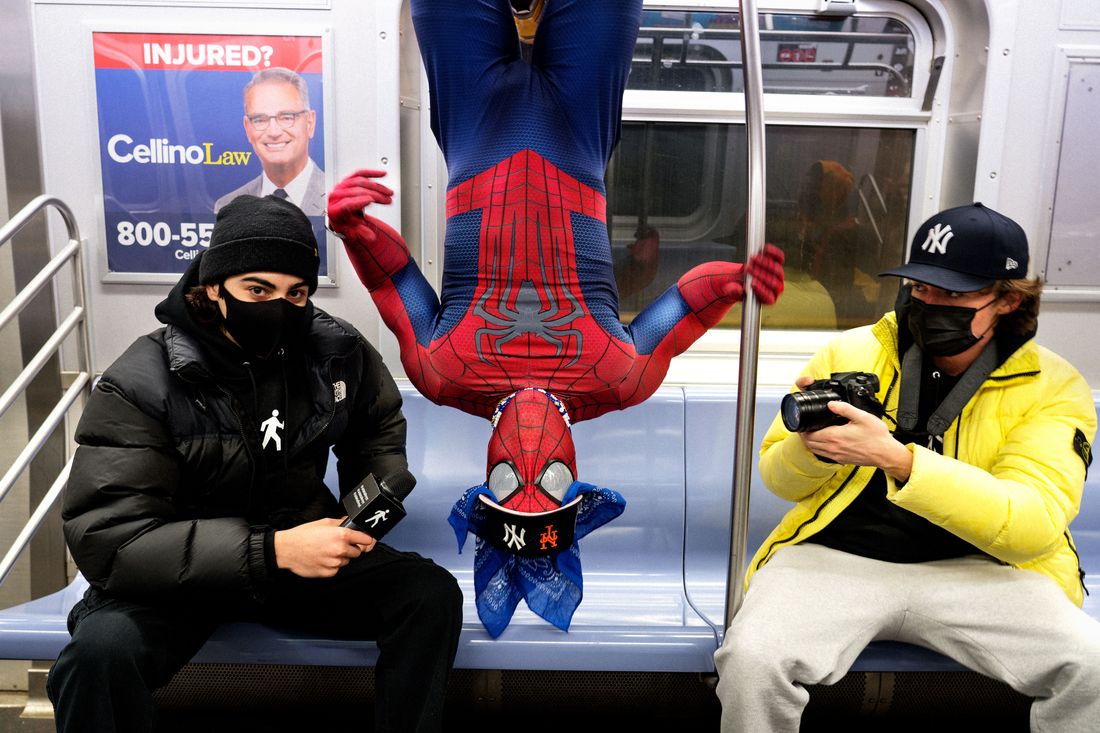 Sidetalk
's Trent Simonian and Jack Byrne with their frequent guest Spider Cuz.
Photo: Jamel Shabazz for New York Magazine
Trent Simonian and Jack Byrne show up at 12:30 p.m. on the dot, just as they said they would. The Saturday in January is crystalline and frigid, but the two NYU students arrive with open puffer jackets, no gloves, and a "Let's get right down to business" competence that makes it possible to forget they're only 19.
It's not what you might expect if you've ever seen an episode of their raucous one-minute Instagram show, Sidetalk. Each post begins with the familiar bing-bong sound of the subway's "Stand clear of the closing doors" recording, but after that, you might find the sloe-eyed Simonian deadpanning into the camera as a disturbed woman screams about Jezebel's children. You might meet a man named Jesus humping a tree in Central Park or a foulmouthed child talking about women with big butts.
On this particular afternoon, their subject is Lil Mo Mozzarella, a proudly Italian aspiring TikTok star who has taken his ostensible mayoral campaign to the streets of Little Italy with his Moncler puffer unzipped and his velvet track pants shimmering. "If I don't get your vote, don't let me find out who you are, 'cause I'm comin' ova there, I'mma crack yoo ova tha head with a loaf of sem-o-leeena!" Mo yells into the camera as he paces the length of Mulberry Street.
Simonian, the one with a shock of black Timothée Chalamet hair, is the straight man on-camera. Byrne, who resembles a Kennedy and speaks in the octave of Sam Elliott, is the cameraman, but beyond that, it would be hard to pick apart who's really doing what — they often finish each other's sentences. While working, they commune through a mix of whispers and what seems like ESP, never losing their cool no matter how many times it takes Mo to nail the line.
The episode, No. 54, turned out to be fairly tame — less guerrilla than some of the most memorable Sidetalks. In the best episodes, Simonian has a subdued joy at being around chaos, like an anthropologist excited to join in the customs of a foreign land. Watching them, I couldn't always tell if they were being judgmental or celebratory. In one of the boys' favorite episodes, filmed on the dangerous cusp of lockdown last year, they crashed a Purim party in Williamsburg and danced with Trump-loving Hasidim. There's an unhinged energy to the encounter. "We couldn't remake it if we tried," Byrne admits. "We filmed that video in 30 minutes." They'd been having a terrible day finding nothing to shoot, but with a mix of ease and fearlessness, they happened to see an open door and walked through. "We ran up the steps of the brownstone into the house, and there were all these Hasidic men going crazy, jumping around. We were just like, 'Hey, guys, what's up?' "
After starting Sidetalk their freshman year in the fall of 2019, the duo spent most days of the week outside, after, before, and in between classes, filming the people they encountered. But it was the Purim video that was their breakthrough. Nicolas Heller, whom they had befriended on Instagram not long before, was with them at the time and posted his perspective on @newyorknico, tagging them as a promotion. The Sidetalk account went from a few thousand followers to tens of thousands in a matter of days. Soon after, the whole world shut down. With no school and no dorms, Simonian was forced to return to his parents' home in Malibu, Byrne to Long Island with his family. They were devastated to have to interrupt their project.
When they returned for the fall semester, this time as roommates in a rented apartment downtown, they wanted to start shooting again right away, but with COVID lowering the ambient energy in the streets, they realized they couldn't rely on spontaneous encounters. Instead, they started looking for interesting characters on social media and approaching them about being on the show.
One of those characters, who goes by Spider Cuz, has become a star in his own right. The trash-talking rapper dresses as Spider-Man (with the addition of Timberlands or sneakers, chains, and a Yankees fitted cap). He has now appeared several times on the Sidetalk Instagram and amassed more than 100,000 followers on his personal account. He drinks Hennessy through his face mask and runs around screaming (and getting strangers to scream), "Suck my dick, Batman!" — a perfect manufactured beef between him and a guy in Philly who dresses as the Dark Knight. The show operates in the tradition of the highly entertaining, juvenile, boys-in-the-wild genre exploited by people like Larry Clark or the Neistats. Boys who view the city as both their playground and their muse.
The creators themselves are nothing like the characters they document. Instead, they come across as another New York City archetype: the off-the-charts ambitious. Simonian and Byrne met during their senior year of high school through friends. Byrne had been "hanging out with some L.A. kids" his junior year and met Simonian's older brother. He introduced them after they both received early acceptance to NYU. That's when they started talking about making a show. When they spent time together over the summer, everything clicked, says Simonian, "and then literally the first week of college, we bought the microphone and hit the streets."
If you look them up on IMDb, they've already got profiles as "producers" of the "TV series" Sidetalk. Like true perfectionists, they'll explain exactly why they chose the Panasonic GH5 camera: to accurately portray the colors of the city. "If we shoot a yellow taxi or a scene in midtown, we want it to look like the right yellow," Byrne tells me. No details have been left to chance. The microphone, for example, works as a watermark, meaning their clips can be taken and played anywhere, but the Sidetalk logo is always in frame. They spend several hours editing each one-minute video.
Byrne went to high school in lower Manhattan at Xavier, a Catholic school near Union Square, commuting from Long Island. He began interning for Josh Ostrovsky, a.k.a. the wildly viral influencer the Fat Jewish, when he was 14. "I sent him an email saying, like, 'Hey, I'll do anything for you,' and he wrote me back. Pretty soon I was there all the time," Byrne says.
"Jack blew my mind," Ostrovsky says. "He would come in in a shirt and tie straight from school. Right away, he was like, 'Who's doing your production on your merch? Because I think we can improve your margins.' Then he'd be like, 'I can't come today because I have to go do some Habitat for Humanity thing.' But he was fun, and I could take him to any party and everybody liked him." Ostrovsky's voice drops several decibels when he imitates Byrne. He says there's a mystery to Byrne — even after working with him for five years, he claims to know very little about him but says he'd never met anybody with a work ethic like that. "He had a fucking intern when he was my intern."
Simonian also speaks with cool clarity about the show. He says he had been thinking of coming to New York to make videos since he discovered Casey Neistat as a tween. At Malibu High, he honed his sense of humor in a similar man-on-the-street show called Shark TV, made for a film class. His teacher Rachel Stowell says when he joined the class as a senior, he naturally fell into the role of producer. "Trent worked as a professional immediately. And he knew how to make videos that the student body connected with — which is harder than it seems. Even when he was talking to the younger kids, he'd put them in the videos with a kind of empathy that was never mocking them," she tells me. (She added that he keeps in touch with her and that she's proud of him.)
The hallmarks of Sidetalk are visible in the early Shark TV. The way Simonian brings out the humor in students, teachers, even school guards, or turns a banal fire drill into an adventure, seems to have set him up well for meeting unpredictable people on the streets of New York. He makes his own fun wherever he goes. "As soon as I saw that I was getting a positive response, I started planning Sidetalk for, like, the next year and a half, coming up with ideas, thinking about what to do, what direction to take with it," he says.
After a year of keeping at it, they now have a good idea of what they're looking for. "In New York, there are always people that you can say 'How's it going?' to and just know they're gonna hijack the microphone," says Byrne. Simonian agrees: "If someone comes up to us in a North Face, we know they can talk all day. If someone's in a sweat suit, there's a 99 percent chance they're gonna be funnier — they always have this confident swagger."
Indeed, while filming episode 54, more "fashionable" people than Lil Mo are all around, but Sidetalk isn't interested in the Cooper Union student with the long braid and oversize wool coat. They ignore the gaggle of models with Chanel bags and the handsome, dissipated older gentleman in white boots and a black Mongolian-lamb overcoat sneering at them while leaning on a lamppost smoking a cigarette. They seem to know that "fashion" will not give them a great interview.
Weed, on the other hand, is a guaranteed win. "Everyone loves talking about that," Simonian says. "Yesterday, we were asking people, if they won the billion-dollar Powerball, what they would spend it on, and like everybody was saying 'ZAZA.' "
Sidetalk has made Byrne and Simonian semi-celebrities downtown. During filming, passersby occasionally yelled, "Shout out Sidetalk NYC!," which has become a familiar refrain on the show. They already sell merch with their WALK-signal-guy logo. Once, while out on the street in their masks, Simonian was mistaken for Chalamet by a paparazzo. The photo ran in the Daily Mail.
They have plans for Sidetalk the brand. "We always talk about the importance of branding with a small show like this. You see our logo in the intro. You see it on my chest. You see it on the mic. Even in the profile picture, like even if you don't think you see it, people indirectly see it and think about it," Simonian says. Byrne jumps in: "We'd love to just build up the show to a point where we have a lot of followers and then whatever we choose to do in the future — whether that's a new kind of TV show or a movie — the people who enjoy our one-minute videos, they'll wanna go see our new stuff."
After two and a half hours of filming with Lil Mo, energy is waning. The sun is all light and no warmth. Simonian and Byrne seem satisfied they've gotten what they came for. They part ways with Mo beneath the giant Cannoli King sign. They'll probably be back out on the streets filming tomorrow. And the day after, and the day after that. It's a never-ending hustle. "People think it's just posting to YouTube or whatever, but we're sending out emails, getting releases from people, selling merchandise — all that," says Byrne. "It's almost like a full-time job." Now, though, it is time to do some homework.
*This article appears in the March 1, 2021, issue of New York Magazine. Subscribe Now!