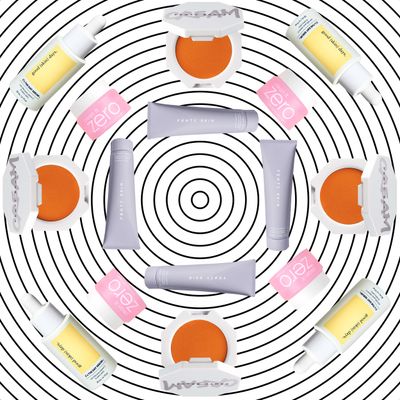 We made it to Spring Eve, and what better way to celebrate than by completely replacing all your skin-care and makeup products with new ones in the name of spring-cleaning! Pope Rihanna and queen of K-beauty Charlotte Cho are here to help with two very good sales in the beauty kingdom.
There's the Fenty Beauty Fam Sale, a four-day spring break in which everything on both Fenty Beauty and Fenty Skin's websites is 25 percent off until Monday, March 22. The discount is automatically applied at checkout, so no code necessary, all U.S. orders ship for free, and if you make it to $100, Rih will throw in a free Pro Kiss'r Lip Care Set with code KISSME.
Meanwhile, Soko Glam just kicked off its Find Your Fresh Start sale, which means you get 20 percent off sitewide with the code FRESHSTART. You have until March 26 to make your skin-care routine as moist as ever, and if you hit $100, Cho will throw in a complimentary six-piece Acwell Renewal Trial Set to help you glow even more. Here, some suggestions from both sales to get your cart warmed up.
This kit is the easiest way to try the newest additions to Rihanna's beauty family, if you haven't already. It gets you the trio of Fenty Skin Start'rs that launched the brand (the creamy cleanser, the thicc essence-toner, and the invisible moisturizer-sunscreen hybrid) plus the extra-hydrating overnight gel-cream she wants you to wear to bed for a pared-down day-and-night routine.
The noted night owl regularly dedicates a portion of her time to making sure none of us are walking around looking "busted" after a mediocre night's sleep. Her latest skin-care launch, this two-in-one eye cream and concealer primer, is her hack for faking a nap.
Just when you thought Gloss Bomb couldn't get any better, it did. The gloss now comes infused with a creamy medium- to full-coverage color that gives lips a mesmerizing lacquered shine. Allow Rihanna to demonstrate, but fair warning: It will make you want all five shades.
Swirl this instant pick-me-up all over your limbs to look like you've spent the day island-hopping rather than room-hopping. Layer it over some Body Sauce, Rih's version of tinted body moisturizer, to really cancel out sitting inside for a full calendar year.
Prep all your makeup looks with Rihanna's favorite "invisipink formula" that creates a filterlike blurring effect and melts instantly into all skin tones.
The full-coverage foundation that launched a million shades. Find yours out of the 50 available swatches. A long-lasting, pore-erasing, airbrushed finish is just a few pumps away.
This melty cream blush is a key ingredient of the Summer Fenty Face, the signature no-makeup-makeup look Rihanna personally recommends for booty calls and/or deceiving men in the morning (by tricking them into thinking you always wake up with naturally dewy, glowy skin).
If your main goal is to glow naturally, start here. This super-serum is packed with 10 percent pure vitamin C, brightening licorice-root extract, antioxidant-rich camu camu, and niacinamide (vitamin B3) to diminish any dullness — all things that make people ask why your skin is so good.
This cult-favorite multitasker always makes the best-of roundups because it removes makeup and gently cleanses, all while feeling like a dessert for your face. Its lighter consistency also makes it a great introductory cleansing balm for anyone looking to finally dip their fingers in.
This no-nonsense, fragrance-free essence delivers a heaping serving of moisture to thirsty skin in record time. Pat onto a cleansed face and you'll be on your way to smooth, supple dolphin skin, without any sticky residue or unwanted scent.
This lightweight, never greasy, and surprisingly hydrating SPF combines both chemical and physical ingredients if you're looking to amp up your sun protection as you slowly spend more time outside.
You'll want to keep this best-selling, BTS-approved brand of masks handy for the next time you feel a breakout brewing. A 15-minute session with a sheet soaked in exfoliating willow bark, purifying rosemary, blemish-fighting tea-tree oil, and soothing chamomile is all you need to start clearing things up.
This is not your average facial spray. Unlike the watery spritzes that give you a scented midday refresh, this ultrafine, milky mist is packed with skin-healing nutrients like brightening licorice-root extract, hydrating bamboo water, nourishing algae extract, and antibacterial royal jelly.
Exfoliating feels a little more fun with these textured gauze pads that slip onto your fingers. They're soaked in a cocktail of the powerful red-wine antioxidant resveratrol and chemical exfoliators like lactic acid, so you get the best of both exfoliating worlds (chemical and manual) on your way to smoother skin.