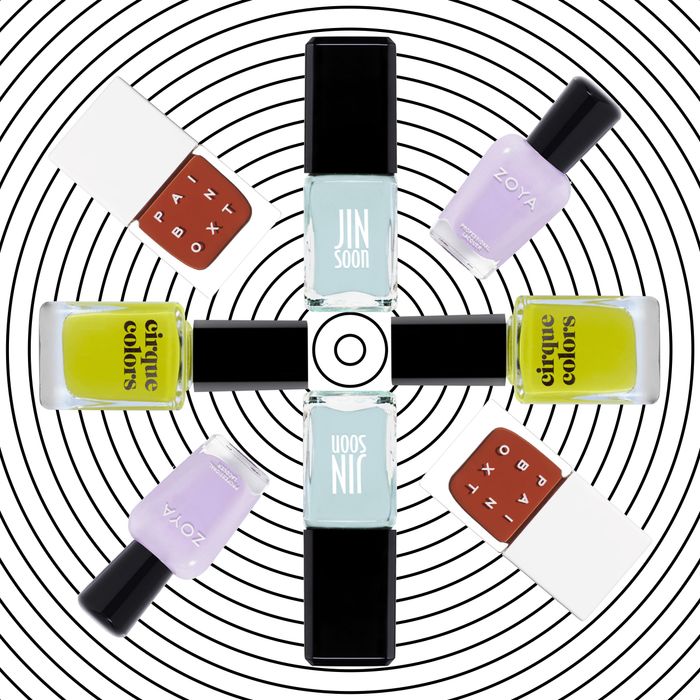 Photo-Illustration: by The Cut; Photos: Retailers
It's been a year since many of us had to break up with our favorite nail salons, and, in some cases, nail polish in general. By now, you're either an expert at painting your own nails inside self-manicured cuticle lines, or you're still fantasizing about sending your manicurist a desperate "U up?" text. Either way, it's March again, a good time to move some mood-boosting spring colors into your mind palace.
"In spring, everyone always wants a little more color, but this spring the mood is a little more subtle and chill," says Brittney Boyce, celebrity nail artist, and founder of NAILSOFLA. "We're all grinding along, being cautiously optimistic, and the color palettes reflect that." To help build out that specific color palette, the Cut asked nail experts to curate a polish wardrobe featuring their favorite swatches for spring. Here, nine outfit ideas for your nails, whether they want to get dressed up for real again, or keep their low-maintenance streak going strong.
1. Every Yellow Under the Sun
No one wants yellowing nails, but yellow nails are a different story. Nail technician and hand model Christina Grant loves the warm, smile-inducing shade that will seamlessly carry you into summer. No need to stick within the bounds of Pantone's middle-of-the-road pick, Illuminating. Whatever sunny-colored thing sparks joy for you — Big Bird, Peeps, really spicy mustard, Pikachu, a stick of butter — conjure it in your mind's eye and paint it onto your nails. 'Tis the season.
2. Pastel Purples
In the same way that dropping liquid lavender into your humidifier can bring you momentary bliss, methodically painting swipes of pastel purple onto your nails can have a soothing effect. That's why nail artist Canishiea J. Sams is currently loving variations of the flowery shade this spring. If you prefer your lavenders with cooler tones, try Jin Soon's Birdie, which trickles into periwinkle territory; if you like to keep things toasty, look for warmer lilacs like Chanel's Mirage.
3. Chartreuse
If you want to feel refreshed, both Sams and Grant highly recommend going green. Grant is partial to neon chartreuse in particular. "It's my favorite color for spring; bright, but soft at the same time," she says. A few fresh coats of the kinda-yellow-kinda-green, characteristic of '70s-era decor, is a quick way to fully renovate fingers that have been cooped up all winter.
4. Barbie Pink
Heads of hair are going even pinker for pandemic spring round two, and nails are following suit with louder shades of pink that popped up at Tom Ford and Fendi's Spring 2021 shows. Instead of leaning on the expected powdery Millennial Pinks we've all become accustomed too, turn up the volume with bolder bubblegums and punchier fuchsias — two flavors of pink our favorite boomer influencer would 100 percent approve of.
5. Terracotta
The bright burnt-orange shade of earthenware fame has emerged as the transitional color du jour. It's spicy enough to keep you warm in the event of an inevitable Second Winter, yet neutral enough to continue wearing as the clocks spring forward and the days get longer. Pair it with its equally groovy cousin chartreuse to channel all the house plants you've accumulated over the past year.
6. Cotton Candy Blues
If you truly want to convey cautious optimism on your nails, Sams is also feeling sugary, pastel blues (the ones that make you crave candied almonds, cotton candy, mint ice cream, and the like). While they border on being neon bright, they remain surprisingly cool, calm, and collected, thanks to the subtle hints of gray throughout.
7. Naked-ish
Do you feel like you could never go back to putting on an actual bra, but you'd possibly, maybe be down with a stealthy bralette? Oddly, the trends of the nail polish world can relate. "Barely-there nudes are being requested a lot right now," says Boyce. "A lot of people are still iffy about going to nail salons and don't really want to take the time to DIY their own manicures at home." Sams agrees, noting that a lot of people are gravitating toward nude and translucent shades that look natural and nonchalant nails, like the nearly-naked nails at Dior and Jason Wu's spring 2021 shows. Deborah Lippmann described the look as "super clean and fresh — a new beginning," and what says "spring" more than that?
8. Negative Space Nail Art
Good news for nail design novices — nail art is also riding that low-maintenance train this spring. "French manicure trends are coming back in an even more modern way by using the negative spaces to show off a nail art element," says celebrity nail artist Elle Gerstein. The best way to get in on the pared-back trend is to combine it with the Skittles manicure we're already familiar with.
Allow Boyce to demonstrate just how easy. To create the Skittles French up top, all she used were ORLY's Half Moon Guides, their new '70s-inspired palette, and a glossy top coat for shine. For the slightly more advanced geometric mani below, she cut the Half Moon Guides in half, and used a thin striper brush to paint a line halfway down the nail for a linear accent. Another bonus of negative space nail art: "These looks hide nail grow-out really well!" Boyce adds.
9. Au Naturale
If the past year simply made you realize you think your nails are at their prettiest sweatpants, hair tied, chillin' with no makeup on, you hope that they don't take it wrong, now's the time to continue living your truth. "Bare nails are always 'a trend,' but women are finding minimalistic nails are an easier upkeep," says Gerstein. "If your cuticles are clean, and your nails are boasting a glowing shine, you are fully dressed!"
To get there, grooming and hydration are key. "Clean up your cuticles, push them back so it doesn't look messy, make sure you don't have any hangnails, and use cuticle oils or balms multiple times a day," says Boyce. "That alone can help your bare nails look super sleek." A cuticle and stain remover can help nails that are stained from dark polish (Boyce says blues and blacks are the main offenders), and don't forget a clear nail strengthener. "The extra shine makes it look like you got your nails done all while you're treating your nails," she adds. Lastly, if you've been growing out your nails, don't forget to clean the underside of your nails — it makes a huge difference. Boyce says a damp brush with some soap, and a gentle touch, will get the job done.