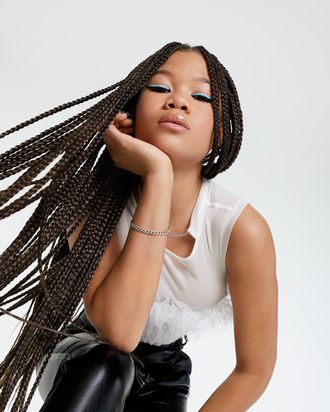 Storm Reid.
Photo: Courtesy of Maybelline
When Euphoria's stars aren't wearing dreamy makeup looks onscreen, they're booking big beauty contracts in real life, and now it's time for Zendaya's fictional little sis to shine.
Seventeen-year-old actress and producer Storm Reid has been named Maybelline's newest global spokesmodel, an appointment that breaks the brand's tradition of appointing, well, mostly models.
"We have traditionally used models," Amy Whang, senior vice president of U.S. marketing at Maybelline, told WWD. "But in a lot of our advertising, we've tapped into new talent. We wanted to align ourselves with a spokesperson that really resonated with the Generation-Z consumer." That person is Reid, whom Trisha Ayyagari, global brand president for Maybelline New York Worldwide, describes as "a standout voice and changemaker" and "a courageous champion of equality," with "energy that lights up any room."
Reid, who is vocal about racial equality and inclusivity, founded her own production company, and launched a series of short films to empower the next generation, has plans to do much more than making people want to draw on their faces in her new role. In addition to serving as the face of a summer launch from Maybelline's Fit Me foundation franchise, Reid will be lending her voice to both Maybelline's Brave Together initiative supporting those with anxiety and depression and the brand's ongoing diversity work.
"Maybelline has been in my family for as long as I can remember," Reid said in a statement. "I'm looking forward to this new chapter with Maybelline where I will be able to use my voice to champion young women and my generation through my work with the brand." Watch a forecast of the new partnership below.